Hyperspace Theories Episode 30: Director's Cut: The Trouble With Trevorrow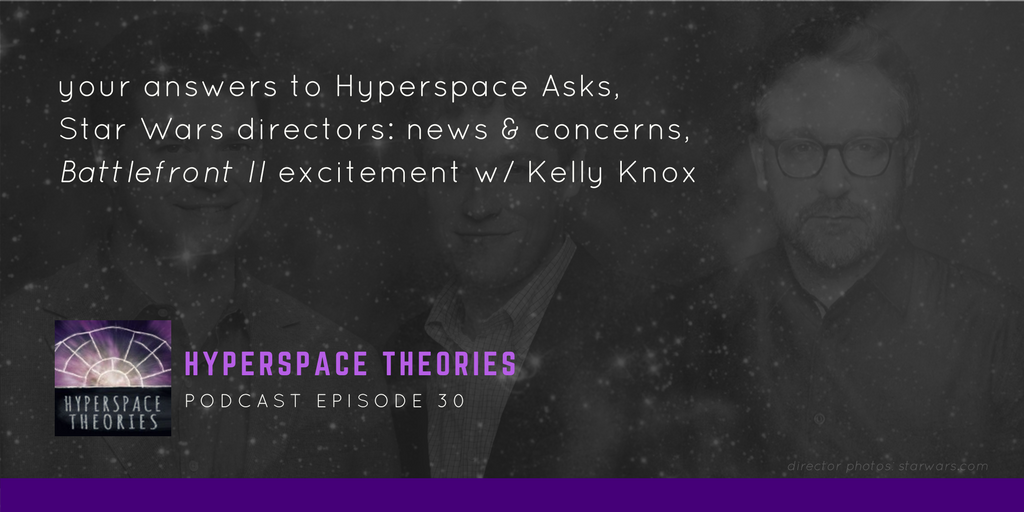 We begin this month's episode of Hyperspace Theories by sharing the responses from our listeners to our question last month: what upcoming Star Wars are you excited for? The most frequent answer, unsurprisingly, was The Last Jedi. The animated series Star Wars Rebels and Forces of Destiny were the next most common responses. Other stories mentioned include Battlefront II and its accompanying novel, Claudia Gray's Leia: Princess of Alderaan, season two of The Freemaker Adventures, and Hasbro's Black Series Hera Syndulla. Neil Lowery perhaps takes the cake with his reply: "everything."
The subject of our speculation segment is Colin Trevorrow, director of Episode IX, who has been on a press tour promoting his recently released passion-project film The Book of Henry. We start by considering his comments about Star Wars in several of those interviews. We then address the harsh critical response to The Book of Henry. Unlike studio films and the corresponding degree of corporate creative control, Trevorrow noted in an AMC video interview that The Book of Henry is the movie he wanted to make. We wonder what this suggests about Trevorrow skill and judgment as a director, and the implications for the concluding film of the current Star Wars trilogy.
"What is one thing you now know as a filmmaker that you wish you knew when you first graduated NYU and got your start?
It's always a tough question to answer because my first instinct is to say, "Live your life and have experiences that are diverse and challenging and enrich you. Travel and make mistakes and all the things that make you a human being." Especially as an actor, but also as a director, there's just no way that you're going to be able to capture the human experience if you haven't lived it. But then the flip side of that is that if I had traveled around Europe for six years as opposed to practicing my craft and sitting in a room and writing, I wouldn't be where I am. So there's a bit of a trade-off, but hopefully you can find a balance. But, you know, I've really tried. I married relatively young and we had two kids. I try to embrace all the experiences that life offers to at least allow these films to come from a point of view of someone who has truly been alive."
The preceding quote from Trevorrow, contained in an interview at backstage.com, provides the inspiration for the world-building segment, which considers the balance for storytellers between real-life experiences and professional training.
For our storytelling segment, we turn to a different upcoming Star Wars project, the videogame Star Wars Battlefront II. Joining Tricia, B.J., and Kay for this segment is our friend Kelly Knox. She is a gamer and blogger who also has been a Star Wars panelist at GeekGirlCon. We discuss our favorite highlights from the EA's gameplay trailer unveiled earlier this month at the E3 convention. Early fan reaction to the trailer raised another topic of discussion, the balance between campaign modes and sandbox modes. Some fans desire immersive long-play campaign modes with detailed stories and new lore, while others enjoy simply having fun in the world of Star Wars. Depending on one's perspective, seeing Darth Maul and Original Trilogy era Imperial stormtroopers fight against Rey and Episode II era clones could provide a rollicking good time or a major break in verisimilitude. We agreed, though, that one highlight was seeing the highly detailed setting on Naboo in a game with a principal storyline running from the Battle of Endor into the Sequel Trilogy era.
Related Links
Contact Information: