Review: The Art of Rogue One: A Star Wars Story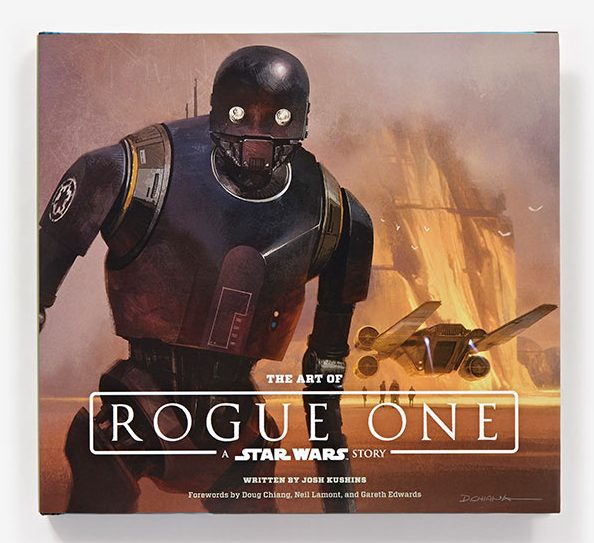 It would be so very easy to flip through The Art of Rogue One: A Star Wars Story from Abrams Books and get lost in the beautiful collection of concept art amassed among its pages. If you only look at the images though, you'd be missing out on the behind-the-scenes story of which they're a part. And since Star Wars movie-making tends to lean secretive these days, this is probably the most complete, long-form look into the process of Star Wars' first standalone film.
The Art of Rogue One book itself is a large, weighty hardcover coming in at 256 pages. That is a good thing because you're going to want to see as many of these art pieces that they'll show you as large as they'll let you see them. Its physical presence also makes the book feel historical and important. If you love Star Wars art, Star Wars storytelling, or both, then it definitely is.
The look at the process goes back over three-and-a-half years before the movie came out. In May 2013 ILM Chief Creative Officer John Knoll pitched to Lucasfilm President Kathleen Kennedy the idea of the first standalone being the story of the stolen Death Star plans. I still find myself intrigued by Knoll's original intentions for story and the accompanying art of the crew of characters he described makes it easy to wonder what might have been.
The Art's prologue whisks us through those early days, including how concept art started right away even without a director or writer. According to Story Group Head Kiri Hart, they figure anything that isn't used can go in the archive to potentially be used later. It'll be interesting to see where it may pop up again as unused art from The Force Awakens has already been used in the Star Wars Rebels TV show. Once director Gareth Edwards is hired we get to learn about his involvement with the writer of the story treatment and his embedding with both the US and UK concept art teams.
Once the pre-production stage is set the rest of the tome proceeds through chapters organized by planet in the order they are visited in the film. Much of the text is comprised of quotes from various team members including but not limited to VP Creative Director/Co-Production Designer Doug Chiang, Special Creature Effects Supervisor Neal Scanlan, and Screenwriter Chris Weitz. It's nice to hear directly from them. Getting to see characters form, change, and then sometimes turn into other characters used elsewhere in the film is intriguing. I especially like looking through costume versions considered.
Readers will learn about color and tone choices as well as Edwards' approach to storyboarding. Locations and specific moments seem to get the most emphasis. There's even a quick anecdote about a concept art-matching filming location that turned out to be impractical to actually film in and the ensuing adjustments.
The art, history, and thought process behind Rogue One are weaved together so smoothly by author Josh Kushins. And the message that rings out above all is the importance of the visuals to Edwards. What's more reading The Art of Rogue One helped me better understand what it was that didn't quite work for me when I saw the movie myself. Although The Art is focused on the visual aspects of pre-production, we learn a bit about the storytelling decision making process for this film. Clearly in this film's case a lot of storytelling decisions were made in the editing process too. Maybe we'll get a Making of book someday that treats us to that end of the project, but for now, whether you liked Rogue One or loved it, The Art of Rogue One: A Star Wars Story has some interesting tidbits to both show and tell.
The publisher provided FANgirl with a copy of the book for review.