Verona Blue From Rogue One and The Force Awakens Joins Fangirls Going Rogue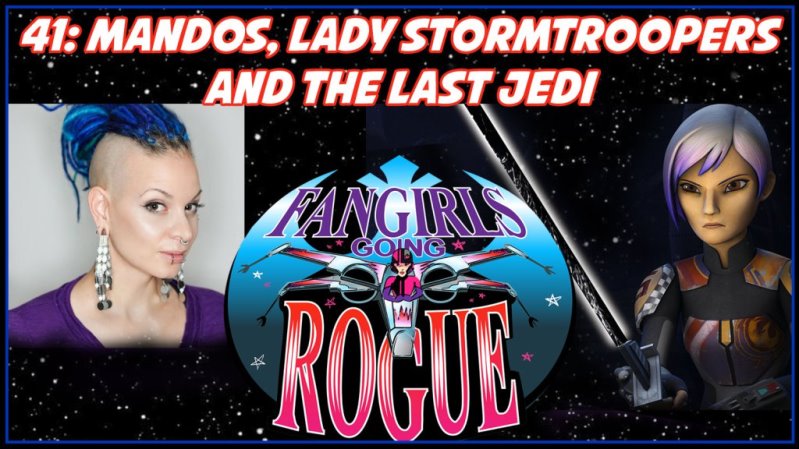 There is tons of Star Wars news to talk about in the February 2017 episode of Fangirls Going Rogue. First up, THE LAST JEDI! From there, hosts Tricia Barr and Sarah Woloski dive into Rogue One's box office, Han Solo standalone news and Star Wars Rebels. Plus the Fangirls interview actress Verona Blue from The Force Awakens and Rogue One.
In this episode of Fangirls Going Rogue:
Ever since the title of Episode VIII has been announced, Josh Gad (Frozen, Murder on the Orient Express) has been putting Daisy Ridley to the test, even enlisting Judy Dench in his quest.
Star Wars Land opens in 2019!
Forbes states movies with female leads are box office gold.
Felicity Jones set to appear at Star Wars Celebration.
Red Cup, the Han Solo standalone's production name, is filming and adding new cast members.
The Clone Wars will be leaving Netflix in March. What episodes are must watch?
Verona Blue shares experiences in loop sessions for The Force Awakens and Rogue One, plus tips for getting into voice acting.
Sarah Woloski brings her musical expertise to a fantastic discussion of Star Wars Rebels "Trials of the Darksaber."
The character discussion is #GoingRogue this month as we consider the relationship of Chirrut and Baze from Rogue One.
We are now on iHeart Radio. As always reviews and rating are our life blood. Thanks for listening, and until next time: Yub yub!
Related Links
Social Media
If you enjoyed the show, leave us a review on your favorite podcatcher and share the episode with friends. Until next time: Yub! Yub!

Tricia Barr took her understanding of brand management and marketing, mixed it with a love of genre storytelling, and added a dash of social media flare to create FANgirl Blog, where she discusses Star Wars, fandom, and the intersection of women within Star Wars fandom. She is co-author of Ultimate Star Wars and Star Wars Visual Encyclopedia from DK Publishing, a featured writer for Star Wars Insider magazine with numerous articles on the Hero's Journey. Her FANgirl opinions can be heard on the podcasts Hyperspace Theories and Fangirls Going Rogue.

Tricia Barr's novel, Wynde, won the 2014 Independent Publisher Book Award Gold Medal for Best Science Fiction/Fantasy/Horror Ebook. She was also part of Silence in the Library's successful all-female creator science fiction and fantasy anthology Athena's Daughters, which is available now. For excerpts and tales of her adventures in creating a fictional universe, hop over to TriciaBarr.com.