Rey Sweater from Musterbrand Reviewed
Despite starting on the first version of my Rey costume back in 2014, I haven't acquired a lot of Rey apparel in the past couple of years. In the beginning, there wasn't much to choose from. Then after The Force Awakens burst through the box office, more items crept into retailers but they were chiefly t-shirts and I felt very take-it-or-leave-it-emphasis-on-the-leave-it about their designs. I'd put together a few outfits inspired by Rey for my everyday cosplay series. I'd pined over the Rey look Rag & Bone put together for the initial Force 4 Fashion. And I yearned for a subtle piece of clothing I could easily fit into my everyday style.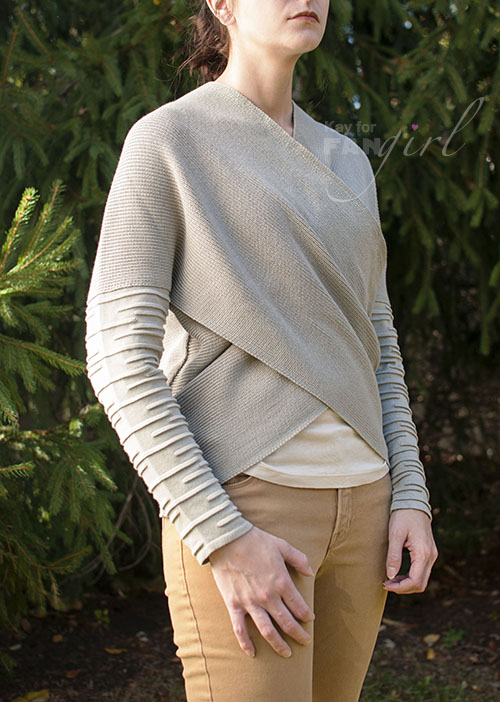 Enter Rey's Knitted Sweater by Musterbrand. Back at New York Comic Con the company previewed an upcoming Rey-inspired sweater. Soon after I included news of its pre-order status in the October edition of my Fandom Fashion Finds. And now… I've not only seen it in person, I've worn it.
Back in October I wrote that my first impression from the photos was:  "This cotton knitted piece may be the most fashionable article of clothing inspired by Rey to come out yet, playing with texture and form to bring Rey's wrap dress into something you could wear every day."
I stand by that.
Friends, this is such a nice sweater. The focus of the inspiration is clearly from two parts of Rey's The Force Awakens scavenger costume – the wrap "dress" and the arm wraps.
The folds of the wrap dress are apparent in the direction of the knit as it criss crosses in front. There's no tacking of the fabric in that criss cross so the sweater does fall funny and fold over itself sometimes depending on what you're doing. The sweater's drape is forgiving and arguably gets more flattering when you hands-on-the-hips power pose.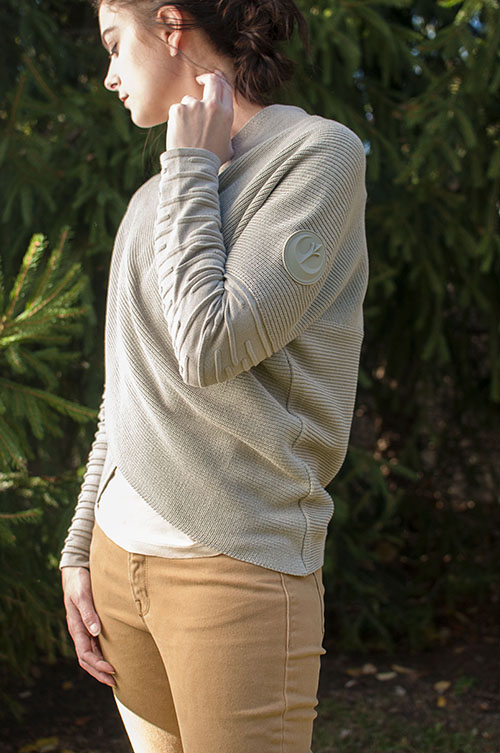 The front and back v-neck are another cool homage. A black button featuring the Musterbrand logo can be found on the back. The details get a bit more on the nose with a raised silicone Resistance/Rebel Alliance starbird sewn to one sleeve. I could frankly do without that part but luckily it's the same color as the rest of the sweater so it blends in fairly well. My favorite part is the fitted sleeves themselves with their cool texture that resembles Rey's arm wraps without being a direct mimic.
Based on the chart, it seemed I was between two sizes. Luckily Musterbrand's customer service helped me figure out the smaller of the two would probably be best and they were right. The sweater is shorter in the front due to the criss-crossing fabric so you have to wear another shirt under it if you're not comfortable (or warm enough) exposing some skin.
The fabric is a cotton poly blend and while it's not one of those super soft sweaters, it's not one of those itchy ones either. It has very specific washing instructions including laying flat to dry. Mine took 24 hours to dry, which is good to know if you're making wardrobe plans.
Overall, I'm glad to see a fashionable and rather subtle Star Wars apparel item on the market. I showed it to someone familiar with Star Wars but not necessarily an active fan and she remarked how nice of a sweater it was and that she'd wear it.
You can find Rey's Knitted Sweater on Musterbrand's website. It retails for $99.99. And I can tell you from personal experience it is much more convenient than putting on an entire Rey costume when you want to feel a bit more like her.
Check out more photos of the sweater in the gallery below:
Thank you to Musterbrand for providing this sweater for my review. They did not require a positive review and as with anything, I give my honest review of items regardless of how they're sourced.
All images in this post Art Directed and Styled by Kay with Photography Assistance from Toby. Please do not repost any of these photos without Kay's permission.