C2E2 Star Wars Books Panel Recap
The Star Wars Books Panel at C2E2 was a flurry of insights, laughs, and a lot of love for that galaxy far, far away. Del Rey Senior Editor Elizabeth Schaefer moderated the panel and had each of the Star Wars authors present introduce themselves, some of their Star Wars work, and share their favorite scene from The Force Awakens.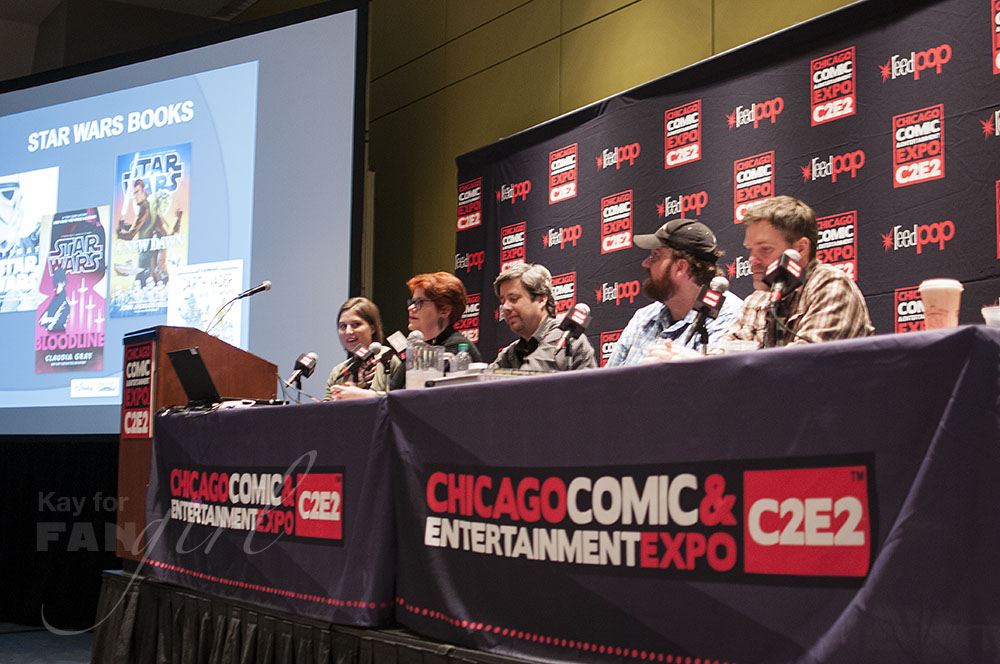 Claudia Gray, author of Lost Stars and the upcoming Bloodline, named the one with "the James Bond cameo," referring to a certain Jedi Mind trick as her favorite scene. Next to her, by the time John Jackson Miller went through all his Star Wars writing credits (which include Kenobi, A New Dawn, and Knight Errant) as well as mentioned his current work in Star Trek books, he'd forgotten to include his favorite TFA scene. He later added that it was seeing the words "Episode VII" on the screen because for so long "we never thought that'd happen."
Adam Bray, author of Star Wars Everything You Need to Know and Ultimate Star Wars, shared he's writing a new Lego Star Wars book that will come with its own minifig. Bray told the fairly packed room that his favorite moment in The Force Awakens was when Rey grabbed the lightsaber, a sentiment several in the audience showed their agreement on. Rounding out the panel was Jeffrey Brown, author/cartoonist of humorous books that include Darth Vader and Son and Vader's Little Princess as well as a Jedi Academy series. Brown said he really enjoyed Finn's character so pretty much any scene with Finn was his favorite.
Schaefer went on to thank fans for helping The Force Awakens novelization by Alan Dean Foster reach the best-seller's list and teased those who haven't read it yet with bits of info they can learn via the book that weren't in the movie. From there they went through some of the upcoming titles for Del Rey. The next of their books to come out will be the aforementioned Bloodline by Claudia Gray, which goes on sale May 3rd. With Claudia being a part of the panel, more info was shared about this book and the process of writing it than any other.
You may remember Bloodline was pushed back two months from its original release date. Gray mentioned that this was because she thought it might be a good idea to see The Force Awakens before she finished writing a book that leads into the story of The Force Awakens. Luckily for her (and probably us as well, as much as we hate waiting), the publishers agreed. The previews for the book have already told us that Leia Organa is a central figure to the story, but Gray emphasized that it's not a focus on Leia being a wife and mother, but who Leia is as a person and her role in the New Republic and how the Resistance came to be.
More tidbits about writing the book would come out in the audience Q&A, when she talked about wanting to be only told from the new movies what was absolutely necessary for her to tell this story – meaning Han and Leia's situation and who Ben was. She warned that this book is not all about what happened to Ben; she half-joked that the story group wanted to save something for the movies. The info was mainly for her to keep in mind while writing. During the Q&A question about stories by other authors she revealed he pulled something described in Ann Crispin's Han Solo Trilogy into Bloodline. And later on the convention floor Gray told fans that she'd cast Tom Hiddleston in her head as she was writing one of the book's new characters, Casterfo.  
On July 19th Aftermath: Life Debt by Chuck Wendig will be out. Elizabeth shared that this book picks up with the unlikely team that came together in the first Aftermath book whose decision to go hunt Imperials gets interrupted by a request from Princess Leia. Han Solo has one last debt to repay and that one is to Chewbacca. Those two are off on the Kashyyyk mission, an idea introduced in one of the previous book's interludes.
A brand new book was also announced: Star Wars: Catalyst, a prequel to the movie Rogue One would be coming out this fall. Much more couldn't be shared at this time, but they did (jokingly) say presumably it will be written by an author.
Audience Q&A
The audience question and answer portion started with a question regarding whether we'll ever see the characters from Lost Stars appear again. I've personally lost count of how many people (myself included) said they were surprised in some way by that book – whether it was their preconceived notions about YA books or how the book was originally marketed, it's blown past that and found wide appeal. I could hear people in line for the panel talking about it, and right before it started I heard a guy recommending it to the guy sitting next to him. Claudia Gray said she would like to write those characters again but nothing is currently in the works. She advised that the best way to see another story with them is to let publishers like Del Rey know that you'd like more. She also mentioned that when she was writing Bloodline she needed a certain character and a group from Lost Stars had exactly who she needed.
When later asked about the freedoms she had while writing Lost Stars, Gray said since they knew from the start the story would center on original characters she in fact had a lot of freedom. She'd originally been given the direction of a star-crossed romance and a kind of Rosencrantz & Guildenstern Are Dead version of Star Wars, where we'd get to see more of what it was like for side characters to experience parts of the larger Star Wars story. As noted in her interview with Tricia Bar in Star Wars Insider #163, she was told to have an idealistic girl join the Rebels and a cynical guy join the Empire. She asked if they could flip it, having the girl join the Empire instead and they liked the idea. In fact the only push-back she really remembers getting was when she used the Devastator in a scene and was told by the story group that it wasn't there. She thought it was an imaginary ship and therefore could go wherever but they informed her it was in fact not in that location at that time. Another interaction with the story group had a cool result. Gray said a scene she wrote towards the end of the book (being vague to keep it spoiler-free for those who haven't read it yet) turned out to be so similar to a part of the Jakku history that, unbeknownst to her, they'd planned for The Force Awakens that she was told about it so she could slightly alter her scene to become a neat tie-in to the movie.
John Jackson Miller fielded a question about how writing in the Disney era of Star Wars is different than it was before as he was the author there with the most experience in both. Both John and the rest of the panel referred to now as the Story Group Era and spoke highly of how all the planning and extra input make for better overall storytelling. Miller also shared that early in Star Wars books, a lot of continuity between books came from authors liking each other's concepts or characters and wanting to use them too. Now, he says, things are planned out way in advance and that means they're able to tie-in characters and their stories through various media forms – an example being Rae Sloane, who Miller introduced in the novel A New Dawn, but who has also shown up at different stages of her career in a short story in Star Wars Insider, in the first Aftermath book, and a comic so far. Adam Bray added that for reference books like Ultimate Star Wars the editors assigned sections to the writers based on each author's knowledge and strengths.
When asked which of his characters he'd like to sneak into the new canon, Miller quickly replied Zayne Carrick. He'd like there to be a Knights of the Old Republic cartoon series. And he wouldn't mind if they used his book as a basis for another Star Wars movie for Ewan McGregor. He mentioned his love for The Griff as well and how fans made a life-size puppet of the character for him.  
And when the panel was asked about how they create names, John Jackson Miller says he tries to keep them spelled how they sound. He also tries to have character names start with different letters from each other so they're easier to keep track of. Claudia Gray incorporated the names of pretty much everyone she knows in Lost Stars so there are a lot of Mad Max: Fury Road references in Bloodline. Bray briefly talked about following previous naming conventions.
Another audience member wanted to know what the authors like about Star Wars. Miller likes that with The Force Awakens, Star Wars is funny again. He loves the back and forth and one-liners of the Original Trilogy and claims to reserve twenty pages in all his books for banter. Adam Bray said as a kid he always liked the droids and as an adult he likes discovering all the themes in the stories and how they repeat. Claudia likes seeing people do extraordinary things but still feel like real people.  
There was also a question of where to start reading if you've watched The Force Awakens. The authors of course all recommend their own books so Elizabeth Schaefer recommended Bloodline or A New Dawn. But she emphasized that what's nice with the new books is that you can start anywhere without having to have read a bunch of other books to understand what's going on. She went on to say there are a lot of great stories in what's now considered the Legends books and if someone wanted to start reading those, she would suggest the Thrawn Trilogy as a starting place.
Next an audience member asked what everyone's favorite Star Wars story that they didn't write is. Gray immediately noted the Thrawn Trilogy, and the Jedi Apprentice books with Obi-Wan. Schaefer jumped in saying she also liked the Jude Watson books. Meanwhile Miller enjoyed the Star Wars comics of the late 70s/early 80s by Archie Goodwin and David Michelinie. Bray chimed in that he likes the Zahn books, the Dark Horse Legacy comics, and really had a thing for the Ewok movies when he was a kid, revealing that the first Star Wars stories he wrote were fics about what he thought would happen with the Ewoks. Brown liked the comics too but holds a special place for The Wookiee Storybook.
One audience member wanted to know if we'd see Admiral Thrawn and Mara Jade in any of the new books. Gray said not in Bloodline, and Schaefer said there are no current plans for them but as a fan she hopes we can see them again some day.
The last question of the panel wondered if there was anything in Star Wars any of the authors would like to retcon. John Jackson Miller smiled and said he already did – refreshers are now bathroom. Someone in the audience yelled out "Nooooooooooo!" I couldn't blame them as I'd grown accustomed to the word over many years. But Miller argued that that kind of naming convention comes from a time when stories played around with words to make common objects sound more science-fiction and this change makes it easier for new readers to understand. Claudia Gray said not only would she retcon the ending of A New Hope, but that she already has before in a fanfic. She dramatically exclaimed that you probably shouldn't hang out in the same place for a few days to have an awards ceremony when you just blew up the Death Star.
Del Rey 2016 Sampler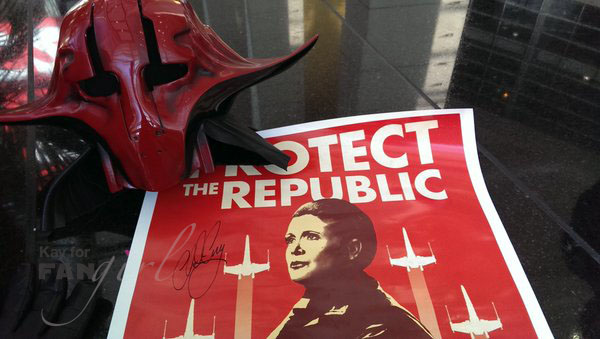 And with that, the panel was done. At the Del Rey booth on the show floor copies of the 2016 Del Rey sampler book were given away. The Star Wars portion of this book includes the current Del Rey Star Wars timeline and an introduction from Elizabeth Schaefer as well as excerpts from Bloodline, The Force Awakens Novelization by Alan Dean Foster, Aftermath by Chuck Wendig, Battlefront: Twilight Company by Alexander Freed, and the short stories Bait by Alan Dean Foster, Inbrief by Janine K. Spendlove, and Blade Squadron and Blade Squadron: Zero Hour by David J. Williams and Mark S. Williams. You can pick it up at conventions where Del Rey has a booth this year. It will also be available as a free ebook at a later time.