Movies and More on Geek Out Loud's Pass The Corn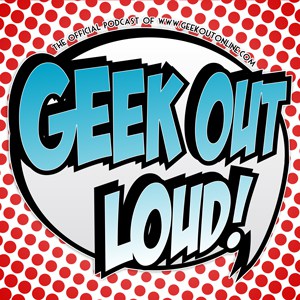 Kay and Tricia joined the GOLiverse's charity marathon for CURE to talk movies. This episode was a blast. Kay reveals she has a fondness for old movies, and Tricia Barr explains how Joy from Inside Out would fix Man of Steel. From Episode 171's show notes:
The Second annual GOLiverse Marathon for CURE was a great success. You can still donate while listening to this episode by heading over to www.geekoutonline.com/cure. First, James Arnold Taylor stops by to talk about movies and his new studio and all kinds of stuff! Then it's a blast from the past as Steve is joined by his long time friend and former guest of the show Casey to talk all things Raj. Then it's PASS THE CORN with Erich, Tricia, Kay, and the always entertaining Ethan. It's geeking out loud as only your safe place can do! To learn more about CURE please go to www.curechildhoodcancer.org
Find us on Twitter:

Tricia Barr took her understanding of brand management and marketing, mixed it with a love of genre storytelling, and added a dash of social media flare to create FANgirl Blog, where she discusses Star Wars, fandom, and the intersection of women within Star Wars fandom. She is co-author of Ultimate Star Wars and Star Wars Visual Encyclopedia from DK Publishing, a featured writer for Star Wars Insider magazine with numerous articles on the Hero's Journey. Her FANgirl opinions can be heard on the podcasts Hyperspace Theories and Fangirls Going Rogue.

Tricia Barr's novel, Wynde, won the 2014 Independent Publisher Book Award Gold Medal for Best Science Fiction/Fantasy/Horror Ebook. She was also part of Silence in the Library's successful all-female creator science fiction and fantasy anthology Athena's Daughters, which is available now. For excerpts and tales of her adventures in creating a fictional universe, hop over to TriciaBarr.com.