The Force Awakens-Inspired Everyday Cosplay: Kylo Ren
If you've heard me talk about "my bestie Kylo" on Geek Out Loud, Fangirls Going Rogue or seen the tweets earlier this year, it should be no surprise that I'd find inspiration for Everyday Cosplay style from Kylo Ren.
I marveled at the costume in-person at Star Wars Celebration Anaheim and since then I've spent a lot of time around a replica of it made with great care. And there are two things that immediately come to mind when I think of Kylo Ren's style: black and pleats. Actually there are a lot of pleats going on in the costumes of The Force Awakens, but Kylo Ren may actually take the cake with how bold and numerous his are.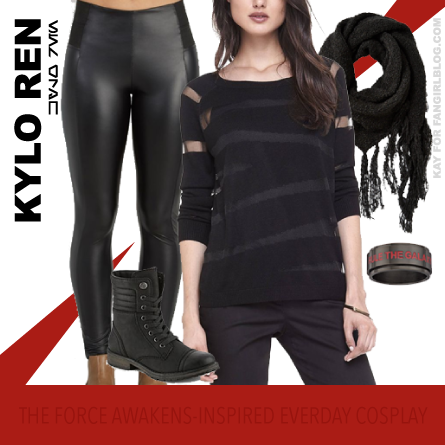 Leggings | Boots | Shirt | Scarf | Ring
But you don't have to go literal with the pleating. In this first look we use stripes and quilting details to get a similar effect. Photos have shown his pants to have a slight sheen to them, so I kicked it up a notch here with the semi-glossy leggings. Kylo's scarf is big and has a large-weave that can be nodded to with a chunky or bouclé fabric like this one.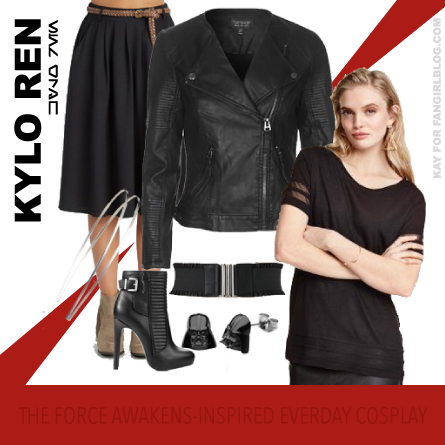 Skirt | Headband | Boots | Jacket | Belt | Earrings | Shirt
Kylo has a wide belt with a vertical buckle so I've included one here that even has a little bit of ruffling, basically pleating's slightly more free-spirited cousin. There's some great quilting detail on this jacket as well as in those boots.
Wearing a silver headband can represent the silver elements of his helmet. You could even tilt it forward and wear the headband more like a circlet if you're up for it. A touch of silver in your hair can also be achieved with a ponytail holder or a hair comb. I also threw in a tiny tribute with the Darth Vader earrings even though I'm pretty sure Kylo doesn't have his ears pierced.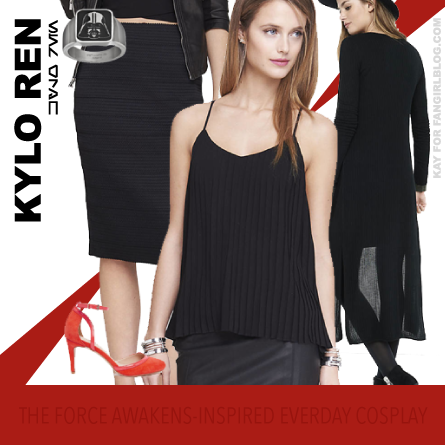 Ring | Skirt | Shoes | Camisole | Sweater Coat
As I've said in some of the other Everyday Cosplay entries, when you're wearing all one color texture is a good way to break things up. The banding on the skirt reminds me of Kylo's sleeves as does the pleating of the camisole although it's vertical. Tuck the shirt into the skirt and layer over it a sweater coat that can move in the breeze. Wear a Vader ring on a long chain necklace and put on some Kylo-saber red shoes and you're ready to go finish what someone else started.
Clothing and accessories for these Kylo Ren styles were found at Express, ASOS, Kohl's, Mod Cloth, DSW, and H&M so keep an eye out online and in-stores to find more pieces to style yourself like Kylo.
As per usual, if you do put together a Kylo Ren-inspired outfit, share it with us in the comments or on Twitter using #StarWarsEveryday. 
And if you're just joining the series, be sure to check out the previous installments of
The Force Awakens-Inspired Everyday Cosplay:
Captain Phasma  |  Finn  |  Poe Dameron  |  First Order Stromtrooper