D23 and Jimmy Mac on August's Fangirls Going Rogue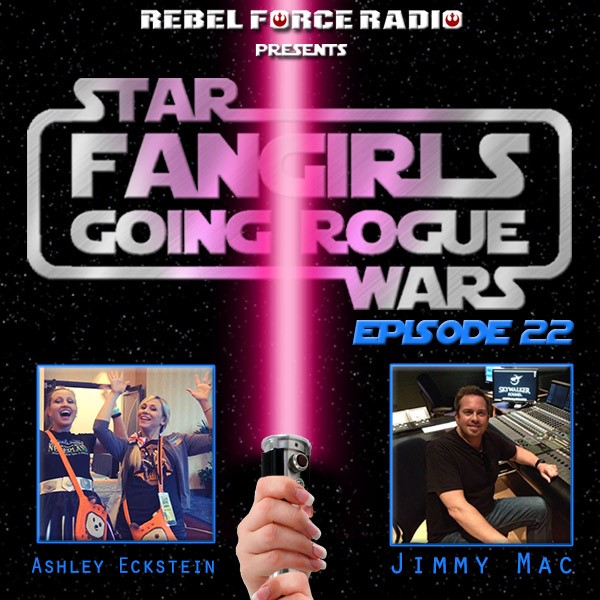 On this month's episode, our own JediTink, Sarah Woloski, delivers fun details from last weekend's D23 Expo. After fangirl flailing over Star Wars expansions coming to both Disneyland and Disney World, Teresa Delgado, Tricia Barr and Sarah help break down all the exciting information presented to fans during the convention. As an added bonus, we have intriguing information directly from Ashley Eckstein about the upcoming The Force Awakens line from Her Universe. Force Friday is almost upon us, and the Fangirls Going Rogue are looking forward to books, comics, video games, collectibles, and geek chic. With Star Wars news coming fast and furious, the ladies tackle listener questions, then ask a few of their own in a special interview with Jimmy "Mac" McInerney of RebelForce Radio. This month's character discussion spotlights Handmaidens Sabé (Keira Knightley) and Dormé (Rose Byrne) from the Prequel Trilogy and includes an exciting pitch for their return alongside fan-favorite Obi-Wan Kenobi.
Don't forget you can get your own Fangirls Going Rogue or #fangirlflail shirts from our store.
Fangirls Going Rogue is available on Shotglass Digital and iTunes or subscribe to the RebelForce Radio RSS feed.
Fangirls Going Rogue: @FGGoingRogue
Tricia: @fangirlcantina
Teresa: @icecoldpenguin
Sarah: @JediTink
Email: fangirlsgoingrogue@gmail.com
Facebook: Fangirls Going Rogue
Tumblr: fangirlsgoingrogue.tumblr.com
Instagram: @FGGoingRogue
Voicemail: 331-21 Ewoks or 331-213-9657
Please like Rebel Force Radio on iTunes and leave a positive review, and in your review mention how much you enjoy Fangirls Going Rogue.

Tricia Barr took her understanding of brand management and marketing, mixed it with a love of genre storytelling, and added a dash of social media flare to create FANgirl Blog, where she discusses Star Wars, fandom, and the intersection of women within Star Wars fandom. She is co-author of Ultimate Star Wars and Star Wars Visual Encyclopedia from DK Publishing, a featured writer for Star Wars Insider magazine with numerous articles on the Hero's Journey. Her FANgirl opinions can be heard on the podcasts Hyperspace Theories and Fangirls Going Rogue.

Tricia Barr's novel, Wynde, won the 2014 Independent Publisher Book Award Gold Medal for Best Science Fiction/Fantasy/Horror Ebook. She was also part of Silence in the Library's successful all-female creator science fiction and fantasy anthology Athena's Daughters, which is available now. For excerpts and tales of her adventures in creating a fictional universe, hop over to TriciaBarr.com.