Transitioning Back: Life After Star Wars Celebration
Star Wars Celebration Anaheim has concluded and it was a whirlwind of a ride. For many of us attendees it was downright overwhelming (in a good way) as we rode the high of being surrounded by so many people who love Star Wars as much as we do. I know I at least had to stop a few times and question if it was in fact real life.
I went from feeling totally fulfilled the first day to already getting sad the second day that it was half over. By the third day, I had to take a break and walk away for a little while. And on the last day, I just wanted to soak up every second of it.
As events drew to a close, I joked that there should be a panel called "Transitioning Back: Life After #SWCA", but it turns out I wasn't the only one to feel that way. So as those of us who were there struggle a bit with exiting the bubble of fandom awesomeness, here's a guide to what you'll need to deal with.
7 Things to Keep In Mind:
You may in fact find yourself needing to talk about things other than Star Wars. (I know.)
You may find yourself needing to talk about things other than Star Wars that are also not about what time you're getting in line, how long a queue or its wait is, or how full a room is.
If you enter a hotel lobby, you'll have to remember that seeing no stormtroopers, Wookiees, or X-wing pilots hanging out there is actually pretty typical for a hotel lobby.
Wherever you go when the elevator doors open, R2-D2 will most likely not be getting off the elevator. R2 probably won't follow you down a hallway, stop to take a photo with you, or appear out of nowhere and start dancing with you.
When someone compliments your outfit, there's a chance you will look down and see you are not wearing any Star Wars clothing or a costume.
Strangers will be less willing to take a photo with you if you walk up to them and ask to do so.
It is possible you will find yourself less willing to talk to people you do not know well because it will be less blatantly obvious as to whether they like Star Wars. But then again you may now be more comfortable talking to strangers–having had all that practice–, so that's a bonus.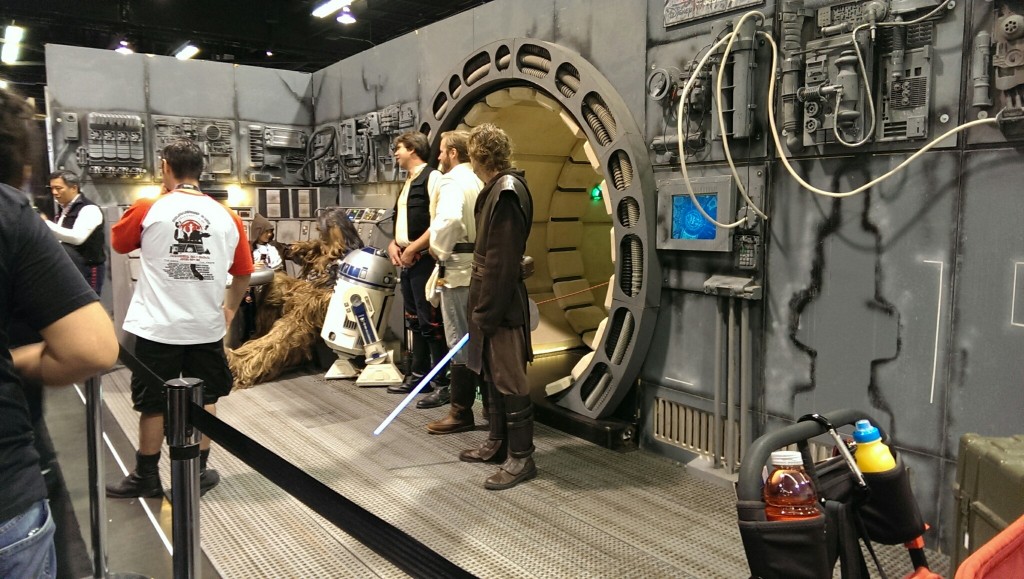 Be Prepared
You will encounter people who have not seen the latest The Force Awakens teaser trailer (or the Rebels Season 2 or the Battlefront trailers). You may find yourself dumbfounded for a moment. That's ok. It's not really as strange as it will initially feel. Take a moment. Let go of your anger and/or shock. This is your opportunity to tell them they really should watch it. Feel free to even show it to them if you have the resources available at the time. Be prepared to give them a knowing yet comforting look if they start to cry while watching it. Then offer to show it to them again. If they didn't realize there was another teaser trailer before that one, feel free to point them to that YouTube video too.
On the flip side, people may also ask you if you've seen the trailer yet. Maybe you didn't tell them you were at Celebration. This could be your own fault. Possible acceptable responses at this point include:
"Yes! Wasn't it great?"
"Only 100 times. I've been busy."
"Why yes, J.J. showed it to me." (h/t @nancipants)
And if you're feeling up to it, tell them which part made you start tearing up. If they claim to be incredulous that a trailer would make someone cry, they could be lying or they could just need to be informed that many many men as well as women openly admitted to crying while watching the trailer at Celebration.
Be sure to take note of their reaction and enthusiasm level. They may not be prepared for the frame-by-frame analysis you might want to lay on them. Give them time. They may eventually see the light and be open to that discussion.
Star Wars Celebration truly is a magical place. But let's not forget there were people who couldn't make it there, didn't know about it, or (strangely) didn't want to go. There's only 450 days until the next one. It's up to us who did attend to be the guardians of the memories, stay connected (Twitter is a great place for that and there are plenty of podcasts to listen to as well), and welcome everyone who wants to be part of a galaxy far, far away.
---
Kay grew up wanting to be an astronaut. After seeing Star Wars, she wanted to be Princess Leia, Han Solo, and an astronaut. You may have seen her at Star Wars Celebration Anaheim cosplaying as Rey from The Force Awakens or getting emotional because she was having too much fun. A voice actor, photographer, and artist who also consults in communications and marketing, Kay spends the little bit of free time she has reading, reviewing, and, of course, making pew pew noises. She would pick up more jobs, hobbies, and fitness routines if she was a Time Lord. You can follow her on Twitter.