Everyday Fandom Clothing and Your Chance To Speak Up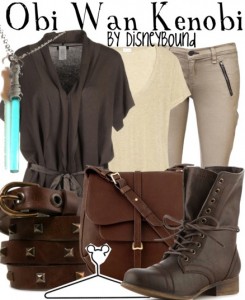 I recently bought a dress because the material looked like hyperspace.
This is a true story.
When we think of fandom clothing it's easy to immediately envision the t-shirt sporting a franchise's logo or an image of a character. These can be fun and are definitely a way to share with the world what you're a fan of. But the decorated t-shirt is just the beginning.
Maybe your workplace has a dress code that doesn't allow one of those shirts. So you have to find another way. You could wear a piece of jewelry with R2-D2 on it or a tie with a batsignal pattern or a watch with a TARDIS on its face.
Sometimes you might want to go a bit more stealth in celebrating the story you love. There are times I've worn green, black, and gold as a Loki tribute. And I know Bria of White Hot Room has done what some call Everyday Cosplay and others (if it's a Disney property) call DisneyBounding. Lin of the same website has posted some pretty fashionable character inspiration clothing collections.
These takes can let you feel more connected to a character you like, but there might be times you want to take it a bit further. This is where everyday fandom fashion comes in. I don't know if that's the real name for it, but that's what I'm calling it. And I think this is where a lot of licensees are missing out. Fandom clothing doesn't necessarily need to have a name emblazoned across it.
After seeing Guardians of the Galaxy, I found myself wanting a red jacket like Star-Lord's. But you can't just pop into a store or hop on Disney's website and buy one. So I spent time looking at department stores for a jacket that would kind of look like his. One was the wrong red. Another had way more buckles than his. It was frustrating. The thing is, I'm willing to pay regular jacket prices to get to feel a little bit like a rebel with 12% of a plan on an everyday basis. I'm sure I'm not the only one.
There are plenty of other fandoms that could have everyday clothing replicas. I want to be able to wear Han Solo's Empire Strikes Back jacket. I'd wear Princess Leia's necklace from the medal ceremony in A New Hope. What about Mystique's black dress in X-Men: Days of Future Past? How about Black Widow's green coat and arrow necklace from Captain America: The Winter Soldier? These are pieces that could be incorporated into the outfits we already wear.
Now's your chance to ask for this type of fandom clothing if that's something you'd like too. ANOVOS sells high-quality, fully-licensed replicas movie and TV uniforms and props. They are currently planning their 2015 and beyond product line of soft-goods (non-armored costumes) and they're asking for your input. Their survey is mainly Star Wars focused and also goes beyond the idea of everyday wear into full costumes (although who would stop you from wearing your jacket from your Han Solo costume every Tuesday?). So go fill out the ANOVOS survey: https://www.surveymonkey.com/s/anovosstarwars Tell them what you'd like to wear – whether it's fully costumes or pieces/unique items. And as a thank you, they'll send you a discount code. Fangirls, fanboys — all fanpeoples, take an opportunity to share your thoughts. The survey is open until October 5, 2014.
Image via DisneyBound
---
Kay grew up wanting to be an astronaut. After seeing Star Wars, she wanted to be Princess Leia, Han Solo, and an astronaut. Life's taken her on a bit of a different path for now, but she's still a Star Wars fangirl at heart who enjoys surprising people with how geeky she really is. A voice actor, photographer, and artist who also consults in communications and marketing, Kay spends the little bit of free time she has reading, dancing around, writing, learning and, of course, making pew pew noises. You can follow her on Twitter.