Fangirls Around the Web: November 8, 2013
Fangirls Around the Web is a bi-weekly feature that highlights real fangirls and their fictional heroines spotted across the internet. We've got a lot to catch up on after New York Comic Con and GeekGirlCon. So let's get started.
How about female leads at the box office to start?
Check out USA Today's story on record-breaking box office of Gravity. Box Office Mojo notes that Gravity is now the highest-grossing movie ever released in September or October, and its tally of $206 million exceeded the total of the other eight nationwide releases combined. The Hollywood Reporter shares that Warner Brothers' head Kevin Tsujihara took a risk on Gravity, also noting his recent remarks that the company needs to get Wonder Woman on the movie or television screen soon.
Speaking of women in film, over at Badass Digest feminist Meredith Border explains how Thor: The Dark World made her happy. Anyone with a Tumblr account realizes how popular Loki actor Tom Hiddleston is with the female fans, so it's interesting to note that more scenes with the characters were added to the movie. (via /Film)
Mark Hughes at Forbes interviewed Jaime Alexander last week about Sif and Wonder Woman. It seems DC's most famous superheroine will likely make an appearance in Batman versus Superman.
"I gotta say, Marvel really writes their women very well. And that's one of the biggest things for me, when I look at playing a character I want to make sure that I'm playing the character first and the physicality is second, and Marvel understands that. They've done a tremendous job, especially in our film, of portraying women as strong and confident. And a side note is that, you know what? They're pretty, they're beautiful, inside and out. And that's just a secondary. So they've really set the bar very high."

~ Jaime Alexander
How about Janine Spendlove running the Marine Corps Marathon in a Wonder Woman costume?
Finally, The Hunger Games: Catching Fire is poised to win the holiday season, as predicted by Box Office Mojo.
Box Office Future: Star Wars
This week brought much talk about a Disney casting call featuring a female lead. Even Star Wars' Facebook page shared the casting call. Is it for Episode VII? Club Jade seems to think so. With the female heroines leading the box office this year, it might not be a bad bet for Star Wars to open on December 18th, 2015. There will be legions of female fans saying goodbye to the science fiction franchise Hunger Games with Mockingjay: Part Two hitting screens on November 20th, 2015. If there is a trailer running in front of it with a female Jedi, those fans will be primed for a new heroine to capture their imaginations.
Already, plenty of fangirls are waving their Star Wars fandom flag: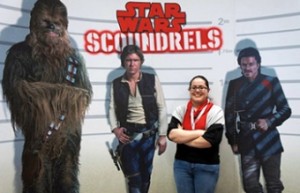 It's still the Year of the Fangirl!
Jenna Busch did a great interview at New York Comic Con with Ashley Eckstein.
One of my favorite fangirls, Johnamarie Macias of The Wookiee Gunner, was featured as Fangirl of the Day. Other fangirls were: Sarah, Vera, Brittany, Anita, Lily, Tatum, Diana, Katt, Natalie, Brae, the inimitable Bonnie Burton, Jess, Chantress, Sarah, Alexa, Ansley, Reagan, Jessica, Peyton, Kristen, Kristin, Wendi, Laura-Jane, Heather & Hallie & Piper & Breeyn, Megan, Jennifer, Becs, Julie, Melanie, Lauralynn, Jenny, Callisto, Jenna, Jennifer, and Lisa.
Women Making News
Halle Berry recently signed to star in, and co-executive produce, the new CBS television show Extant, a summer 2014 series, from Steven Spielberg's Amblin Television. (via Collider)
Pam Belluck at New York Times Blog discusses research showing that reading literary fiction increases empathy.
Eileen Pollack in the New York Times Magazine asks "Why Are There Still So Few Women in Science?"
Don't miss the great blog post from Christina Marie about the fan reaction to Veronica Roth's Allegiant.
Another can't-miss is the Skywalking Through Neverland podcast episode on cosplay and consent.
TheMarySue reports Natalie Portman comments about female characters in interview with Elle magazine:
"I want [female characters] to be allowed to be weak and strong and happy and sad – human, basically. The fallacy in Hollywood is that if you're making a 'feminist' story, the woman kicks ass and wins. That's not feminist, that's macho. A movie about a weak, vulnerable woman can be feminist if it shows a real person that we can empathize with."
---
Tricia Barr took her understanding of brand management and marketing, mixed it with a love of genre storytelling, and added a dash of social media flare to create FANgirl Blog, where she discusses Star Wars, fandom, and strong female characters. She also writes about Star Wars for Random House's science fiction and fantasy blog Suvudu.com and Star Wars Insider magazine and is a contributor for Her Universe's Year of the Fangirl. Her FANgirl opinions can be heard each week on the podcast Assembly of Geeks.
Tricia is putting the finishing touches on her first novel, Wynde – a military science fiction with a fantastical twist that features heroines Vespa and Gemini. For excerpts and tales of her adventures in creating a fictional universe, hop over to TriciaBarr.com.
For updates on all things FANgirl follow @FANgirlcantina on Twitter or like FANgirl Zone on Facebook. At times she tries the Tumblr.