Whedon on Nerdist: Toy Story to Buffy and Beyond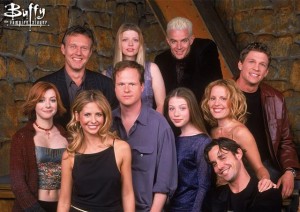 Joss Whedon is making the press rounds. He admits on the Nerdist podcast it isn't his favorite part of movie-making, but it's a necessary part of the business. I have pointed to his thoughts on storytelling previously, and again I found some interesting takeaways from his hour-long discussion.
This weekend Pete Morrison at Lightsaber Rattling laid out what little is known about the Story Group for Star Wars and made a few educated guesses about the team. As I pointed out on Twitter, it's likely this group will take some lead from the Marvel team, which includes Whedon.
On the Nerdist podcast, Whedon discusses his time on the Disney team – apparently he is a fan, having watched The Little Mermaid and Beauty and the Beast seven times each in the theater. He described the Pixar process on Toy Story, which Star Wars screenwriter Michael Arndt also worked with on Toy Story 3.
In talking about his role as director on the second Avengers movie, he said he was "hired to make structure work." Whedon explains that structure is critical to the creative process. On Buffy the Vampire Slayer, every episode had a purpose – it had to move a character somewhere – and then each season had an overarching purpose or arc. While breaking each season, he established the structure and then everything fell in place from there. Whedon also makes some comments about from where he draws his Avengers inspiration – "old school, they get it right" – and what era of comics he avoids.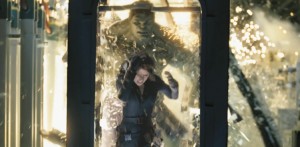 Whedon discussed the use of CGI in storytelling. During his Toy Story experience, the technology had opened doors to do pretty much any camera angle and wild new special effects. The question the Pixar team always asked was, "But do we have to?" Effects, Whedon explains, have to serve the character's story. His position is that effects mean nothing if you can't "make [the audience] care." He emphasizes the importance of characters multiple times in his interview, even noting that one particular television show that was on his Must-Watch list went to his Don't-Watch list over the course of one episode, after the characters delivered lines that served the plot and not the characters. It's obvious that he agonizes over each line of dialogue and how it reflects on the characters' motivations.
Other points of interest:
He explained that Pixar hires people who care, and that makes a difference in their product.
Whedon collects Victorian books; his favorite is The Light Princess.
The podcast includes an in-depth discussion of Buffy the Vampire Slayer, and the episode "The Body," which Chris Hardwick dubbed one of the best episodes in television.
The interview was done at Whedon's home and his daughters came in and out of the room. Whedon is open about the struggles of being a father and balancing his "workaholism."
Whedon prefers writing and hasn't always been comfortable as a director, in part due to his fear of confrontation. He has learned to compromise with opposing personalities and sings the praise of actors who have to trust their director to make them look good on the screen.
If you're interested in storytelling, Buffy, and what's coming from Marvel and how that might reflect back on Star Wars, I highly recommend this Nerdist episode.
---
Tricia Barr took her understanding of brand management and marketing, mixed it with a love of genre storytelling, and added a dash of social media flare to create FANgirl Blog, where she discusses Star Wars, fandom, and strong female characters. She also writes about Star Wars for Random House's science fiction and fantasy blog Suvudu.com and Star Wars Insider magazine and is a contributor for Her Universe's Year of the Fangirl.
Tricia is putting the finishing touches on her first novel, Wynde – a military science fiction with a fantastical twist that features heroines Vespa Wynde and Gemini Reed. For excerpts and tales of her adventures in creating a fictional universe, hop over to TriciaBarr.com.
For updates on all things FANgirl follow @FANgirlcantina on Twitter, like FANgirl Zone on Facebook, and watch her Tumblr.