Star Wars Rebels: The Next Television Series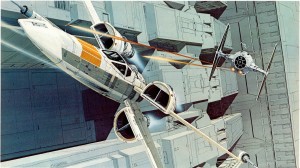 Today the name change for the formerly titled "Rebels" novels series made a little more sense when Lucasfilm announced the next Star Wars animated television series: Star Wars Rebels. Scheduled for a Fall 2014 debut, the stories will take place in the relatively unexplored time period between the Prequel Trilogy and the Original Trilogy. With its debut at least a year and a half away, it's too early to expect many specifics – there isn't even a logo yet. The first look at the series will come at Celebration Europe in late July. In the meantime, fans can keep up with official news on the new Star Wars Rebels Facebook page. And be sure not to miss the short teaser video released along with today's announcement, in which Pablo Hidalgo gets his Disney host on to introduce us to the exciting news.
Among the sparse information shared today was great news about some of the key creative contributors to the new animated series. Dave Filoni, who excelled as supervising director on The Clone Wars, will be an executive producer of Star Wars Rebels. He's joined by Simon Kinberg, previously revealed as a participant in the development of Episode VII and the standalone films, and animated television veteran Greg Weisman. Also returning from the amazing team on The Clone Wars are Kilian Plunkett as art director and Joel Aron as CG supervisor.
Updated Weisman and Christenson information: On Twitter, Weisman teased that hints about Star Wars Rebels could be found in his upcoming novel Rain of the Ghosts, which features a young female protagonist: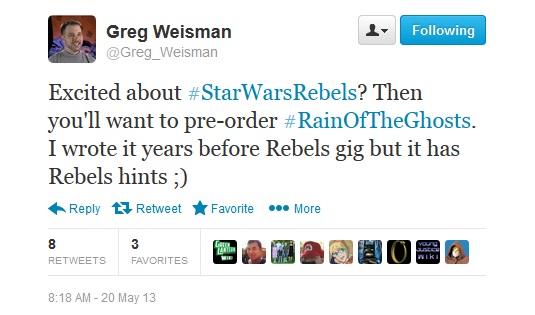 Also on Twitter, artist Amy Beth Christenson, who previously worked on The Force Unleashed at LucasArts and The Clone Wars for Lucasfilm Animation, revealed that she's now working on Star Wars Rebels: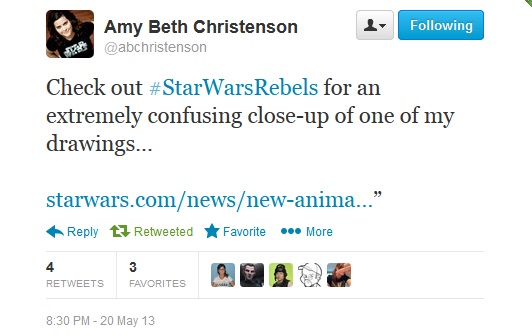 Another contributor is referenced repeatedly in the video, too: the late, legendary Ralph McQuarrie. His concept art played an incalculable role in the look and feel of the Original Trilogy, and it's clear from The Art of Star Wars: Episode IV – A New Hope that Filoni wields in the video that his work will be equally influential on Star Wars Rebels. There's no better way to reach back to the visual roots of Star Wars than McQuarrie's amazing artwork.
With the best of the past and present of Star Wars working on Star Wars Rebels, the future of Star Wars television can't arrive soon enough.