REVIEW (Spoilers): Fate of the Jedi: Apocalypse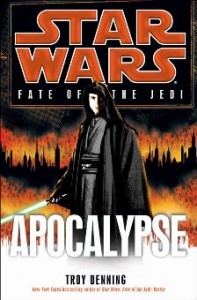 The Fate of the Jedi series has been an interesting experience for me. I've loved it in parts, hated it in others. It's made me book-chucking angry and even inspired me in part to create this blog. FANgirl eventually led to some great opportunities for me to contribute to the fandom as a long-time Star Wars fan. One of the best parts of building and creating FANgirl has been developing a platform for many fans to share their opinions and experiences. I've met a lot of amazing people as a Star Wars fan and geek girl blogger, and I was extremely excited when a longtime member of the Lomin Ale Cantina agreed to take on the review of Apocalypse. So welcome to FANgirl's newest contributor, Kay, with her spoiler review. If you want to talk about the book, please join us in the book discussion thread in our forums.

She grew up wanting to be an astronaut. After seeing Star Wars, she wanted to be Princess Leia, Han Solo, and an astronaut. Life's taken her on a bit of a different path, but she's okay with that.

Kay is FANgirl's resident geek fashion expert and co-host of the Hyperspace Theories podcast. She reviews books and movies for the site with a heart for storytelling and a mind that likes to analyze. Kay's been a guest on various podcasts sharing her love and knowledge of storytelling, film-making, fashion, and of course, Star Wars.

Most days are filled with her work as a creative services professional - designing websites & branding, photographing, voice acting, editing, and more. Kay spends the little bit of free time she has reading, costuming, and, of course, making pew pew noises. She would pick up more jobs and hobbies if she was a Time Lord.