Star Wars Roundup – January 31, 2012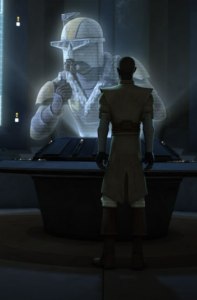 Lots of things to catch up on this week, and we're only two days in!
Megan Crouse is back with a review of last week's episode of The Clone Wars, "Friends and Enemies." There are so many interesting developments for Obi-Wan and Anakin that tie nicely into the Prequel Trilogy that I think this arc's conclusion is going to be very important. Previews for this week's episode, "The Box," feature a bevy of bounty hunters. Don't forget to tune in on Friday at 8:00 p.m. on Cartoon Network.
---
Pete Morrison at Lightsaber Rattling spotted some updates to The Clone Wars schedule in the newest edition of Star Wars Insider. Looks like the current arc will conclude on February 10th, the same day The Phantom Menace 3D hits the big screen. After a week off, the long-awaited Darth Maul four-part arc will begin with "Massacre," an episode directed by Steward Lee and Katie Lucas. Asajj Ventress and the Nightsisters will be featured, and last year's episodes scribed by Katie Lucas were some of my favorites.
On Facebook, Dave Filoni shared his answers to the recent Q&A with fans. It was especially exciting to see so many addressing female characters, including Ahsoka, Satine, Bo-Katan, and Mother Talzin.
---
Speaking of Darth Maul, the reprint of the novelization of The Phantom Menace hit bookstores today. It features a new Darth Maul short story by James Luceno, "End Game." Also in stores, The Millennium Falcon Owner's Workshop Manual is the non-fiction book that inspired my first post about the famed ship over at Suvudu.
---
The ForceCast participated in the Skywalker Ranch junket for the release of The Phantom Menace 3D, and they've posted a Special Report for fans. Jimmy Mac did a great job earlier this year reporting from The Clone Wars blue carpet Season Four premiere, so I expect this will be a great listen. Also keep an eye out for the upcoming Roundtable for Darth Plagueis. I can't wait to listen to that one, too. Especially because Jason likes this addition to the Star Wars EU.