X-wing: Mercy Kill Cover and Synopsis
Happy Holidays! Or at least that's what it felt like today. While I don't usually cover breaking news and keep the blog's focus on commentary, I've provided plenty of commentary on one of my favorite Star Wars series – X-wing – that has been on a bit of a hiatus. We've known since Celebration V that it's coming back, with author Aaron Allston writing a post-Fate of the Jedi story focused on Wraith Squadron.
Today Erich Schoeneweiss of Del Rey released the cover at the Star Wars Facebook page and a synopsis at Suvudu.com:
Founded decades ago, Wraith Squadron was Wedge Antilles's boldest creation: a covert-action unit of X-Wing fighters, its pilots drawn from the dregs of other units, castoffs and rejects that were once outcasts and misfits, spies and warriors, pilots and troublemakers given one last chance. After thrilling adventures during and after the Rebellion that destroyed the Empire, this elite intelligence unit was disbanded at the end of a catastrophic galactic civil war.

Now, reunited by former leader Garik "Face" Loran, Wraith Squadron must find out whether one of the galaxy's most powerful military officers is a traitor… and whether anyone can stop him if he is. To succeed in their mission, the Wraiths must become thieves, pirates, imposters, forgers, and liars, staying just one step ahead of their enemies and the law!
First, the cover art – fantastic! The artwork is by Mike Bryan and design by Scott Biel. I bought my first X-wing book off the shelf because it had the look of the movie, and this one hits the same tone.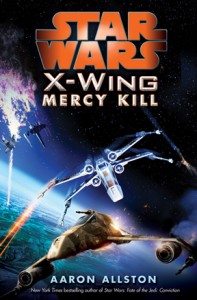 As for the blurb, Wedge and Face both get nods. Wedge Antilles, a minor character in the original trilogy who has become a fan favorite in the Expanded Universe, is the true everyman hero. He's not a Jedi; he's just a badass Corellian. Now he has a superspy wife, Iella, and two daughters, Syal and Myri, who are young adults in the Fate of the Jedi era. Face Loran, on the other hand, is the holostar turned hero. He's been through a few rough patches, but has consistently been a fan favorite, too.
There is most definitely a formula to the X-wing books, but each one is a good Star Wars read in its own right. They're the type of book you can pick up and know what to expect – a good time in the Star Wars galaxy. In the last X-Wing book, Starfighters of Adumar, Allston weaved together an intense plot that didn't involve massive galactic threat and that was laugh out loud funny. (Tip: Don't read the book in public – snorting and guffaws are guaranteed every few pages.) The novel also included… wait for it… romance. And I've always liked the diversity of Wraith Squadron. A character exists for everyone.
In the meantime, if you haven't read the previous X-wing series books, now is a great time to get started. Wraith Squadron also plays a significant role assisting a Jedi operation by Luke Skywalker, Mara Jade, and Tahiri Veila on a mission to infiltrate Coruscant in the Enemy Lines duology during the New Jedi Order series.
Mercy Kill hits bookshelves – virtual and real – on August 7, 2012.