Review by Tricia Barr
A coming-of-age tale of fan fiction, family and first love.

Cath is a Simon Snow fan.

Okay, the whole world is a Simon Snow fan . . .

But for Cath, being a fan is her life — and she's really good at it. She and her twin sister, Wren, ensconced themselves in the Simon Snow series when they were just kids; it's what got them through their mother leaving.

Reading. Rereading. Hanging out in Simon Snow forums, writing Simon Snow fan fiction, dressing up like the characters for every movie premiere.

Cath's sister has mostly grown away from fandom, but Cath can't let go. She doesn't want to.

Now that they're going to college, Wren has told Cath she doesn't want to be roommates. Cath is on her own, completely outside of her comfort zone. She's got a surly roommate with a charming, always-around boyfriend, a fiction-writing professor who thinks fan fiction is the end of the civilized world, a handsome classmate who only wants to talk about words . . . And she can't stop worrying about her dad, who's loving and fragile and has never really been alone.

For Cath, the question is: Can she do this?

Can she make it without Wren holding her hand? Is she ready to start living her own life? Writing her own stories?

And does she even want to move on if it means leaving Simon Snow behind?
With a title like Fangirl, this book was destined for my read pile. And once I knew that the author had explored fan fiction communities as an observer, I was curious how fair she, as a published author, would be to the community. Once I started reading, I discovered characters that felt real – as young adults leaving the nest and embarking on their freshman year of college, but also true to the people I know in the fan fiction community.  When characters are relatable it becomes easy to get sucked into the story, because the author makes you care.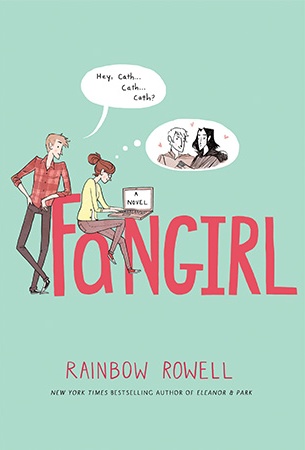 Simon Snow is Fangirl's equivalent of Harry Potter. Although I wasn't a Harry Potter fandom participant – my preferences for fan fiction rested firmly in Lord of the Rings and Star Wars – the fans that make up these communities are very much the same. Rowell does something really creative with her story: she tells the story interspersed with fan fiction written by the protagonist Cath under the pen name Magicath. Occasionally a co-authored piece appears, written with her sister Wren. Then it becomes apparent that the co-authored pieces are older, that some event separated the twin sisters from each other during high school, and that Wren striking out on her own with a new roommate was simply symptomatic of some deeper trauma.
I've discussed previously that coming-of-age stories rely heavily on the "parent dies" trope to set the protagonists down their paths. The reliance comes from not understanding what the parental deaths do to the protagonist: emotionally isolate them. Rowell, however, grasps the potential of parental separation without sticking to the tired trope. She uses a real life event, something that is relatable to readers of this era – the 9/11 attacks.
Rowell gets high marks for her characters, and also for her ingenuity. What she has done with this novel is acknowledge a large segment of the book-reading population, which doesn't just read – they also write, too. Not only does Rowell acknowledge fan fiction writers, she makes them human and explores why falling into fantasy worlds and living among their fictional characters is often a safe haven. As a novelist, she isn't mocking the community that writes for the pure pleasure of it, but creating an avenue of understanding for why they do.  Fangirl exhibits empathy for the community, and empathy is the one thing that many contemporary stories lack.
Finally, in her clever use of shifting narratives, Rowell recognizes one of the things fan fiction has been doing better than traditional publishing for a long time: daring to be different.  If you enjoyed Harry Potter and its fandom, ever dreamt up fannish stories in your head, or just enjoy unique plots with characters that feel real, Fangirl is worth the read. It's the first book in a long time that, when I had to put it down, I was eager to pick it back up as soon as possible. As any fanficcer knows, one of the highest compliment to be paid is, "I couldn't stop reading your fic."
Fangirl gets a brownie sundae rating.