The obvious question is, how did you get involved in cosplay?
I got involved in cosplay back in 1999 when I had just started high school. The friends I made in marching band ran the anime club, which I joined, and they all cosplayed and attended conventions. They asked me if I wanted to go to Anime Expo that year, and I said yes. They asked if I was going to dress up, and I was like, sure! I've never stopped since then.

Is this your only fan artist endeavor or have you ever tried fanfiction, fanart, or fanfilms?
I used to do the occasional fanart and fanfic when I was in high school. It was my outlet for my passions to go somewhere. I'm like Tinker Bell, she can only express one emotion at a time, and for me, I can only focus on one passion at a time. So first it was fanart and fanfics, and now it's cosplay 100% of the time.
What about Jaina Solo's character inspired you to create her look?
There's something about Jaina Solo that every fellow Star Wars/geek girl is drawn to. You read her stories and immediately think "hey, this is ME!" I find that a lot of the girls that love Jaina naturally have a good "look" for portraying her. So whether I'm wearing Jedi attire or the X-wing suit, I'm honestly just me… I don't do my makeup that much differently than how I normally wear it, and I'm naturally a brunette and used to use my own hair for the cosplay, though nowadays I wear a wig as my hair gets rather flat and lifeless after a few hours.
When I mentioned that I would be interviewing you, a number of fans asked about the Jaina Solo X-wing pilot costume. Can you tell them where to start with the basics like the orange jumpsuit, the lightsaber, and helmet?
The X-wing pilot outfit is still one of the costume I'm the proudest of. Though it was a pain to make and I never want to do another, I'm really proud of all the details it has. It was a paired effort between my boyfriend and myself. He did most, if not all, of the work on the patterns and I was the sewing labor. Unlike how the suits are worn in the movie (somewhat loose), Jaina's suit is, of course, always drawn to look form-fitted on her. That required special patterning on my suit, versus my boyfriend's suit, to make it conform to my curves. My flak vest was patterned to specifically tailor to my chest, as were the pockets that are sewn onto my suit. I can't tell you how many hours we spent watching the hanger scenes in A New Hope frame… by… frame.
But, onto the basics! You can buy an orange jumpsuit online, or you can try and do what we do and pick some up at an Army/Navy Surplus store. Make sure to buy an extra suit because you'll need it to make all the pockets out of. You can find more info about making the entire X-wing pilot suit by going through the Rebel Legion forums. I had my lightsaber hilt custom made – I honestly think I might have been the first to get a Jaina hilt custom made? I had it made by RandomSabers, but they have since stopped taking orders. My friend Shea, another massive Jaina Solo fan and Jaina Solo cosplayer, had her hilt made by Nocturne Armory. They make amazing hilts and have made the Jaina hilt, a Tenel Ka hilt for my friend Monique, and both my Ahsoka hilts. As for the helmet, I got mine from Richie's Armor, but unfortunately I wasn't that pleased with it. If you are a member of the Rebel Legion, sometimes you can find one for sale that's either already painted, or is a kit ready for you to finish. Most of us track down German Jack Boots for the pilot outfit, though I believe the "correct" boots to get would be the German Tanker or "knobelbechers" Boots. Due to variations in the costumes and what pieces are shown in promo photos and in exhibits, it's impossible to 100% say which boots are used, but those are the top two! Which means check eBay, eBay UK, and the internet in general for WWII boots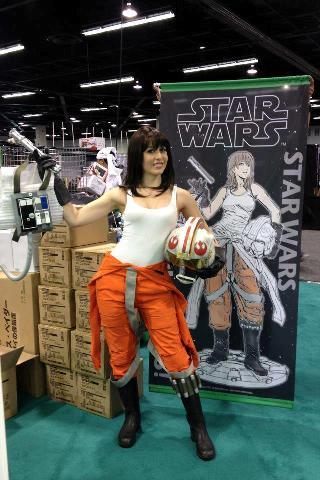 .
At WonderCon you posed as the Bishoujo Jaina Solo, which is a Star Wars collectible that will be debuting later this year from Kotobukiya. Can you tell us about this opportunity?
A couple years ago some companies started to hire cosplayers to pose and bring attendees into their booth instead of models hired to be booth babes. I love this! This year Kotobukiya jumped on board and asked for cosplayers to pose at their booth. I was eager for a chance to work with them, and it was a really great experience. I had a lot of fun modifying my suit to fit the way it's drawn in the prototype art. Although I really didn't think through how hard it was going to be to hold that pose, which I was determined to do. Thankfully I was only there for 2 hours, but I could barely move my arms afterward! They'll have cosplayers at their booth for San Diego Comic-Con this year, and if they want me back, I already have a great idea for how to make it look like my hilt is suspended in mid-air.
What other doors has cosplaying opened for you?
Mainly cosplay has allowed me to meet many, many wonderful people who share a common interest, and that's the main thing I think I love about cosplay overall! But cosplay has also given me opportunities to be an extra in movies, TV, and the Web. It's also allowed me to start experiencing conventions as someone other than an attendee. Vendors are starting to hiring cosplayers to be at their booths because they know they'll draw traffic into their area. What started out as just posing for pictures has progressed to me actually working with some vendors in advertising and selling their merchandise. And doing that has allowed me to meet and create relationships with those who work in the industry, whether it be someone at a major studio or someone at an FX house. Nowadays you really never know what doors might open for you when it comes to cosplaying.

What are some of your other favorite characters to cosplay?
I definitely have a lot of love for Star Wars, clearly, and dressed up as Princess Leia well before I started dressing up as Jaina Solo. So I definitely love throwing on the senatorial gown or the gold bikini from time to time. But my main Star Wars costume lately has been Ahsoka Tano, which was, and still is, quite a labor of love! I also love dressing up as Tinker Bell, especially when I know little kids will be around.
Are you currently working on any new costumes?
I'm always working on new costumes! The real question is, will I finish any of them? Right now I have a Cersei Lannister costume I've been trying to finish for over a year, two Leeloo costumes in progress, as well as Supergirl, Carrie Kelley, and 1960s Catwoman. And that's not even all the ones on my plate, good grief.
I see you've started a new website – Set to Stunning. What is the goal of that site?
Set to Stunning is actually the brainchild of my friend Lindz. She wanted to create a geek style blog because there really aren't any that focus just on geek fashion and style, and she asked me if I wanted to partner with her on it. I am so excited to do this blog with her because I wholeheartedly agree that there aren't any blogs out there right now that are doing what we're doing. We're beyond t-shirts.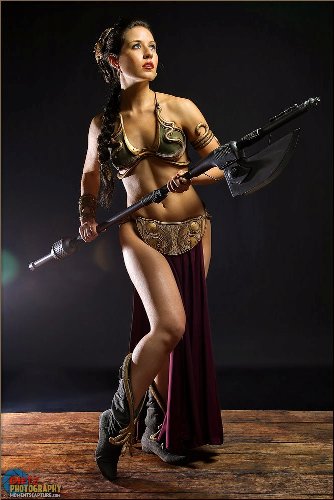 Companies are starting to make shirts and other clothing made for a woman's shape with more artistic prints, accessories that can work for all occasions, and beauty products like nail polish and makeup that's geek themed. We want to cover and share all of that as it comes out, put the spotlight on some of our favorite companies, as well as highlight fan-made creations and present DIY tutorials so you can make some of your own geek chic creations! And we're not just focused on clothing, we love to share and discuss products that are meant for the home, and how you can stylishly incorporate geeky home décor into your living space.
You'll be attending quite a few conventions this year, including San Diego Comic-Con and Celebration VI. Do you have a favorite, and is there anywhere specifically fans will be able to spot you cosplaying at those conventions?
I really love San Diego Comic-Con, even though it gets more and more crowded each year and has become more of a Hollywood industry convention instead of a geek and comic industry convention. The past few years I've had more fun volunteering at booths then just walking around, and I'll be doing the same this year. So even though I plan to wander the con floor a few times, it'll probably be easiest to find me at the Anovos booth or the Kotobukiya booth this year. I am very excited for C-VI. I haven't been to a Celebration since C-IV in Los Angeles, so I can't wait to have nonstop Star Wars fun for four days! But really, I guess my favorite con is, or should be, Dragon*Con. It's the cosplayer con and the one con everyone I know looks forward to every year. In costume all day, every day, partying all day, every day. It's a dream!
Finally, any advice for aspiring cosplayers?
Have fun, and don't be afraid to ask questions. Many cosplayers are quite happy to share their knowledge with you – but, some might encourage you to try to do things on your own. Some cosplayers spend a massive amount of time figuring something out for their costume, and aren't necessarily going to share all their hard-earned knowledge with someone who emails them saying "Hi, I love your costume, tell me how you did everything." Be polite when asking for assistance, like "Hi, I absolutely adore your costume. I've searched everywhere but am having trouble. Would you be able to tell me where you got the wig for it? Thank you for your time!"
You might think what I'm saying is stupid, but it is very common to get one nicely worded question among a dozen "gimme" questions, and a lot of cosplayers have no interest in assisting people who just want everything handed to them. Part of what makes my costumes so important and special to me is all the blood, sweat, tears, and dozens of hours I put into them when it came to researching and figuring out how to make things. When I know one quick search with Google will automatically give you your answer, and instead you email me, well, then I know you haven't really been trying to properly research your costume. And it might sound mean, but my response to some people has actually been "Google it."
And the last advice I'll give, which ties in with what I just mentioned, is – research. If you've only spent a few minutes looking something up, you aren't researching, you're half-assing. I have spent literally days researching fabrics, wigs and reference images for some of my costumes. You never know what combination of keywords will result in showing you what you need, what image result might lead to a message board with all the valuable information you were looking for, etc. Trust me, when you think you've found everything you can, there is always going to be something out there you still haven't seen, so make sure to research thoroughly!