Everyone has their "how I fell in love with Star Wars" story. What's yours?
I'm sure my story will resonate with many a Star Wars fan, as it is not particularly unique. I had seen previews for the 1997 re-release of the Star Wars trilogy; I told my dad that I had never seen the movies before and that I thought it would be fun to go. Little did I know, I would leave the theater a changed person. At twelve years old I was on the cusp of leaving childhood and entering adolescence, losing my excitement and wonder for all things imaginary and developing a new-found sense of cynicism. However, Star Wars captivated my heart like no other movie I had ever seen before or since.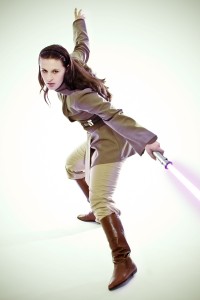 Suddenly I was watching an old VHS of Star Wars on repeat, reading every piece of Star Wars literature I could get my hands on, and inventing fantastical Jedi adventures in my head. I truly have Star Wars to thank for allowing me to retain a wonderful piece of my childhood.
Cosplay is the most publicly visible way you use to express your fandom, but you're also a sketch artist for the Topps Galaxy series. Which came first? Do you think your artistic abilities help in creating costumes?
Costuming came before the sketch cards, but it was through costuming that I got the sketch card gig. The costuming community is very tight-knit, and a friend I had met through cosplay introduced me to his friend who was a sketch card artist. After I expressed interest in Star Wars art and sketch cards he referred me to the editors at Topps, and the rest is history!
As an artist, I view the world through a very creative lens, and I approach making a costume through the same lens. Colors, textures, shapes – there is a relationship between all of these elements within a design, and the challenge in costume-making is figuring out how to put all the pieces together in a cohesive way. Cosplay is an incredibly creative outlet, and I would even go so far as to say that being an artist is the driving force that fuels my costume-making. Just like sitting down with a pen and paper in order to bring your imagination to a tangible form, making a costume is a creative way of bringing a character to life.
One annoying personality trait I have which happens to be an advantage as an artist is that I am a perfectionist and I obsess beyond reason over the smallest details. My mom loves to tell the story of when I was in kindergarten and during a writing exercise, I erased and rewrote the letter "M" 17 times until I was finally satisfied with how it looked. I am a Letter Brush artist at Sea World San Diego, and my coworkers all make fun of me for throwing out an entire name if I deem one letter to be substandard. However, I believe attention paid to the smallest details is what makes a costume great and takes it to the next level. Driving all over the city (or to multiple cities) to find the absolute perfect fabric, going the extra mile to topstitch all the seams on a costume for accuracy, scouring the internet for hours on end trying to find the exact bead you are looking for (and having to buy 1000 of them even though you only need one because the website only sells in bulk) – these are lengths that some people might find too troublesome to go for a costume. For me, however, I refuse to compromise on quality and accuracy. Not taking shortcuts and not settling for anything less than perfect is my personal approach towards my own costumes.
How do you decide which characters you want to cosplay?
There are several factors that go into deciding which characters I want to cosplay. Most often I choose a design because I love the character so much.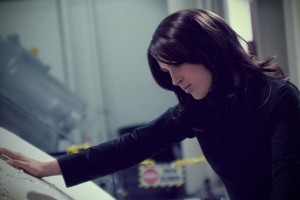 This often means that I will make simple costumes from obscure sources that no one recognizes, but I don't care! If I love the character enough, just the idea of being the character is enough for me to want to create the costume. Other times a design is so elaborate and appealing to me that I will want to make it even if I know nothing about the character. This can be a slippery slope, though, because it is harder to stay motivated to work on a costume if it is a character you are not passionate about. If you hit a wall and feel like you can't go any further, where do you look for inspiration if you have no personal investment in the character?
Ideally I try to find a balance between a character that I love, is relevant to a community and/or will engage fans, and has an appealing design that will challenge my skills as a costume-maker. A great example of this is the Jaina Solo Stealth-X design for the Suvudu article, drawn by Frank-Joseph Frelier – it fit all of the above criteria perfectly!
How many costumes did you bring to Celebration this year? Were there any you'd hope to bring but weren't able to?
I brought the following costumes to Celebration VI:
1) Jaina Solo (Rebel pilot flight suit)
2) Jaina Solo (Stealth-X flight suit)
3) Aayla Secura (Star Wars: The Clone Wars)
4) Aayla Secura (bikini design)
5) Princess Leia (metal bikini)
6) Star Wars dress (vintage design)
The great thing about Celebration for costumers is that it is a unique opportunity to create costumes specifically aimed at a Star Wars audience. That obscure bounty hunter that appeared for three seconds in the Star Wars Galaxies Expansion: Rage of the Wookiees? You probably won't be recognized at your average comic convention, but chances are someone will appreciate you at Celebration!
To that end, there are several Star Wars costumes that I would have loved to make specifically for C-VI that, for whatever reason (usually time and/or money), never materialized. The red Invasion of Naboo dress that Queen Amidala wears in Episode I: The Phantom Menace has long been at the top of my list of dream costumes I want to make, but I have yet to start collecting materials for it. Another idea I had tossed around to make for Celebration was a Darth Talon costume from the comic Star Wars: Legacy. A few months ago I was commissioned to draw Darth Talon for some badge artwork, and my research led me to falling in love with her design, but it was yet another costume that fell to the wayside. There's always Celebration VII! (Ironically, I brought my Aayla Secura outfit from The Clone Warsand never got a chance to wear it!)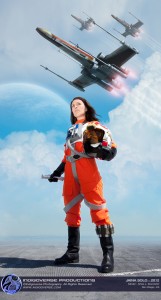 I had the privilege to wear your Jaina Solo Rebel pilot costume and admire the detail. It's apparent that you put a lot of effort into recreating the character, even in coaching me on the way to pose. I've seen you talking about "staying in character" in your Slave Leia costume. So it's not just about the costume. Can you explain the ways you try to stay true to each character?
I am not religious about staying in character, but when I find it is appropriate I definitely try to do so. Let's use Jaina Solo as an example: Jaina is a pretty serious person, especially when it comes to being a Jedi, so when people ask to take a photo of me wearing one of my Jaina costumes I usually strike a pretty serious pose. Part of me feels a little bad knowing that when they go back to look at their photos, they are going to have a photo of a girl who looks miserable having her photo taken, but it just doesn't feel right posing with a big smile on my face when I am in Jaina. Perhaps unintentionally, I sort of take on her persona when I put the costume on, but I guess that's all part of becoming the character!
Another time I try to stay in character is when young children approach me. I trooped with Rebel Legion at Legoland last year wearing Aayla Secura, and kids thought I was actually her! I couldn't bring myself to burst their bubble and disappoint them, so I mustered up the best French accent I could pull off and interacted with them as if I were really Aayla. It truly delighted me to stay in character and be making happy memories for them!
In 1977, when I was eight years old, Princess Leia captured my imagination and I asked my mother to make her iconic white dress for me to wear for Halloween. Her confident style inspired me as a young women. We had a chance to talk about what drew you to the character of Jaina Solo. Can you share what you related to me?
When I first became interested in Star Wars, I couldn't decide who was my favorite character – Han Solo or Princess Leia. One was a hot-shot pilot, the other a beautiful and confident royal. Then I was introduced to the Expanded Universe, and the character of Jaina Solo was the answer I was looking for. Only daughter of Han and Leia? Force-sensitive Jedi-in-training? Gifted pilot to boot?! I had to know everything there was to know about her.
You were the one who summed it up perfectly at Celebration – Jaina Solo is my Harry Potter. Her character is unique in that, unlike a character in a standalone novel, her entire life unfolds over the span of many books. Since our ages corresponded closely during book releases, I found myself identifying with her constantly. There is a chapter in The New Jedi Order: Vector Prime called "Running the Belt," and I will never forget reading it as long as I live. Jaina defies Leia and takes her turn on the Belt, and where her brothers Anakin and Jacen failed, Jaina shined spectacularly. As someone who also has two brothers, going against my parents wishes to prove I could do anything my brothers could do – and do it better – was just one of many instances where I felt Jaina and I were kindred spirits. When real life would knock me down and kick me in the teeth – being a moody teenager, falling in and out of love, the death of someone close – time and time again I would bury myself in my Star Wars novels and be comforted by the fact that Jaina was going through the same thing I was.
It is powerful to think that a fictional character can influence the development of an individual, but that is precisely the case with me – I have always looked up to Jaina and strived to be like her. She is my alter-ego in a lot of ways, and while I am keenly aware of the line between fantasy and reality, I often look at Jaina as an old friend who I can check in on now and again and see how she is doing.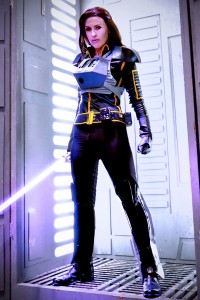 You must have been so excited when the recent image of a new Stealth-X flight suit for Jaina appeared on Suvudu. Your costume of it had to be pulled together very quickly. You actually contacted the original artist to get his thoughts. Are there any tips you can give for the fans who would like to create this costume?
I think Jaina fans all over the world – especially myself – simultaneously let out a squeal of excitement when the image of Jaina in a Stealth-X flight suit appeared on Suvudu! If you are interested in making the costume, first and foremost I would contact the artist, Frank-Joseph Frelier, if you have any questions on aspects of the design. He was incredibly helpful and very supportive of my endeavor to bring his drawing to life, and generously answered all of my questions. These are some of the notes he gave me:
The outfit is a flight suit underneath a jacket. The flight suit is made out of fabric, while the jacket is meant to have the appearance of leather. This explains the differing textures of the jacket and pants in the drawing. (If you look very carefully, the light from the lightsaber is absorbed differently on the different fabrics – the jacket is more "shiny," while the pants are more "matte.")
The outfit is a deep indigo color, rather than black. This is a nod to Jaina's lightsaber color.
The chest box is an "updated" version of the X-Wing chest box. Its look is influenced by the original chest boxes, but is also meant to reflect a newer generation of pilots, hence the redesign.
---
Be sure to check out Shea's Facebook page, where she posts progress and completed photos of her costumes and art, as well as video tutorials on costuming techniques. You can also find her on Twitter, her online art and costuming profile, and her Scoundrel Art Community profile for her Topps sketch cards.
Photo Credits:
Stealth-X flight suit (Made August 2012) – Photography: Robert Barker, Photo Editing: Shea Standefer
Rogue Squadron flight suit (Made March 2012) – Photography: Indigo Verse, Photo Editing: Julia Star and Indigo Verse
Force Heretic: Remnant (Japanese cover) jumpsuit (Made March 2007) – Photography: Jason Nishi, Photo Editing: Shea Standefer
New Essential Guide to Characters Jedi robes (Made June 2005; updated May 2009) –  Photography: Stephanie Bouzard, Photo Editing: Shea Standefer