Leia, More Leia, and Ania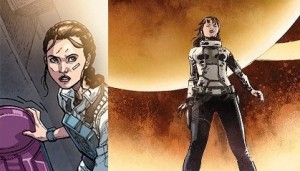 After the holiday rush, it's time to catch up on a bit of recent news about several exciting projects in the works in the Star Wars Expanded Universe.
Newsarama published a great interview with Brian Wood about his new Star Wars comic, which has Issue #1 releasing next week on January 9th. Previously he's mentioned that Leia plays a major role in the new ongoing series, and he expands on it more in this interview, as well:
Nrama: The advance solicits for this series have fans salivating, especially in #2 where it's mentioned Leia is forming a "stealth squadron." What can you tell us about Leia and her plans in this series?

Wood: Leia spends a LOT of time in an X-Wing here, as a pilot equal in stature to Wedge and Luke, and close in skill. If there's anything "controversial" in what people already know about my story, its this idea that Leia is a fighter pilot. That she ISN'T one, actually, since we've never seen her doing it. I simply applied logic to the situation: if we, here, learn to drive at age 16, why wouldn't someone in Star Wars learn how to fly as a coming of age thing? Luke did, as a farm boy. Wedge did, working his parent's gas station. Why not Leia, a daughter of privilege? She can handle firearms, she basically takes over her own escape from the Death Star. She survives torture. She BEATS torture, actually. Later we see her on speeder bikes, fixing the Falcon, shooting more dudes, and so on. It's almost insulting to suggest she can't fly an X-Wing, the Rebellion's fighter of choice.
On her LiveJournal, Martha Wells provided this update on her as-yet-untitled Leia novel in the upcoming Rebels series:
I've managed to stick to my writing goal, which is really good, as the Star Wars book is due by January 31. I should hopefully be done with the first draft in the next ten days or so, then be able to get a bunch of revision done before I send it in.
Finally, ComicBookResources published a lengthy interview with Corinna Bechko and Gabriel Hardman about their upcoming relaunch of the Legacy comic series. They elaborate quite a bit about what to expect. And they emphasized the key traits of this story's lead:
Why the decision to center this story on a female character, namely Ania Solo?

Hardman: The idea of a female lead was pitched to us, and that was a big, big thing that drew us to this project. It's fundamentally the opportunity to do something different in the "Star Wars" universe. It's a female character driving things so it gives you a new perspective on the universe but it's also a new way to tell classic "Star Wars" stories — or a classic type of "Star Wars" story — just from a fresh perspective.

Bechko: Certainly "Star Wars" has a history of strong female leads. or at least strong female characters. It's nice to have one actually take the lead in this case.

She really doesn't take a lot of guff. It's nice to have a character act in that way and yet not be a traditional bad-ass female lead like you sometimes see. She's not exactly that, but I like her attitude.