Fandom Fashion Finds: September Picks
This month has been rather busy. (Be sure to check out my 8 other recent articles – including a review of the MeUndies Star Wars collaboration and a Jordandené pin and t-shirt review!) So we're going to fly through a few of the best geek fashion picks from the past month.
Doctor Who:
The new season starts soon – October 7th! If you're looking for something new to wear while watching, here's a few suggestions. Her Universe has a new The Future Is Here T-shirt ($22.90). Meanwhile TARDIS Polka Dot Socks ($9.90) are over at Box Lunch.
The same shop also has listed the Her Universe clothes based off the new Doctor's costume: Her Universe Doctor Who Thirteenth Doctor High Waist Pants ($49.90) and Her Universe Doctor Who Thirteenth Doctor Trench Coat ($79.90).
Support my geek fashion reporting at no additional cost to you by visiting retailers through the banners in this article.


Disney:
The Mickey Mouse 90th birthday celebration continues. Box Lunch has an exclusive cool minimalist Loungefly Mickey Mouse wallet ($39.90). Nixon went all out on their Mickey watch collection ($75 – $275). Multiple designs are available in primarily gold and black with lots of clever details. Cakeworthy's Vintage Mickey Button Up Dress ($39.95) is up for pre-order.
In Disney movies style:
+ Merchoid has a Mary Poppins Umbrella ($36.99) complete with parrot head handle.
+ Cath Kidston has a new Snow White collection of apparel and accessories. My top pick from it is this Scattered Blossom Embroidered Denim Skirt ($96) with birds and blooms in the style of the animation.
+ With Halloween on the way, Nightmare Before Christmas stuff is popping up. The Petunia Pickle Bottom The Nightmare Before Christmas Boxy Backpack ($219.90) is designed for parents and features a kind of subtle pattern. Harvey's, Torrid, and Stance also have new items.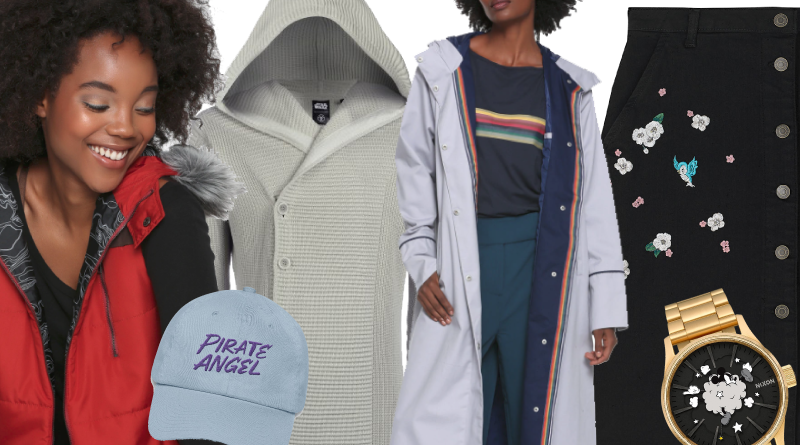 Gaming:
Her Universe has its first gaming apparel collection courtesy of 2016 Her Universe Fashion Show Winner, Lara Croft cosplayer, and generally cool person Hannah Kent. The seven Tomb Raider: Show of the Tomb pieces include a Low-impact Sports Bra (plus) ($19.90 – $24.90), Active Capris with holster pockets (plus) ($26.90 – $32.90), Puffer Vest ($59.90) lined in topographical maps, Aviator Cosplay Jacket (plus) ($89.90-$98.90), as well as a T-Rex Training Tank and another costume-looking tank that's coming soon.
By the way, Po-Zu has a sale celebrating Global Action Day where you'll get 25% off shoes with code GLOBAL25 through Sunday 30th September 2018 23:59pm BST.
Star Wars:
There's a neat design to this Loungefly Darth Vader Studded Bifold Wallet ($34) available for pre-order on Entertainment Earth. The price seems kind of steep for a pin but this Cufflinks Inc  BB-8 lapel pin ($44.99) can actually spin while you're wearing it.
Musterbrand has a new Jedi cardigan ($149.99). It's technically a men's cut. No one is stopping you though. (The women's style came out back in April.) Their Kessel Crew Jacket ($189.99) – a replica young Han Solo style – is now up for pre-order.
Black Milk released a new Star Wars collection which includes this neat patterned black Sentients Velvet Princess Midi Dress (AUD$139.00).
Best of the Rest –
The Top Three Picks that don't fit the above categories:
+ Three items got added to Han Cholo's offerings for Back to the Future including this Hover Board Pendant ($220).
+ Jordandené added this Pirate Angel dad hat ($22) in reference to Thor.
+ The fall version of the Unique Vintage x Barbie collection has this Black Magic Sheath Dress & Cape Set ($128) that looks even better on real people than on Barbie.
In Geek Fashion News:
Jaws served as inspiration for the Spring 2019 Calvin Klein show at New York Fashion Week.
Disney Style has a rundown of all the Disney-related events at NYFW including the 101 Dalmatians Nana Judy collection and Coach's celebration of Disney classics.
Rovio's Angry Birds were part of the runway collection by Filippo Laterza at Fashion Week Milan in fancy dresses for women and girls.
Factory Entertainment will be making a line of James Bond prop replicas and it starts with pre-orders of this ring.
Warner Bros. started a new division called Global Brands and Experiences to promote new initiatives for their properties including DC Entertainment.
Thanks for reading this month's roundup!
Is there a fandom you'd like me to keep an eye out for fashion for? Let me know in the comments.
Want to say thanks for a helpful find? Buy me a coffee.
Looking for more fashion finds? Check out my August and July picks.