Review: Bonds of Brass by Emily Skrutskie
Note: This review is spoiler-free.
I can't remember the last time I read a book that constantly made me believe the main characters can pull off what they intend to do while also making me wonder how the heck they're going to do it. In Bonds of Brass by Emily Skrutskie those characters are Ettian, a young, top-of-the-academy pilot in the empire that took out his world and Gal, his roommate and closest friend who is suddenly the target of an assassination plot. Ettian risks everything to save Gal, only to find out that Gal is actually the heir to the ruling Umber Empire.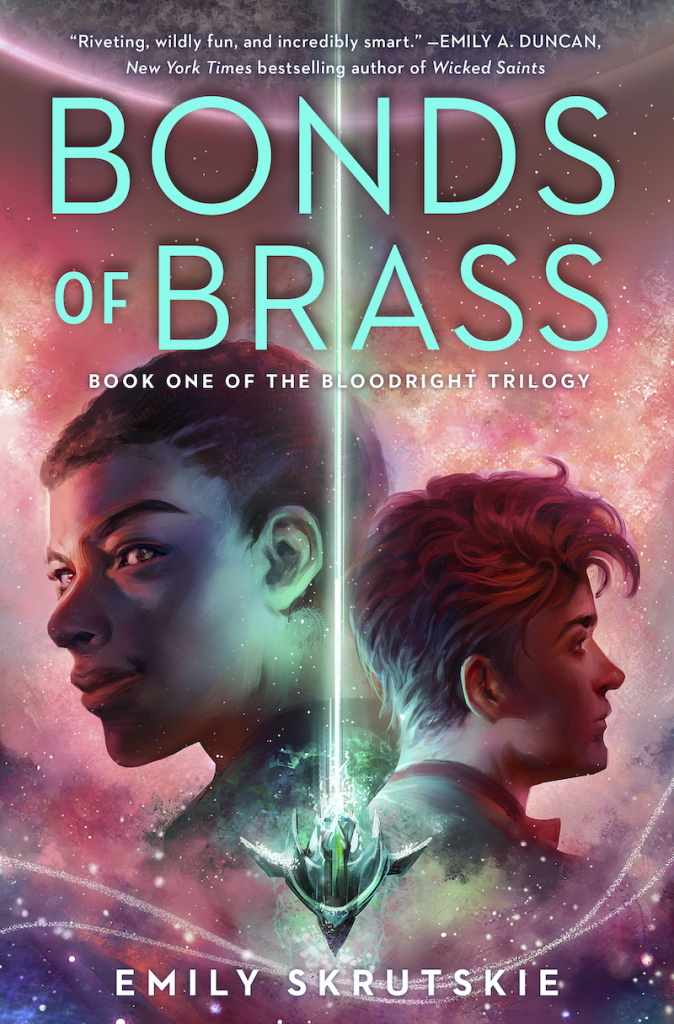 It's as dramatic as it sounds. And don't worry, that's the book just getting started. There's many familiar elements – fighter pilots, a brutal empire, a band of freedom fighters, junky ships, impossible odds, will-they-won't-they, as well as a bunch of other classic relationship tropes especially beloved in the fanfic community. Skrutskie puts them together in a combination that seems different enough to feel like its own thing. Meanwhile her clear enthusiasm as a fan of space opera is infused on each page.
Word is the author was inspired by Finn and Poe's possible Stormpilot relationship from the Star Wars sequel trilogy for Ettian and Gal's besties-who-might-be-something-more relationship. It definitely reads as a jumping off point for the characters. You can see the influence and cheer on that we get to go much deeper with characters like these than those movies allowed. More Star Wars nods abound and I found myself amused every time they popped up. Yet despite the obvious influences from a galaxy far, far away Bonds of Brass has a feel that's more in the realm of Firefly with some Battlestar Galactica blended in and maybe even a tiny dash of The Hunger Games. Throw in Wen, a rainbow-umbrella toting manifestation of chaos and you've got a well-paced adventure hanging out in the middle of the venn diagram between YA and an adult novel.
Skrutskie balances an exploration of loyalty and galactic consequences with those familiar questions of "Does that person like me the way I like them?" and "What's my place in all this?". I'll admit from time to time I found Ettian's worrying grating, but I also can't blame him. There's a lot at stake and no question that there is plenty of room for the story to continue in the next book of this trilogy. To top it off there's some magic trick-level skills in this story that pull off an ending that not only did I not see coming but that made me want to immediately turn back to the first page and start reading all over again.
---
Bonds of Brass (Book One of The Bloodright Trilogy) by Emily Skrutskie is out now in hardcover, ebook, and audiobook from Del Rey and Penguin Random House. You can read an excerpt of the book on their website. You can find a music playlist for the book on the author's site.
The publisher provided me with a copy of the book for review. As usual opinions are my own and do not necessarily represent the opinions of other contributors to this site.
Find this review helpful? Want to see more in the future?