Reviewing Musterbrand's Sith Apprentice Cardigan
Last year I took a look at Musterbrand's Rey sweater. This year, we're balancing things out by visiting the dark side.
In late November, the pop culture fashion company released a new set of Star Wars items. And while I'm widely known for appearing places in the colors of Rey, I'm actually a big fan of wearing black. Which is why I was immediately drawn to the Sith Apprentice Cardigan.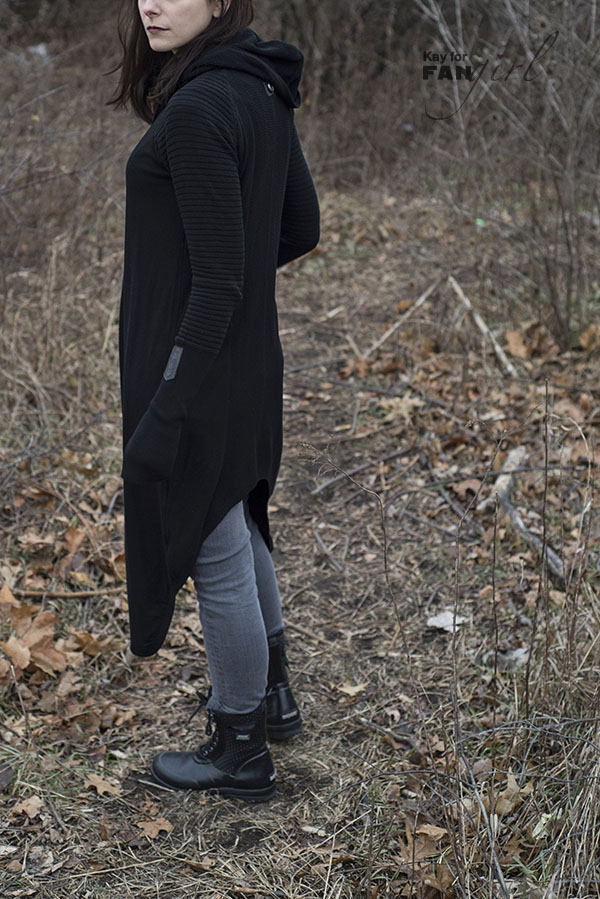 This piece is inspired by Kylo Ren and although he's technically not a Sith, I'm letting it slide because I really like this style. The sleeves of this longline cardigan pays tribute to my favorite part of the Kylo costume – the texture of his sleeves. While the costume's are pleated, the cardigan's are ribbed and the effect works.
There's some more great texture down the front of the sweater that's a tiny bit reminiscent of his tunic in The Last Jedi. And while the Knight of Ren doesn't have any buttons on his outfit, if he did it'd be the single black textured button used to close the front.
The hood adds a bit of drama and can cover the Musterbrand button/badge on the back when it's down – which is helpful if you have long hair and are worried about it getting caught there. When it's up the hood has some nice drape to it without being oversized.
An asymmetrical hem adds more style and while it's shorter in the back, it can still cover your rear end.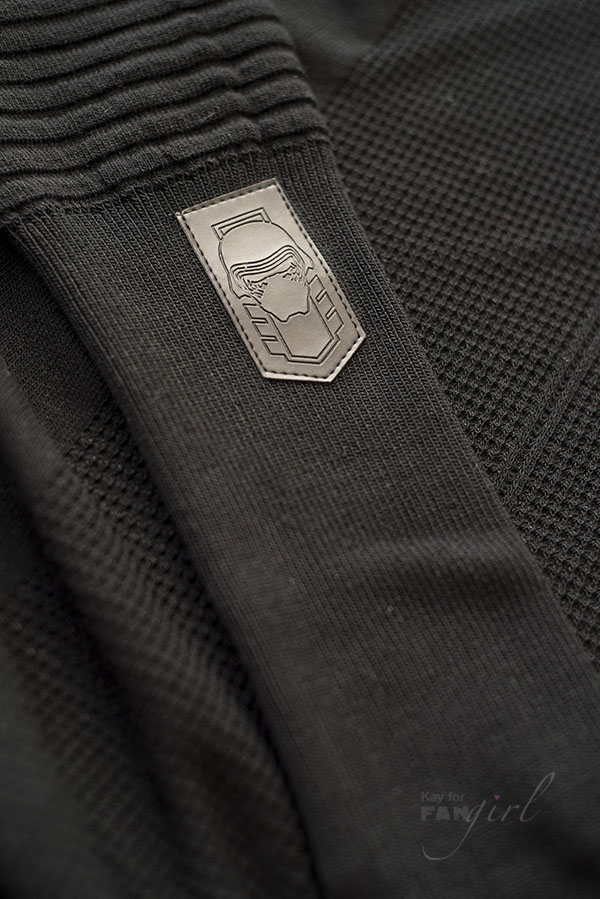 A black badge sewn on the forearm of the left sleeve depicts Kylo's helmet and is the most direct Star Wars imagery of the whole piece. If you'd prefer to go a little more subtle, I found that flipping up the sleeves once not only made the sleeves the perfect length for me, but also can cover the badge and that's a nice option to have. So yes, this means the sleeves are extra long. As the thumb-holes indicate they're meant to go over your hands. For me, they're still a bit too long in their unrolled position.
The rest of the Sith Apprentice Cardigan is a great fit and all the elements come together into something with that's not only a forgiving style, but also a flattering one.
It looks great left open or buttoned. And most importantly it is so comfy. Comprised of a 68% Viscose, 29% Polyacrylic, and 3% Elastan blend, the fabric itself feels like a nice quality. It's a bit heavier than a lightweight cardigan meaning you don't feel the weight drag of such a long piece but it'll still provide some warmth.
This sweater doesn't make me feel the need to attack Han Solo but it does make me feel like I'm ready to get shit done. It's a great blend of fun-to-wear and feeling a bit sophisticated too.
The Musterbrand Sith Apprentice Cardigan retails for $129.99 and can be found on Musterbrand's website as well as on Amazon. You'll find a men's cut in the Knight of Ren Knitted Cardigan. The company makes men's and women's apparel and accessories for properties including Halo, Zelda, and World of Warcraft in addition to Star Wars.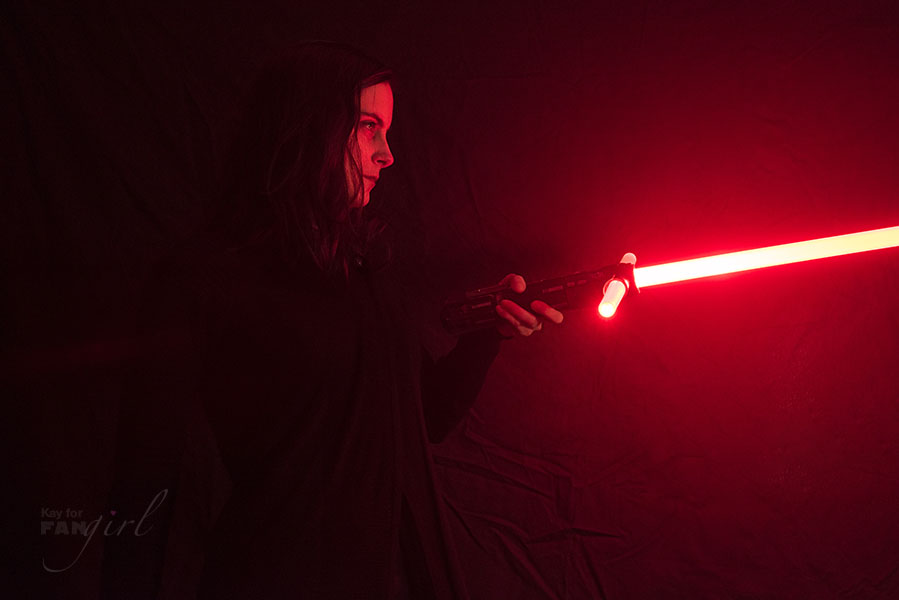 Thanks to Musterbrand for making a wish come true and sending this for my review. It totally lived up to expectations. No positive review was required and as usual this honest opinion of my experience with this piece of geek fashion is all my own.
All images in this post were art directed, styled, and photographed by Kay Serna with photography assistance from Toby. Please do not repost any of these photos without Kay's permission.
Check out some more photos of this Kylo Ren-inspired apparel in the gallery below.