DC by Her Universe Activewear Round-Table Review
Launched in early April the DC by Her Universe activewear line marks the second partnership between geek fashion company Her Universe and specialty department store Kohl's for women's workout apparel.  The collection's 29 pieces celebrate Wonder Woman, Batman, and Superman.
FANgirl guest contributor Audrey Brown, FANgirl founder Tricia Barr, and I each tried out an outfit for one of these DC superheroes as part of our closer look at this new line. We're all a fan of combining our fandoms with our fitness. While there's been a few collections from other brands aimed at men, I've kept pushing for more of this kind of geek-related workout wear for women because it has the ability to empower and motivate even more than regular workout clothes do.
Here's something Audrey shared with me about her original hesitation to try out this new Her Universe line:
You know that part in The Avengers where Thor says, "In my youth, I courted war." Well, in my youth, I courted fitness. I danced. I ran half marathons and full marathons. I visited climbing walls with glee. I was strong. I felt daring and healthy. I loved that stuff. Loved. Past tense, right?

But there's this place in my mind that says, "You're 34 now, you can't do that anymore." And you know what? Thinking, "I'm not good enough to wear what I want," is GARBAGE. Those thoughts are built on a foundation of a lifetime of lies from advertisements telling me I'm not enough "until". Until I lose more weight, until my upper arms look perfect, until I get some kind of surgery. It's the same line of negative thinking that makes 34 sound old, when in fact, it's perfectly young! So you know what? Forget. That.
So, with an open mind our team gave the new line a test drive. Here are the outfits we looked at:
Kay/Batman:
Top: Juniors' Her Universe Batman "Fighting Crime" Graphic Tank by DC Comics
Bottoms: Juniors' Her Universe Batman Shattered Glass Print Capris by DC Comics
Jacket: Juniors' Her Universe Batman Mesh "I Am The Knight" Bomber Jacket by DC Comics

Audrey/Superman:
Top: Juniors' Her Universe Superman "Sore Today" Graphic Tank by DC Comics
Bottoms: Juniors' Her Universe Superman Galaxy Print Capris by DC Comics
Tricia/Wonder Woman:
Top: Juniors' Her Universe Wonder Woman "My Lasso" Graphic Tank by DC Comics
Sports Bra: Juniors' Her Universe Wonder Woman Lattice Sports Bra by DC Comics (in Zinfandel)
Bottoms: Juniors' Her Universe Wonder Woman High Shine Capris by DC Comics
DESIGN/STYLE
Kay: Most of the pieces in this DC collection have the same overall silhouette but each has details to make it a bit different from the other pieces for each character.
Black and yellow (and gray more so in the animated series) have long been associated with the batsuit. Even though it's not always practical in the sun, I like wearing black when working out so I was excited about that part of the Batman pieces. I appreciate the thumb holes and feel tough wearing the jacket. While I almost put my arms in the wrong holes the first time, I like the the wide openings on the back on the shirt. I would have liked it even more if it was just the Bat symbol without any words.
Batman does crash through a fair amount of glass ceilings so the shattered glass design on the leggings is pretty on-point. These pants seem somewhere between regular pant-length and capri-length on me but I kind of like it.
Audrey: I love the colors and the more flowy design take on the galactic pattern in the pants. There's a brief, powerful sentence written in silver on the back of the waistband. It reads, "I am strength." The shirt reads, "Sore today, Soar tomorrow." The back of the tank top even has these little flares that make it look and feel like you're wearing a cape.
Tricia: The red pants are unusual for workout pants and the angled stitching on them is flattering. The waistband is too high for my taste though. The tops are fantastic.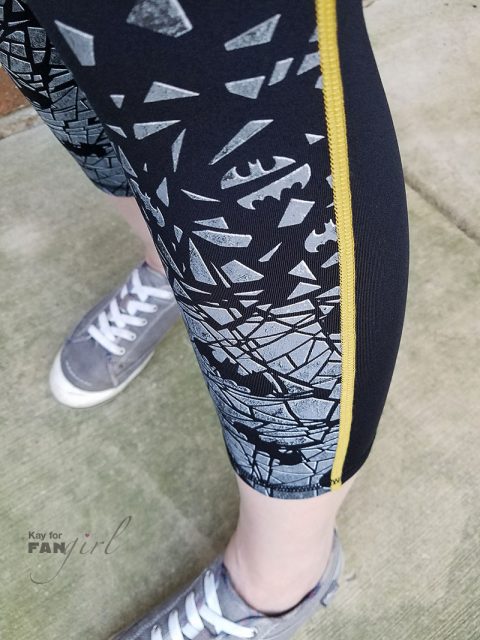 FABRIC/QUALITY
Kay: We've got a lot of lightweight fabrics, combining both draping and more fitted pieces. Everything looks like it is made nicely and should hold up over many wears.
I love the fabric used on these leggings. They are so comfy. The shirt has a worn/semi see-through look which is paired with what appears to be a vinyl logo. The logo fabric elevates the casual look of the shirt but also stands out because it seems an odd pairing. The netting on jacket is sturdy but has no stretch so it's better for wearing before or after a workout instead of during since the sleeve fit is tight.
Audrey: The material on these Superman pieces is comfortable and soft. The shirt has my favorite texture. It almost feels like a pajama top. It's soft like a well-loved tank top you've washed a hundred times, but still new and strong. As for the pants, a heads up for those of you who like to live wild and free, they are ever-so-slightly translucent. As Jamie Lee Curtis would say, "Make good choices!" And true story, the pattern on these pants is so close to a pair of shoes I desperately wanted and never got back in high school. So I admit, there's some wish fulfillment happening!
Tricia: While the fabric for the red Wonder Woman pants wasn't as shiny as they are in the promotional images, they still had this great sheen to them that made them unique. The price of the outfit felt appropriate, with the caveat that there is always a way to get a deal at Kohl's. So I paid about 75 percent of the retail value for the outfit and I'm happy with that.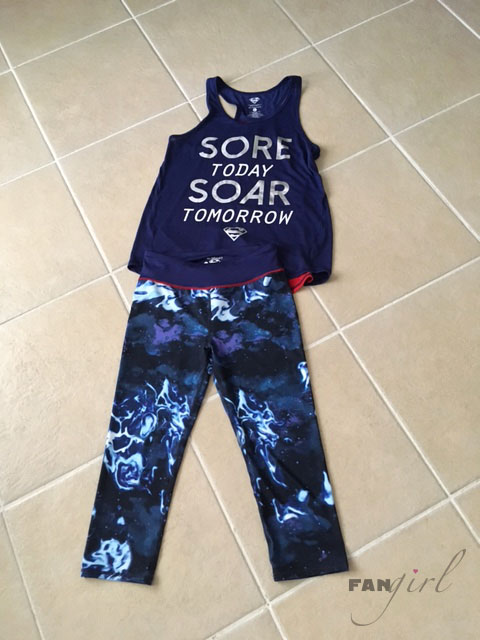 SIZING
Kay: I went up one size from what I wear in most workout wear brands with the exception of the gray top since it seems to run big. I'd also tried on the high-neck longline Batman sports bra because I was excited for a less common cut, but my usual one size up was too small and two sizes up was too big. If you're looking for plus sizing, it's online-only.
Audrey: I'm very pleased with the fit of both the pants and the shirt. I'm usually pretty nervous to receive anything via mail, as I'm worried I'll have to send it back if it's too small. But both fit the first time. It bears saying, I do like my pants a bit tighter than the average bear. (#girdleaction)
Tricia: I went with sizes I usually get from Her Universe and that worked fine.
PRACTICALITY/FUNCTIONALITY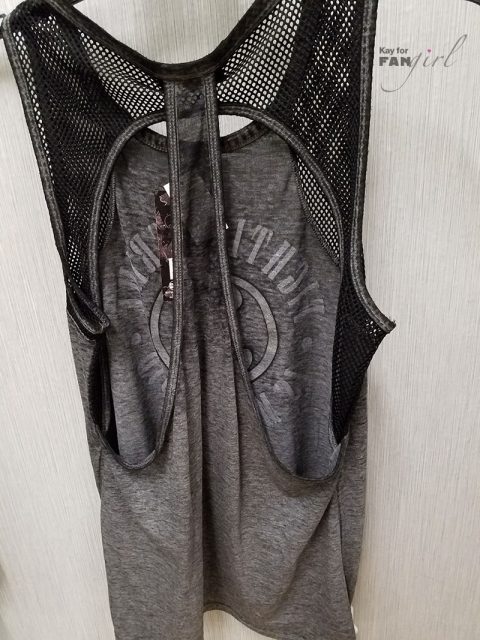 Kay: The jacket has pockets which is pretty much always welcome. They're on the side seam so on one hand, they don't interrupt the lines of the jacket and feel like it's less likely for items to fall out of when you move around. On the other hand, the placement makes them not so easy to stick your hands in when you're wearing the jacket.
The tank top is easy to move around in and lets you keep cool. I ended up picking the glass print pants because I also tried on the mesh insert Batman capris and while the banding in the mesh insert looks cool, it was so tight and ungiving it was leaving marks on my calves before I even started moving in them despite fitting well everywhere else. The glass print leggings are so easy to wear and provided full range of motion. Although I agree with Tricia that the waistband seems a bit high, I like it because there's no chance my rear end is going to be hanging out at any point.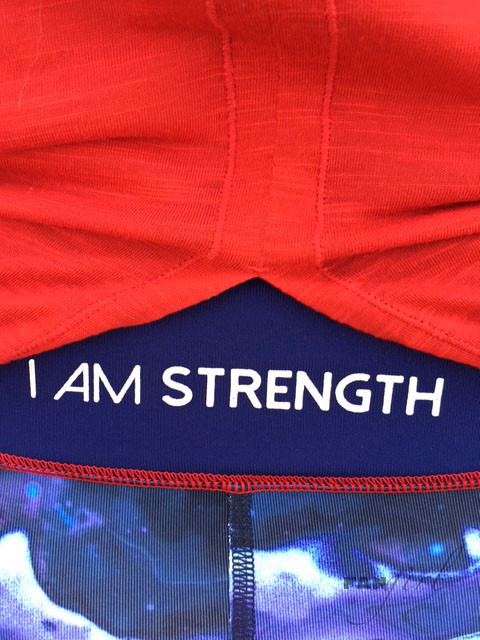 Audrey: Also pants-relevant, I have thighs that meet. I prefer to think of them as holding hands vs. "rubbing together". (And in all fairness, they were the same way when I was a teeny tiny senior in high school. So no self-hate here.) But there is a certain musical quality to the pants when my thighs hold hands. A delightful or horrifying (depending on your preference) shoosh, shoosh, shoosh occurs. I rather don't mind and since I'm no stranger to this phenomenon, I can report it's not unusual in the pants-department and usually vanishes after a few wash and wears.   
Back to the shirt, I'm split on the cape concept. Accidental pun! The self-conscious side of me feels like it's all, "Hey, check out my butt." Whereas, the empowered side of me is all, "Hey, check out my butt!"
It's definitely intentional, hence the "I am strength" quote on the back of the pants, which I like very much. But it may depend how self-conscious I'm feeling on the day whether or not I choose this for a jog. But that's what I love most about this outfit. So much of my workout gear makes me seem like an aspiring ninja. So to wear a top and pants that match, have bold color and feature the nifty little cape? Well, being visible, or at the very least, not afraid to be seen, is kind of the point.
Tricia: It was nice that I didn't feel all that stitching on the pants while working out. I wore my outfit to a barre workout and could see the apparel to be appropriate for yoga or pilates too. The only thing that I noticed was the waistband, which is an elastic band that sits around the waist. I have a belly button ring and the material required me to roll it down.
CONCLUSION
Tricia: I would have liked more blue to really capture the identity of Wonder Woman, but the slogan on the shirt and the material of the bra and pants captured the feel and power of the character.
Kay: Despite growing up with a fascination with Batman, I find myself identifying with the wording on the Superman and Wonder Woman pieces more. They have a bit broader, empowering application. With the range of pieces available though hopefully any fan of these three characters would be able to find pieces that fit their style. The Kohl's and Her Universe team-up is one of the best out there for ladies' geek fitness with style and I look forward to what property they tackle next.
Audrey: Her Universe continues to provide the clothes that we have so desperately wanted. That cognitive gap between how I wish I was more like my superhero inspirations and being who I actually am in my daily life closes a bit when I suit up in these workout clothes. I know it probably sounds over-reaching, but how you feel when you wear your clothes has so much to do with your self-esteem and how you move in the world. So for me to put something on and not feel terrible about myself? That's a big, giant win.
And you know what? I wanted to wear the outfit TODAY. Before I lose all the weight I want. Before I look as beautiful as I "could". Before I've regained all the strength I know is possible. I'm going to put these clothes on with pride, exactly as I am today, for the workout that I love doing right now because it makes me feel strong and alive. (Seven sets of one-minute cardio and strength-building moves repeated three to four times, if you were curious.)
You know what else? I'm totally going to start quoting my new pants. Because I am strength. I can do this and so can you. And if that's not super (mental) powers in the face of a negative inner voice, then I don't know what is.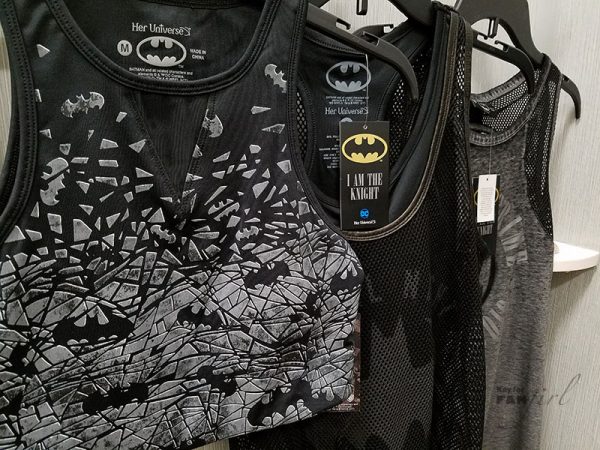 Kay: Thank you to Audrey and Tricia for taking a look at this geek fit apparel with me!
The DC by Her Universe activewear line is available now online and in Kohl's stores. Prices range from $24-$48 per piece.
Curious about previous Her Universe x Kohl's collections? Check out my look at the Marvel Captain America: Civil War workout wear or the Captain America 75th Anniversary collection.
Audrey was provided the apparel pieces she reviewed by Her Universe for her honest opinion. Tricia and Kay purchased their reviewed items. Please do not re-post this content without permission.