7 Reasons to see Furious 7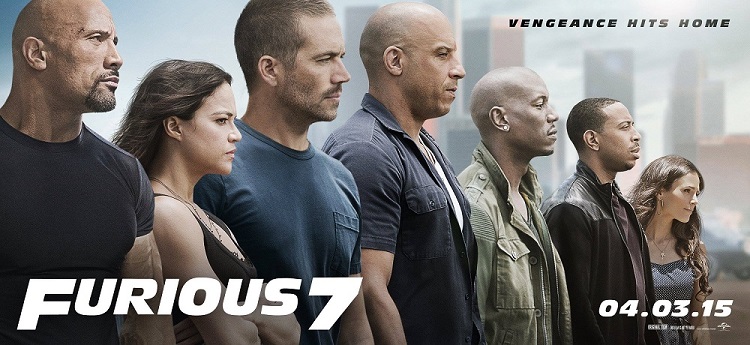 On opening day, I dragged my family out to see Furious 7. At best, I'm a casual fan –I've seen the early movies here and there on cable. I saw Fast & Furious 6 on Air France with English subtitles. dHubs and Padawan had never seen a complete F&F movie, at least that they were admitting to. We sat in the new D-Box seats at our theater, which shake, swing side to side, and roll with the action. While it was especially fun in a movie like this, where you literally roll with the punches, it's not something I'd reserve for every movie.
Furious 7 may not seem like it would be as enjoyable as it actually was, so here's my list of reasons to go:
1. 140 Minutes of mindless entertainment. The movie has so few moments that something exciting isn't happening, that there is simply no time to think. And that's a good thing, because otherwise you might start wondering things like: Why would a three million dollar car lose its brakes? Or, if you've just created a super computer program, would it fit on a thumb drive – and why would you send it to someone dumb enough to sell it to a Jordanian prince for no particular reason? Where's the U.S. Air Force in post 9/11 Los Angeles airspace? How does Jason Stratham have a four course meal in an electric plant in the Arabian desert? And why are they talking? Just shoot him!!!!
It's not so much that you suspend disbelief as you hog-tie common sense, stuff a rag in its mouth, and hide it in the closet for the duration of the film. But it doesn't matter, because it's so much fun!
2. Action. Something like 230 cars were destroyed making this movie, a good portion of those in the bus chase scene – because in movies, overturned buses never just roll off a cliff. They come to a metal grinding halt at the edge of a cliff and teeter. Stuck in the bus, Paul Walker manages to get out, scampers along the outside the bus, and runs along the bus as it slides off the edge. He jumps fifteen feet to grab the fender of Michelle Rodriguez's car as she fishtails it around for him. If you've seen the previews, there's the adrenalin pumping (and D-Box jarring) action of the Lykan Hypersport, diamond headlights and all, jumping out of three skyscrapers. Seeing previews didn't make it less thrilling.
3. Heroes and Villains. Although Dwayne Johnson is only in the beginning and end of the movie, he gets some of the best scenes and one-liners. Even his biceps get a scene of their own. Kurt Russell shows up as an ancillary good guy. The Big Bad is played by Jason Statham, who is no stranger to action-packed car-themed movies. He's some kind of 007 gone bad and an angry big brother from Fast & Furious 6. He manages to show up everywhere, weapons in hand. Just to show us how bad he is, he destroys an Aston-Matin DB9 and Maserati Ghibli without compunction. And he does his own stunts. Jason, you can drive my car.
4. Romance. There are muscle cars, high tech toys, guns, immature boys, but even in the midst of this is the enduring relationship of Michelle Rodriguez's character, Letty, and Vin Diesel's character, Dom. Though it is often cheesy and sometimes heavy handed, the F&F franchise shows that action and romance are not mutually exclusive.
5. Strong Women. Granted, there were gratuitous scenes scantily clad women throughout the movie, but Michelle Rodriguez has always portrayed a strong character. She drives as fast as the rest of them and holds her own in an extended fight scene with MMA champion Ronda Rousey.
6. Diversity. This is an important topic at FANgirl, and it's important to note that this franchise is about diversity and family. It has been a financial success with an ethnically and gender diverse cast, proving diversity can win at the box office nationally and internationally. It's particularly interesting that Furious 7 wouldn't have needed even need a single white person buying a ticket to break $100 million on its opening weekend (via Forbes).
7. A moving tribute to Paul Walker. This had the potential to have been done poorly, but was done surprisingly well. It's touching to see how much everyone has changed from the start of the franchise. When Walker drives off to the sunset in his white Porsche, I'm sure I wasn't the only one in the theater with tears in my eyes.
---
Linda has been a Star Wars fan from the time she saw Episode IV in the theatre with her parents and insisted on being Han Solo while playing with the neighborhood kids. She's now a fangirl who splits her time learning to twirl a bo staff like Ray Park, jumping horses, writing fanfic she dreams up on her commute to work, and spending time with her husband and their own feisty Padawan version of Ahsoka. She can be reached at Linda.HansenRaj@gmail.com and on Twitter.