The Force Awakens-Inspired Everyday Cosplay: Rey
Today we wrap up this edition of my The Force Awakens-Inspired Everyday Cosplay feature with the character who not only started my rumination on bringing these new Star Wars characters into everyday style but who also started me on a costuming journey a little over a year ago: Rey.
Studying Rey's costume so much almost makes this style guide the hardest to put together. It's something to keep in mind if you put together styles like these of your own: details are good, but don't get caught up in them. Take a step back at look at the basic structures.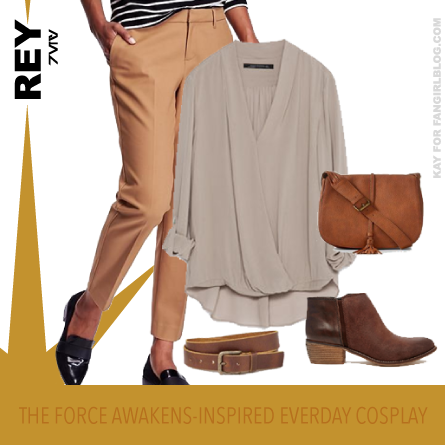 Pants | Blouse | Belt | Purse | Boots
When it comes to Rey's color scheme, there's a mix of browns and beiges, so don't worry about matching so much with this one. In this first one I picked a blouse that mimicked the draping of her wrap dress. A satchel-style purse represents her belt bag (and various other bags she has). A think brown belt and brown boots are solid staples too.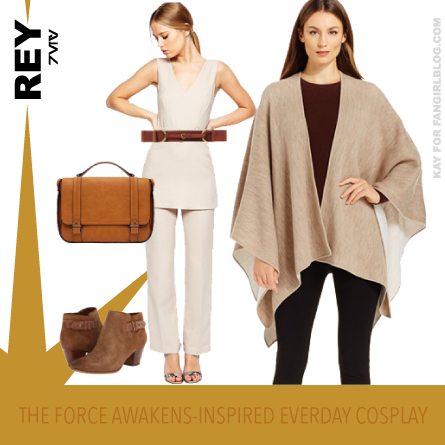 Purse | Boots | Jumpsuit | Belt | Poncho
Now Rey's costume has a separate top and bottom but there's still an opportunity for a jumpsuit in the Everyday Cosplay version. It has a long top piece to it like her tunic and loose (but not too loose) -fitting pants. I swapped out the belt it came with for one that provides some contrast. And this time the wrap dress is represented by a poncho, which is warmer and much easier to wear.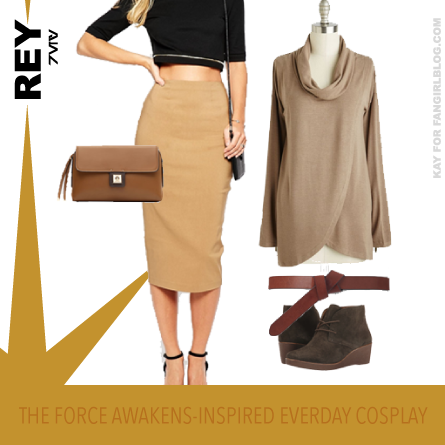 Purse | Skirt | Top | Belt | Boots
Skirts aren't practical for scavenging, but this one still resembles the pants she wears at least in length. A top offers more draping and this belt partially imitates her split belt.
And there you have it! Thanks for checking out these ideas for incorporating Rey's look from The Force Awakens into your everyday wardrobe. If you put together a Rey-inspired outfit, share it with us in the comments or on Twitter with #StarWarsEveryday.
Be sure to take a look at previous character inspirations too if you haven't already:
Captain Phasma  |  Finn  |  Poe Dameron  |  First Order Stromtrooper  |  Kylo Ren