Daisy Ridley Roundup: October 19, 2015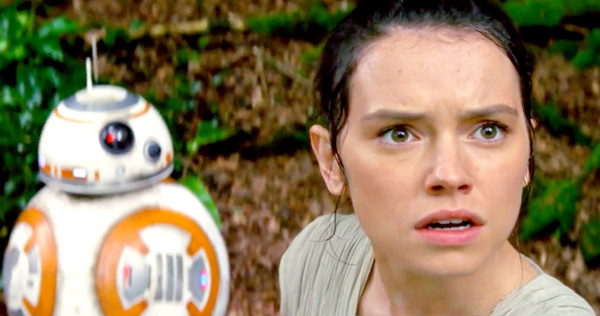 There has been an awakening… Have you felt it?
Daisy Ridley might have said it best in response to The Force Awakens one sheet released yesterday online.
She also gave us a heads up on new teasers trailers for the movie trailer to be shown during tonight's Monday Night Football game. In addition to the Finn and Poe and BB-8 teasers, here are two featuring Daisy Ridley's character Rey:
I love this wide shot of Rey in full-on tinkering mode. Not only is she being portrayed as an action hero but also a role model for women in STEM.
Here are the details on the event released by Lucasfilm yesterday:
Lucasfilm announced today that the trailer for Star Wars: The Force Awakens will debut on ESPN's "Monday Night Football" on Monday, October 19, during halftime of the National Football League (NFL) game between the New York Giants and the Philadelphia Eagles in Philadelphia. The game starts at 5:15 p.m. PDT/8:15 p.m. EDT. The Spanish language version of the trailer will air on ESPN Deportes simultaneously.
Ticket pre-sales will launch after the trailer. Check back here to use the Fandango link and help support the blog. Register for email notification for The Force Awakens tickets at the bottom of this page.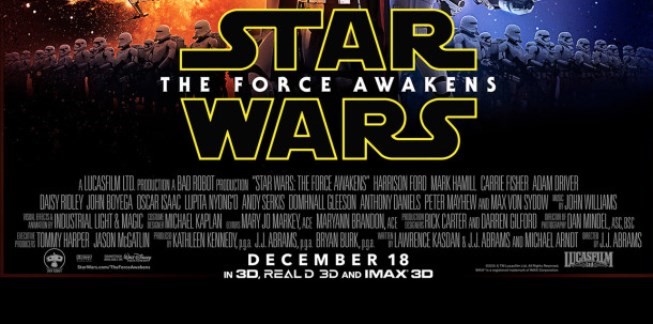 Note the billing for Daisy Ridley, who features prominently in the poster. Variety reported on Kathleen Kennedy's appearance at the Fortune Most Powerful Women Summit, where she talked briefly about Ridley's character.
Although the plot of "Star Wars: The Force Awakens" has remained a closely-guarded secret, Kennedy did reveal that new female character Rey, played by Daisy Ridley, is "extremely significant" to the story.
Kennedy noted in a recent interview with Costco Connection magazine that "[t]he Saga films focus on the Skywalker family saga. The stories follow a linear narrative that connects the previous six films. The Force Awakens follows Return of the Jedi and continues that generational story."
As the movie's release date – December 18, 2015, for those who don't have it scorched on their retinas yet – closes, Ridley's media presence is ramping up. DaisyRidley.net found a new publicity head shot: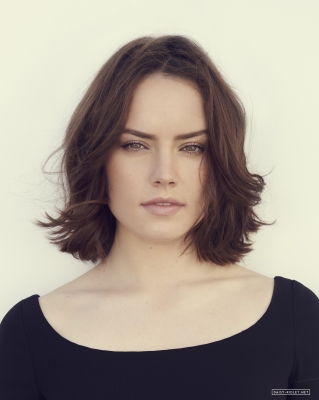 Expect to see her begin to make the talk show rounds in December. She has a rumored visit to Jimmy Fallon on December 15, the day after The Force Awakens world premiere in Los Angeles. Those interested in Ridley's style might want to keep an eye on her stylist's Instagram feed.
The actress continues to inspire with her #FridayFitness posts.
https://instagram.com/p/85aBIulEyF/
She also got a kick being transformed by fans into Belle from Beauty and the Beast in the Star Wars/Disney mashup trailer.
https://instagram.com/p/8f9IMDlE5d/?taken-by=daisyridley
It is awesome to see more Rey costumes available. I have the Costume Express staff mentioned in the September 18, 2015 Daisy Ridley Roundup. It is 2/3 scale and having it in hand provides more clues about the character, which we will discuss on the next Hyperspace Theories.
[tweet_embed id=653660682932518913]
Here's another Rey cosplayer from NYCC.
On the merchandise side, Disney Infinity released more promotional information for The Force Awakens figures coming December 18th.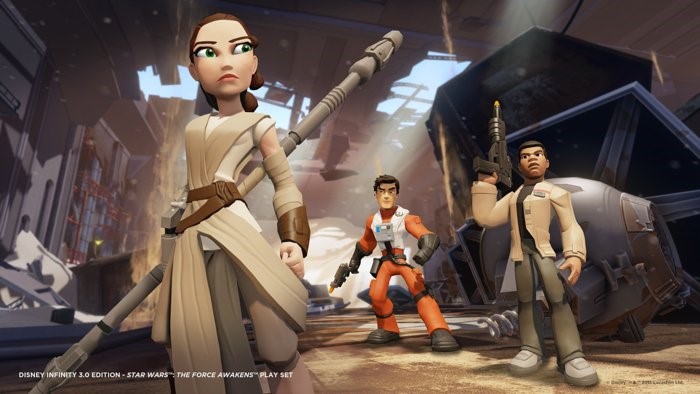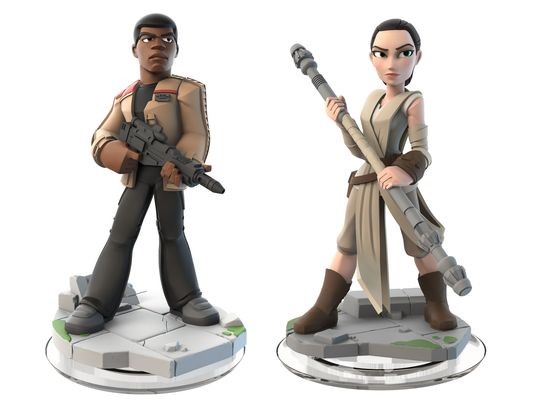 The website Anakin and His Angel shared information on Hallmark Star Wars Itty Bitties, including a Kylo Ren and Rey coming in November.
Fanart spotted by Geek Kay is going meta this week.
As the trailer launch approaches tonight, remember Daisy Ridley anxiously awaits along with us!
https://instagram.com/p/9BYQZqFE0V/
For past Daisy Ridley Roundups check here.