When Fandoms Collide with Adagio Tea
One of my fandoms that I haven't talked much about on FANgirl is tea. Yes, tea. I'm versed in some of its history and read up on the growing process. I'm up for trying new blends, but I have my prefered varieties too. And if there's a new tea fan, I like helping them figure out what to try first.
I've never been a coffee drinker but tea and I go way back. A nice cuppa is an all-purpose comfort. It's good when you're happy or sad, when you're too warm or too cold. You can drink it at any time of the day and it's a great excuse to take a break and eat a biscuit (or cookie, depending on where you're from).
My tea fandom has crossed paths with my other fandoms too. I've bought Firefly- and Harry Potter-inspired teas from independent vendors before and I think official teas for different fandom properties could be a very cool tie-in product. I mean, Harry Potter and Doctor Who are already British. Characters drink tea in those stories. Sometimes it's even a featured part of the plot. What is out there is a lot of fandom-related tea accessories. Unfortunately many of them don't do a great job of performing the function they're meant for because the focus is on the look. Mugs are an exception to that, except for maybe that Loki one that came out with the giant horns on it that just looked too dangerous to put near your face.
Adagio Teas is home of the fandom signature tea blends, which is brilliant. I was familiar with the company, but had never got around to ordering from them because I've usually have a plethora of tea at hand. They have a good reputation though and work to support sustainable tea growth by getting involved at the source. Let's just say when Adagio Teas reached out asking if we'd like to review some tea, I was more than excited to give it a go.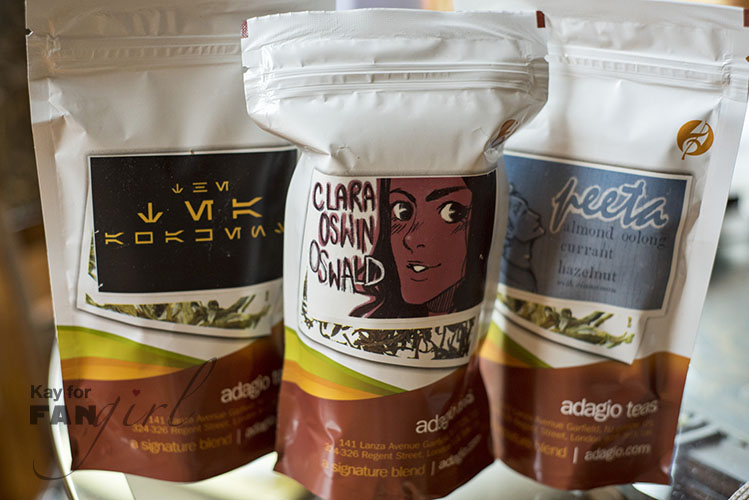 Adagio's tea selection is slightly overwhelming. So when it came to making my fandom blend choices, I narrowed it down by fandom first, then character or concept, and then picked based on the main tea base and other ingredients from there. Ultimately my two already-existing fandom-created blend choices were inspired by The Hunger Games and the aforementioned Doctor Who.
Peeta, a black tea and oolong tea, very appropriately smells like a bakery full of scones and muffins. It got my attention because it also features currants, which remind me of my London days. I had currant-everything there and in America, it's much less common. There's also a noticeable almond and hazelnut flavoring that's pretty tasty. I loved Peeta in The Hunger Games books and this tea does a pretty good job of reminding me of him.
Next up was a double white tea and oolong blend inspired by Clara Oswin Oswald of Doctor Who. This one tastes a little different each time I've made it, which is totally appropriate for Clara – the Impossible Girl. There's vanilla, orange, and marigold flowers but it's all so light you barely taste them all. The overall flavor was almost too subtle for me, but I've been on a strong tea kick lately. Overall I'd still recommend this blend.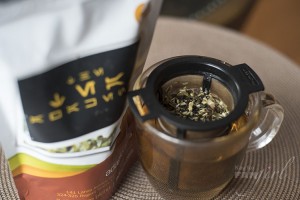 Adagio Teas also lets you make your own blends. It's something I've never done and an opportunity I could not pass up. My tea was inspired by the impression the teaser trailers of The Force Awakens made on me. You didn't think I was going to not include Star Wars in this, did you? The Tea Awakens is a green tea blended with lemon grass, ginger, and pineapple. I love having green tea as a wake-up call in the morning and I picked these ingredients because they bring a dark side and a light side to the blend. My hope was to capture the quiet parts of the trailers along with the excitement and surprises. And I'm happy to report I really really liked it. I feel like all my years being a tea fan paid off.
Of course Adagio also has teas outside all of these really cool blends. I chose a sample of their decaf spice. It didn't have the spicy kick I was hoping for but I probably should have read the description more closely. It's more of a softer, balanced tea. It's nice that there are decaf offerings on the site although the caffeine in teas (especially green) tend not to hit you as hard as other caffeinated beverages. Thanks, L-theanine and antioxidants.
All of the teas I ordered came in zipper resealable packages, which are really nice. But while the decaf spice tea's package had info about the contents and brewing instructions, the fandom-related blends don't have either of those. That info is available on each blend's page on Adagio Teas' website, but it's not always convenient to look that up if you can't remember what kind of tea is in the bag.
Altogether I had a good experience with Adagio and their teas. There's still some more interesting blends to try, some more blends I'd like to make, but I think some of their ice tea pouches is what I'll try next.
Adagio Teas provided teas to FANgirl Blog for the purpose of review. The review reflects my own opinion. Adagio Teas did not require a positive review.
---
Kay grew up wanting to be an astronaut. After seeing Star Wars, she wanted to be Princess Leia, Han Solo, and an astronaut. A voice actor, photographer, and artist who also consults in communications and marketing, Kay spends the little bit of free time she has reading, reviewing, and, of course, making pew pew noises. She would pick up more jobs, hobbies, and fitness routines if she was a Time Lord. You can follow her on Twitter.