The Evolution of Women in the Star Wars Universe: Episode V: The Empire Strikes Back
Guest post by Amy Richau

In A New Hope the presence of women beyond Princess Leia was pretty sparse. Only our mother figure, Aunt Beru, had a few lines of dialogue beyond the lines spoken by Leia. The only other women in A New Hope were in the background of Mos Eisley. There were no women with any visibility in the big battle scene at the end of A New Hope which can be viewed as odd, insulting, or perhaps lazy depending on your point of view.
How does The Empire Strikes Back compare to A New Hope when it comes to women in the cast? There are still only two women with speaking roles in Empire, but some noticeable changes occur in the way women are portrayed in Episode V. Let's take a look at where all of the women are (and aren't) in The Empire Strikes Back.
Hoth
The Empire Strikes Back begins with scenes in the rebel base on the icy planet of Hoth. In stark contrast to Yavin, Hoth is filled with women in the background. They are walking around the hangar as Chewie works on the Falcon . . .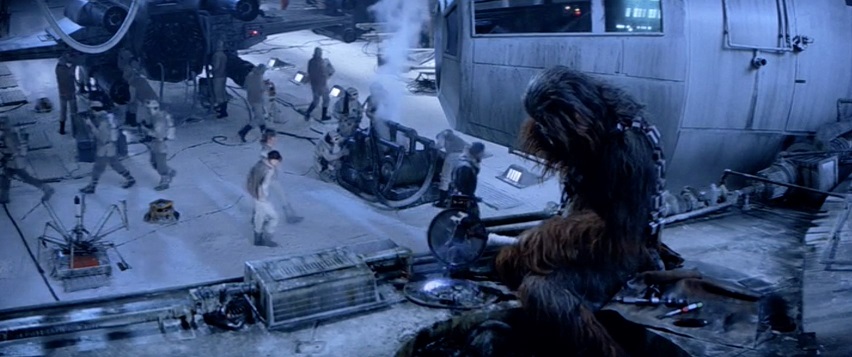 . . . and several women are shown alongside Princess Leia in the Hoth control room.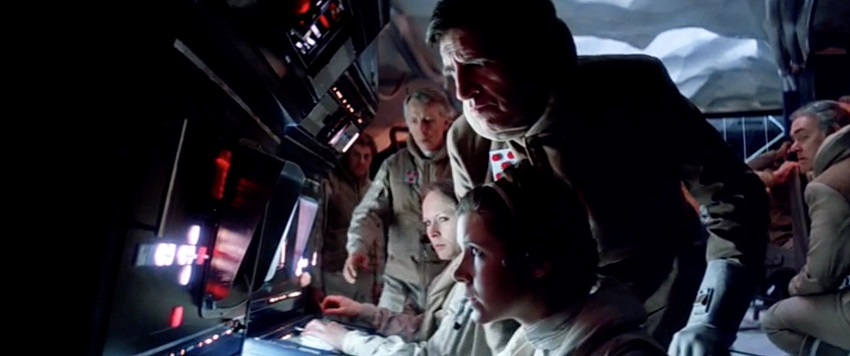 Princess Leia takes on a more vocal leadership role in Empire. In A New Hope Leia stood to the side while a fellow rebel leader detailed the plans to attack the Death Star. In The Empire Strikes Back Leia instructs a group of male pilots and doesn't flinch when she's questioned by one of them about the plan. Leia is all business in this scene. This is what we're doing, now let's go do it!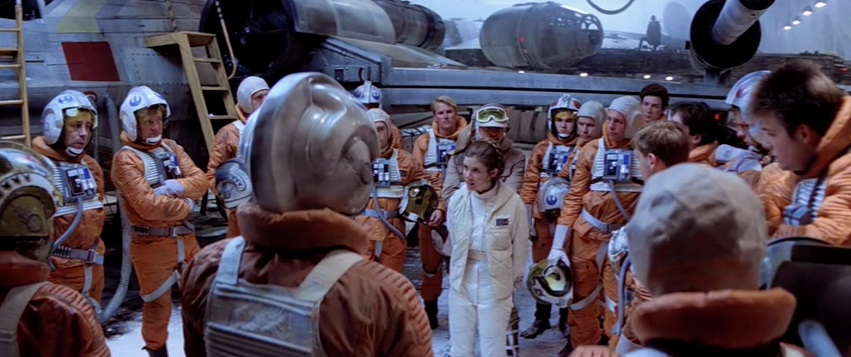 During the Hoth evacuation we get the only words spoken by an actress not named Carrie Fisher from a Rebel Officer played by Brigitte Kahn. "Stand by ion control. Fire!" While this line may seem trivial, it's a small step towards showing more female involvement in the Rebellion.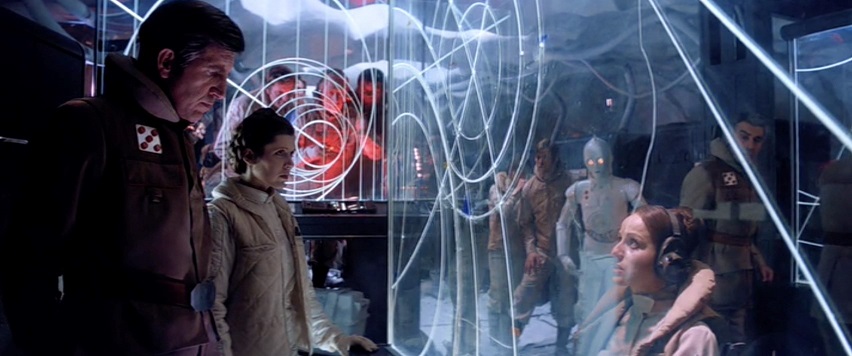 Leia and a female rebel are also some of the last people in the control room to evacuate.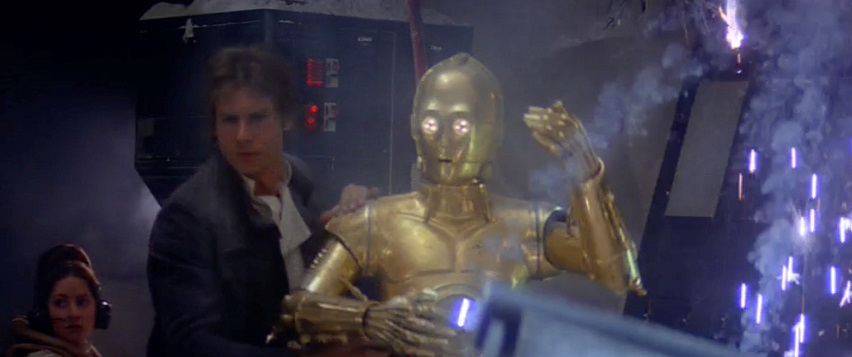 The last peek of a woman on Hoth is a woman in the flight crew – which is also a Star Wars first – celebrating the first rebel transport successfully escaping. There are no women visible in the ground or air battle in Hoth, but it's nice to see some female rebels beyond Leia.
Space
Princess Leia is once again the only game in town as far as women in space in the Star Wars universe in The Empire Strikes Back. Part of this is due to the main characters in Empire being isolated from others for long sections of the film. Luke is with Yoda – who, yes, is male; no female Jedi yet – on Dagobah while Leia, Han, Chewie, and the droids are busy trying to escape Darth Vader.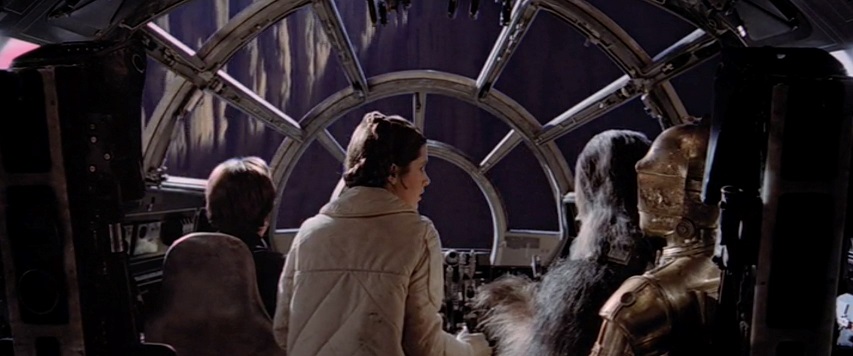 Besides our heroes in the Millenium Falcon, the only other characters we see in this section of Empire are Imperials and bounty hunters. The Imperials are again apparently a male-only zone and the bounty hunters aren't giving off a very female vibe, but women did have an impact on these characters.
Elaine Baker portrayed the original Emperor Palpatine in The Empire Strikes Back. In the 2004 re-release Baker, who was married to makeup artist Rick Baker, was replaced by Ian McDiarmid who played the Emperor in future films. Here is the Baker portrayal of Emperor Palpatine.

The bounty hunters in The Empire Strikes Back also have an unexpected female influence. Despite the bounty hunter Zuckuss officially being described by Lucasfilm as male, there was a woman under that costume – which apparently was as uncomfortable as it looks.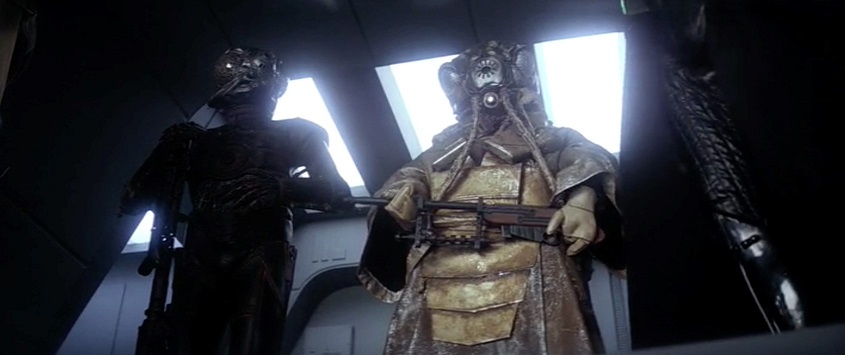 Cathy Munro was the actress under the Zuckuss mask. She also portrayed the shorter of the two Wiorkettles in Cloud City. They are hard, if not impossible, to spot in the film but can be found in Empire merchandise.
Cloud City
The women present in Cloud City are similar to the women in Mos Eisley. They are there, you just have to look for them – walking and talking in various Cloud City hallways.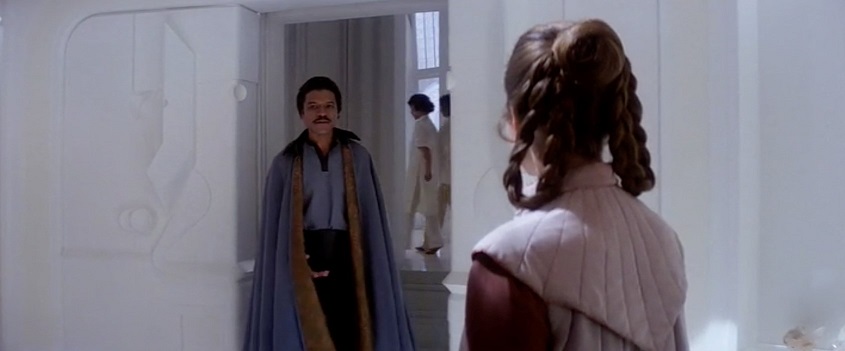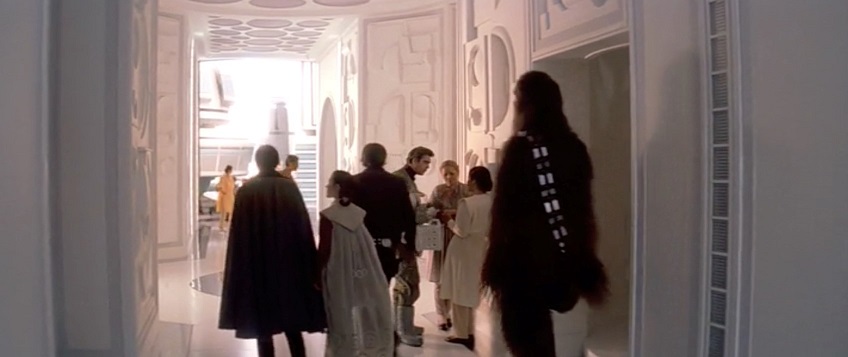 The final shot of women in Cloud City occurs right after Lando warns residents to evacuate.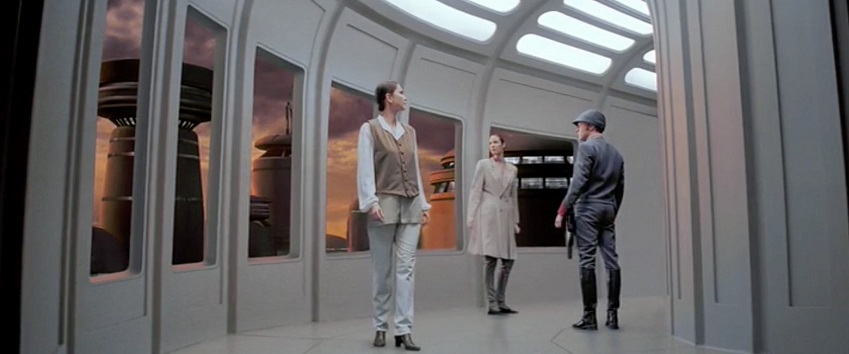 As with A New Hope, Princess Leia is essentially the only woman of importance in The Empire Strikes Back as the characters introduced in the film – Lando, Yoda, Emperor Palpatine – are all male.
There are still no obvious female Imperials, bad guys, or aliens in Empire, but women appear to be playing a larger role in the Rebellion. Princess Leia once again proves to be a strong leader and a well developed character in Empire which makes her uniqueness as a female in the Star Wars universe much easier to forgive.
Up next is Episode VI: Return of the Jedi – which has more female characters than A New Hope and The Empire Strikes Back, but not necessarily the female characters you might be looking for.
.
Related Articles:
---
Amy Richau is a Star Wars fangirl, wife and mother of two young kids, freelance writer, and Denver Broncos fan (not necessarily always in that order). Amy grew up with the Star Wars original trilogy and spent more time and money than she would like to admit tracking down Star Wars collectibles. Before motherhood in Colorado, Amy worked in several film archives and labs working as a film archivist/preservationist – including a 'dream come true' stint at Skywalker Ranch at the LucasFilm Archives. She can be reached by email at witcher@gmail.com, or follower her on Twitter @amyrichau.
Latest posts by Amy Richau
(see all)