Kay Interviews John Jackson Miller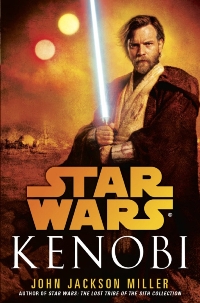 John Jackson Miller is an author of comics, novels, and games. He started in the Star Wars universe with the comic Knights of the Old Republic. His later work includes the book Star Wars: Knight Errant as well as the comic books of the same name, and the Lost Tribe of the Sith ebooks and subsequent anthology. The comic adaption of Indiana Jones and the Kingdom of the Crystal Skull sprung from his brain. Outside of Lucasfilm properties, he's written for Mass Effect, Iron Man, and The Avengers in addition to his first serial set in his own universe, Overdraft: the Orion Offensive.
John's latest book is Star Wars: Kenobi. It takes place in the early days of Obi-Wan Kenobi's life on Tatooine after the events of Revenge of the Sith.
In addition to reviewing Kenobi – look for that next week on release day – I had the pleasure of interviewing John Jackson Miller about his own experience with Obi-Wan, character additions to the Star Wars universe, and which animal from Tatooine he'd prefer.
You can find out more about John Jackson Miller and his work on his website www.farawaypress.com or by following him on Twitter @jjmfaraway.
---
Kay grew up wanting to be an astronaut. After seeing Star Wars, she wanted to be Princess Leia, Han Solo, and an astronaut. Life's taken her on a bit of a different path for now, but she's still a Star Wars fangirl at heart who enjoys surprising people with how geeky she really is. Currently a photographer who also specializes in communications and marketing, Kay spends her free time reading, cooking, writing, learning and, of course, making pew pew noises. You can follow her on Twitter.