Jaina Solo ArtFX Hits Shelves
Cross-posted at Suvudu:
"You know, you have your mother's mouth. By which I do not mean that the configuration of your chin and lips resemble hers, though they do at certain angles, but that the things that coming leaping out of your mouth – words, invective, insults – have a distinctive Organa family flavor to them."
~Jedi Master Kenth Hamner to Jaina Solo, Fate of the Jedi: Outcast
Characters are a combination of emotional presence and physical form. For many characters in the Star Wars Expanded Universe, fans' enthusiasm for them is created purely by getting to know their emotional presence. The author might describe some physical characteristics, and the reader can make inferences that blossom into an image in his or her head. For the numerous characters with few, if any, visual depictions, the only way to return to them is to pick up the book and read their story again. That's what I do at times – my favorite scenes have the page corners bent over. This scene between Jaina Solo and Kenth Hamner in Outcast is one of them, and in it Aaron Allston creates both the emotional energy and the physical form by relating Jaina back to her mother, Princess Leia.
It's easy to visualize Princess Leia and to recall the Organa flavor to insults. I've always been particularly fond of this one: "Governor Tarkin, I should have expected to find you holding Vader's leash. I recognized your foul stench when I was brought on board." In addition to the movies themselves, fans have posters, artwork, action figures, and a multitude of other collectibles that capture moments in time for some of our favorite characters from the films.
For many years, though, Expanded Universe fans had book covers and comic art, and very little else. Over the last few years that has been changing. In books like The Essential Guide to the Force and The Essential Guide to Warfare, a wide range of Star Wars moments have been recreated in visual form. This past summer at Celebration VI, fans of Mara Jade grabbed up figurines and the Her Universe exclusive t-shirt in a matter of hours.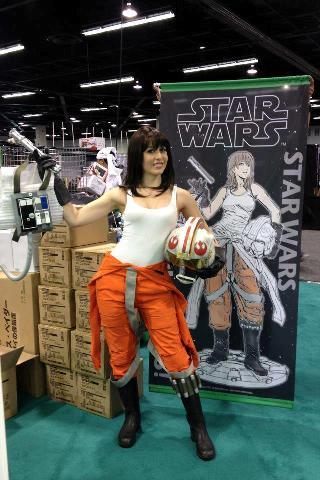 At San Diego Comic-Con 2011, Kotobukiya first previewed an image of Jaina Solo in the iconic X-wing pilot uniform as the first Star Wars character to join their Bishoujo statue line. At SDCC 2012, cosplayer Victoria Schmidt recreated the look at the Kotobukiya booth; by Celebration VI the statue was displayed but not yet for sale. During the wait for the statue's release, on Valentine's Day 2012, Del Rey treated fans to artwork by Chris Trevas of Jaina in her X-wing flightsuit sharing her first kiss with Jagged Fel. This painting was included in the recently released The Essential Reader's Companion, which features a beautiful collection of images depicting scenes from the past three decades of Star Wars books.
Finally, after what seemed like a long wait to her fans, the ArtFX Jaina Solo statue is now available for purchase. The website Tomopop reviewed the statue and provides detailed images. ArtFX Jaina is available online at collectible retailers like Big Bad Toy Store or Entertainment Earth, or check at your local comic book store, which is where I got mine.
The past twelve months have been pretty good for Jaina Solo – and her fans too. In Fate of the Jedi: Apocalypse, Jaina proves her mettle alongside fellow Jedi Masters Luke Skywalker and Corran Horn as they fight to push back the Sith incursion into the Jedi Temple. And there is a moment worthy of a future Valentine's Day image, just not this year's…
Fate of the Jedi: Apocalypse is available today in paperback, and check back here on Valentine's Day for another classic Star Wars romantic moment.
Do you have a personal favorite Star Wars Expanded Universe inspired collectible? Or is there one on your wishlist? Let us know here or share a picture on the Star Wars Books Facebook page.
---
Tricia Barr writes about Star Wars, fandom, and strong female characters at her website FANgirl and Star Wars Insider magazine. You can follow Tricia at @FANgirlcantina on Twitter or FANgirl Zone on Facebook.