REVIEW: The Clone Wars: A Sunny Day in the Void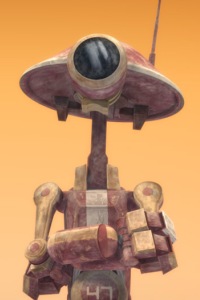 Review by Megan Crouse
This week's episode has my favorite title ever. "A Sunny Day in the Void" is clever, a little bit scary, and pulpy without reaping any of the downsides of that association.  Unfortunately the title screen is still blue, meaning we haven't yet passed those droids that so disappointed me last week. This week they've got a bit more to work with – by which I actually mean less. Writer Brent Friedman described the episode as "minimalist" and "an existential crisis," and doesn't disappoint. The backgrounds on the planet Abafar match this theme nicely, with not even a sun in sight. I'd love to see the main three Jedi subjected to the same kind of situation. Although it's heavy-handed at times, "A Sunny Day in the Void" pursued directions no other The Clone Wars episode has ever gone.
Read Megan's complete review here.
---
Megan Crouse writes This Blog Is Full of Words and has also published poetry and short fiction. She is currently working in journalism and paying a lot of attention to pop culture, fandom studies, and Darth Maul.