Zahn Talks Scoundrels, Bink, and Heists
Cross-posted from Suvudu:
The new ebook novella Winner Lose All by Timothy Zahn went on sale December 10. The caper features everyone's favorite hip-cloak wearing scoundrel, Lando Calrissian, and twin sisters Bink and Tavia Kitik who team up to expose a scam. Winner Lose All is a prequel to the thrilling gambit-tale Scoundrels, also by Zahn, which releases on January 1, 2013.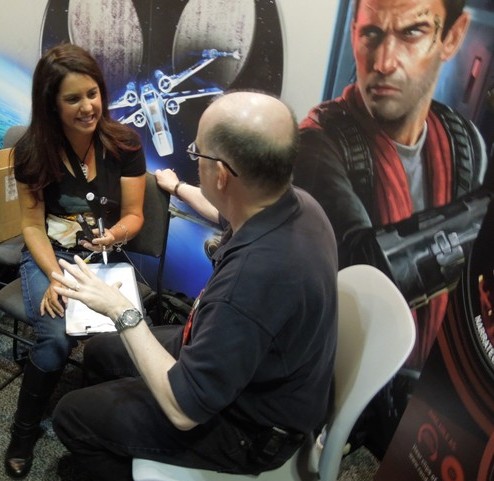 Also this week, Star Wars Insider #138 is available at bookstores and newsstands. This issue includes my interview with Zahn about Scoundrels. We discuss writing movie favorites Han, Lando, and Chewbacca, keeping the stakes high without using the movie-era Empire as the book's villain, and using Expanded Universe characters Winter and Kell Tainer. The issue also includes Zahn's short story "Heist" starring Bink and Tavia, an article on Scoundrels from Dan Wallace, as well as news from the Disney acquisition of Lucasfilm and a retro-interview with the man behind Han Solo, Harrison Ford.
Del Rey's Frank Parisi gave me the go-ahead for the Insider interview at Celebration VI. The FANgirl team, including Linda Raj-Hansen and Mary Sheridan, already had prepared our interviews with several Del Rey authors for the convention, with our focus on characters and the process of writing. Lucky for me one of those interviews was my chat with Zahn at the Del Rey booth, so I was able to avoid duplicative questions in the subsequent email interview for Insider. In a testament to Zahn's popularity, they had to bring his autograph line over from the Barnes & Noble booth, where his book signing had run well over its allotted time. With help from the Del Rey Star Wars team, Zahn managed to accommodate all of his fans and still squeeze in time to talk to me.  I asked Zahn about Mara Jade, Soontir Fel, Thrawn, and one of my new favorites, Bink.
I've read Scoundrels. So I wanted to ask you about Bink. She is awesome. She's new, and obviously without spoiling her, what were you thinking when you created her?

She's got a lot of Mara's competence at what she does, but she does not have Mara's seriousness. There's a tongue-in-cheek, offhandedness about her. She enjoys her work, she's having fun, but there is again the core values. We don't want to spoil it, but she really cares about her sister and her sister really cares about her. She's got the surface flippancy, but they will die for each other, they will kill for each other if necessary. They are family and they're all they've got in a shifting world of alliances. Bink and Tavia are the only constants in each other's lives. And despite their annoyances with each other on occasion, or frustrations, there's never a question of, "Well of course I will stand by her. She's my sister."
Click the link for the rest of the interview. Our Celebration VI interviews with authors James Luceno and Drew Karpyshyn have already been posted, and one more will follow from Troy Denning.
---
Tricia Barr took her understanding of brand management and marketing, mixed it with a love of genre storytelling, and added a dash of social media flare to create FANgirl Blog, where she discusses Star Wars, fandom, and strong female characters. She also writes about Star Wars for Random House's science fiction and fantasy blog Suvudu.com and for Star Wars Insider magazine.