Terrio and Rejwan Talk The Rise of Skywalker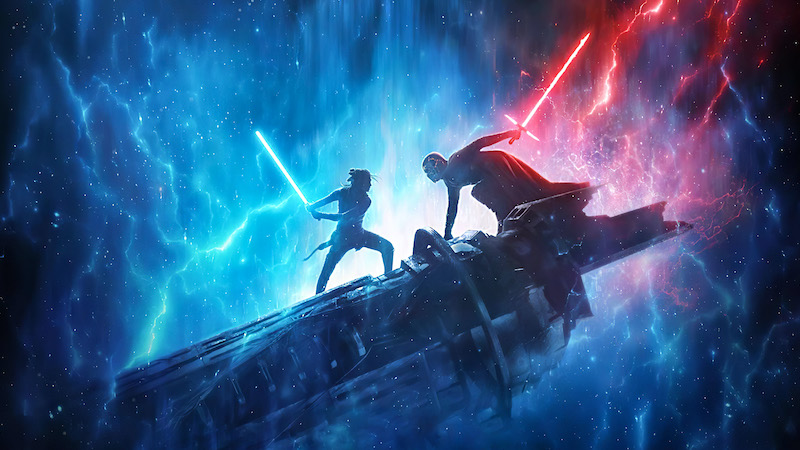 Film is a collaborative medium. No one person is responsible for the final product. Star Wars: The Rise of Skywalker rose from a troubled beginning with different directors and writers involved. Finally, the story came to life as four people joined forces in the development and story of Rise: Director and co-writer J.J. Abrams, Executive Producer Kathleen Kennedy, Producer Michelle Rejwan and co-writer Chris Terrio.
After The Rise of Skywalker Global Press Conference on December 4th, I had an amazing opportunity to sit in a roundtable with co-writer Chris Terrio and producer Michelle Rejwan as nine of us journalists asked burning questions about the end of the Skywalker Saga.
We all know the term "writer" and what they do. It's quite simple – they write. The role of producer, however, is complicated and has several different meanings. Line producers deal with budget. Other producers prepare the schedule, executive producers take a "big picture" approach, while still others merely have the credit but don't actually produce. On Rise there are 7 producers credited, but I wanted to know precisely what Michelle Rejwan did on the film.
Michelle Rejwan: I produced the movie with Kathy and with J.J. As a producer you're there from the very beginning of the project through the end. JJ and Chris started working on the story together and when they had something ready to share, they brought Kathy and I on. From there you're trying to make it the best it can possibly be but you have a real practical schedule. Once you get on that train you are on that ride trying to balance those things at all times. You're there in collaboration.
Chris Terrio: Enormous amounts of Michelle's heart and soul are in this movie. Michelle was truely one of the filmmakers.
Michelle Rejwan: JJ is so unbelievably collaborative.
Behind the pair sat a movie poster with all of the characters in the film, and I began to wonder how they managed to include them all in the story. Luckily, Michelle and Chris spoke about this issue.
Michelle Rejwan: We really worked very hard to make sure that every character had an arc. It's a lot to juggle but it's very important to us that we're so invested in these characters. We wanted the new characters to be relatable and grounded in their own right.
Chris Terrio: And also: entrances. Michelle and I feel that the first minute or 30 seconds with a character is when you bond with them. Think of the moment you first see Lando. He looks like he's about to punch but then hugs Han and you fall in love with Lando. We tried to make you bond with our new characters right away.
Humor plays an important role in Star Wars. Without it, you may be unwittingly watching a DC film! Digging deep in Chris's past, we learned that he was a member of the illustrious Hasty Pudding at Harvard. Famous and oldest improv troupe in the United States. I brought this up as a way of asking about humor in The Rise of Skywalker.
Chris Terrio: Oh God, did you look that up?? So much of humor is rhythm. That's something I learned from Larry Kasdan's writing. In The Empire Strikes Back the Han-Leia scenes – they have such wit and rhythm. In Argo I thought a lot about those scenes in the hallways with Han and Leia in ESB having that rhythmic conversation. The rhythm of the actors in Rise of Skywalker is fantastic. John, Daisy, Anthony together in a group. Then you add elements of the others. You can't fake it, they had this natural alchemy. They have this music.
Every story must have a balance. With humor comes drama, and that creates a balance where one reinforces the other. Poe, Finn, Rey and the droids all create moments of levity. Who can forget Poe's quip "So who talks first?" while faced with certain death at the hands of Kylo Ren in the first minutes of Star Wars: The Force Awakens? In this Sequel Trilogy, Han, Luke and Leia all become stoic, dramatic figures delivering dramatic lines. Carrie Fisher as General Leia takes on that task posthumously in Rise. J.J. Abrams confirmed in this press conference that his team utilized footage of Leia shot for The Force Awakens and wrote the story around what they had.
Chris Terrio: Carrie Fisher – incorporating her in the script. You have these nuggets and scenes and some of them are just good lines you dream of having Leia say. Every time you look at a line you know that these are among the last words that Carrie will ever say on screen. And so you want them to have meaning. Yet you don't want to lose Leia's wit and funniness and fun. That twinkle in Leia's eye is that free energy that Carrie had. There are scenes that are like that and there are scenes that have more gravity. We are learning much more about Leia even more than Episode 8. It's a challenge to keep the intentions of what Carrie's choices in the scene were.
Speaking of intention, every story must have an intended finale. Since Rise is the end of the Skywalker Saga, all of us hope that it will satisfy. The only way to do this is through character arcs.
Chris Terrio: We want everyone's arc to feel complete in this film. The ending of a story just depends on where you stop telling it. If I got hit by a car and that's the end, that's an unhappy ending. But if I got hit by a car and went to the hospital and met my future wife there, then that's maybe a different ending. We wanted to give a definitive ending to Episode 9.
Both Chris and Michelle bring their own backgrounds and intentions to Star Wars. They embarked on their own journey when creating Rise. We wanted to know what inspires them and what they brought to Star Wars in particular.
Michelle Rejwan: I really am so inspired by Star Wars and its endless possibility. The conversation between good and evil in the galaxy and ourselves. That's what inspires me always. Working with writers like Chris and J.J. and building that vision is what I love so much about it. Star Wars is this unbelievable blend between the intimate and the epic. It has to be really personal for the storytellers. That is really key. Star Wars inspires me and I want to give it everything.
Chris Terrio: And it's not a job. You don't text each other at 2:45 in the morning with an idea because it's a job. You do it because you love it so much. On the plane on the way here from New York, I had this feeling I didn't recognize. And it was boredom. I haven't been bored in 2.5 years! Because every waking moment we were obsessed with 'how we can make this better?'
Well Chris, it's December 21st and Star Wars: The Rise of Skywalker has hit theaters around the world. Prepare for boredom – or the rise of fandom conversation!
To hear the passion in Michelle Rejwan and Chris Terrio's voices, tune in to Fangirls Going Rogue 19.13. Tricia, Teresa and I also share our thoughts on their comments.
Author Sarah Woloski is host of Fangirls Going Rogue and Skywalking Through Neverland podcasts. Connect with her on Twitter and Instagram @JediTink