How To Ride Rise of the Resistance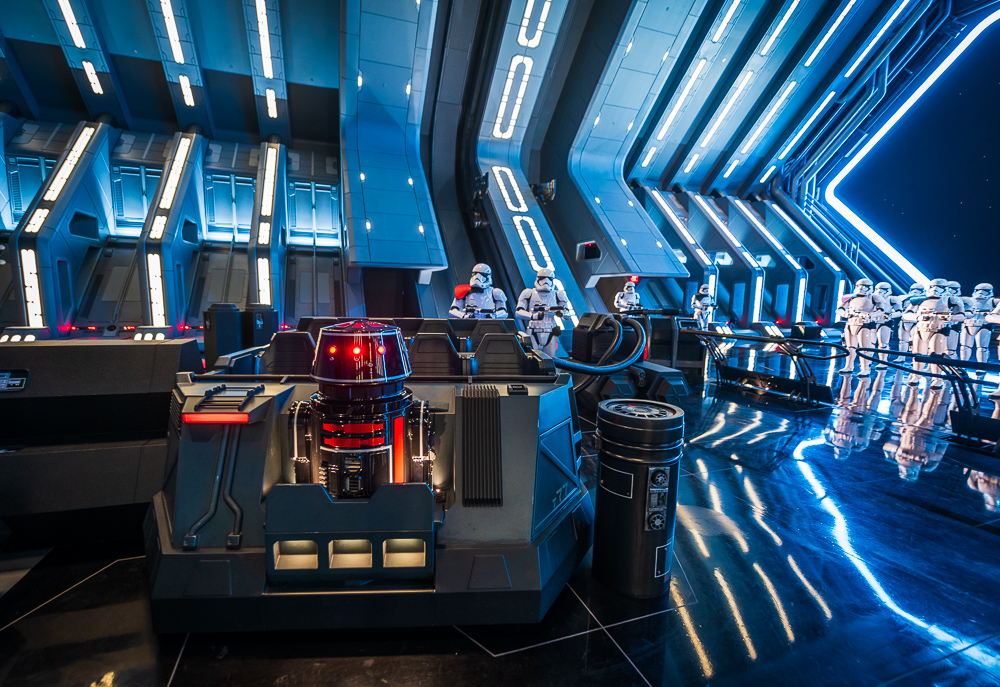 Star Wars: Rise of the Resistance opened at Galaxy's Edge in Disneyland on January 17th, 2020. Now both Galaxy's Edge in California and Disney's Hollywood Studios in Florida boast the most immersive, massive and ground-breaking attraction ever created for any theme park. 
"This is epic, immersive storytelling on a massive scale – and our Imagineers have created an attraction that sets a new bar for theme park experiences," said Bob Chapek, Chairman of Disney Parks, Experiences and Products. "Star Wars: Rise of the Resistance puts guests at the heart of their very own Star Wars adventure, and is the most advanced, action-packed attraction Disney has ever created."
Those are not just words. Having experienced the attraction four times, I can absolutely agree. Margaret Kerrison, Managing Story Editor at Walt Disney Imagineering summed it up best:
"It's not an attraction, it's an adventure."
Since Rise of the Resistance is so desirable, both Disneyland and Disney's Hollywood Studios have put in place a "Boarding Pass" system to allow park guests to experience the attraction without waiting in a 3+ hour line. This system will be in place for the foreseeable future at both Parks. Here are some tips if you're planning a trip to Disneyland soon.
How to Secure a Rise of the Resistance Boarding Pass at Disneyland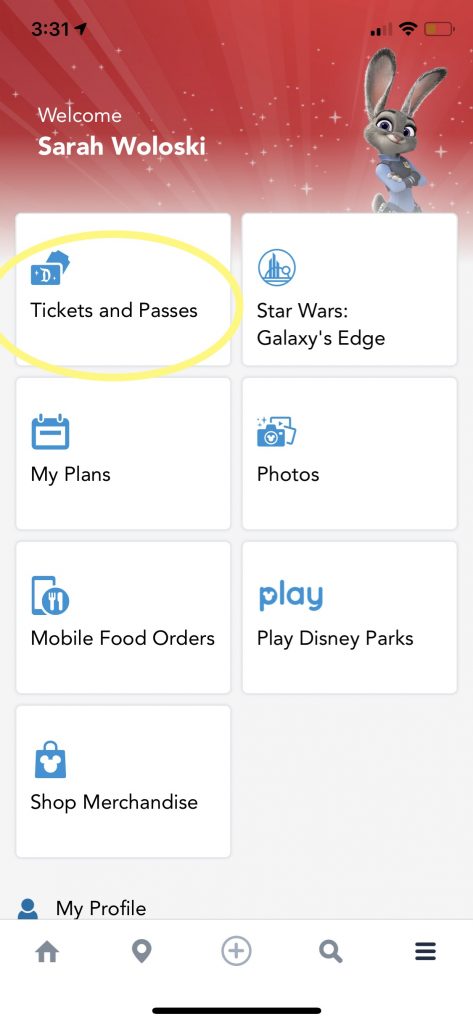 Step One in securing a Rise of the Resistance Boarding Pass: download the Disneyland App on your smartphone! If you do not use a smartphone or have access to one, their are a few kiosks around Disneyland that offer physical Boarding Group passes. These are at Buzz Lightyear Astro Blasters and Splash Mountain. 
Once you've downloaded the App, make sure you scan your park ticket into your App using the "Tickets & Passes" section. You can also add anyone in your party to this section. Any tickets added to your App will automatically pop up when you are trying to secure your Boarding Pass. Don't worry if their ticket is already associated with another account, you will be able to add it to multiple accounts.
TIP: Delete any tickets of people who are not currently scanned into Disneyland. (You can always re-add them later) If you don't, you will waste precious seconds unchecking them before you can secure your Boarding Pass.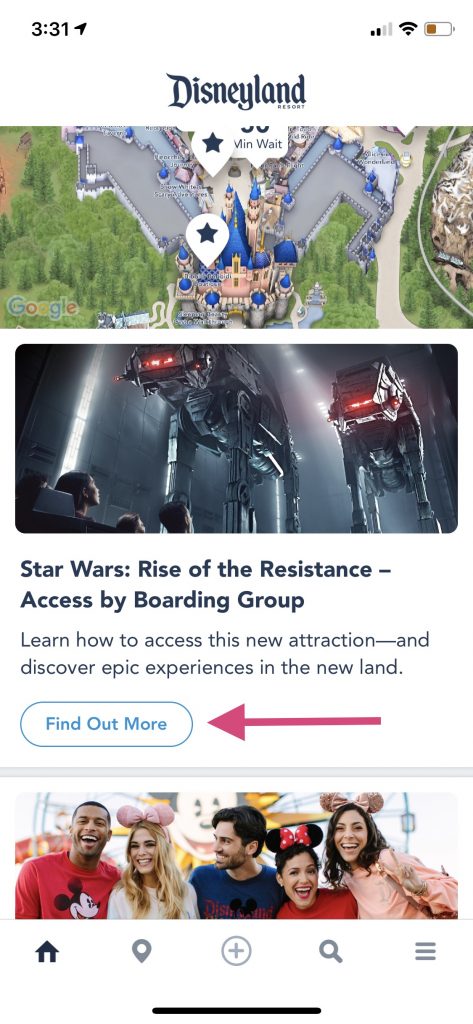 Step Two: Make sure your park ticket is scanned into the Disneyland Main Entrance (NOT DCA) by park open. This is usually 8:00 AM or 9:00 AM in the morning. Being in the park within about 5 minutes or so of opening is the only way you can join a Boarding Group.
TIP: It doesn't matter how early you arrive at Disneyland. As long as your ticket is swiped in at the Disneyland Park Entrance by park open, you have the same chance as anyone else who has arrived earlier than you. For example, on opening day, we arrived around 5:30 AM and were shocked to see that they were scanning everyone in the gates at that time. We all hung out on Main Street as more and more people flooded in. Anyone who was through the front gates as the clock turned 8:00 AM had the same chance of getting a Boarding Group.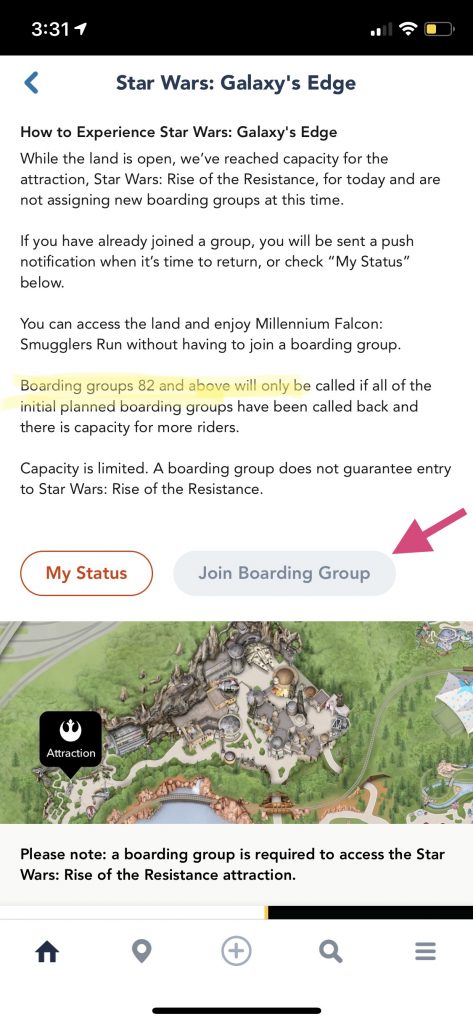 Step Three: Stay on the Home Page of your Disneyland App until your phone clock clicks over to 8 or 9 AM. Click the "Find Out More" button under the heading "Star Wars: Rise of the Resistance – Access by Boarding Group." The next page that pops up will allow you and your party to "Join Boarding Group." Click all these buttons as fast as you can, and CONGRATS! You may have just booked passage on Star Wars: Rise of the Resistance!

Boarding Group FAQs
How many Boarding Groups does Disneyland get through in a day?
This number varies based on how many hours the Park is open. Be sure to read the fine print under your Boarding Group number. Here it will tell you which Boarding Groups are guaranteed to ride, and which are Backup Boarding Groups. On opening day, Groups 1-82 were guaranteed to ride, but they actually took 114 groups that day, with 3 ride breakdowns.

What if they call my Boarding Group and I'm on a ride or just started a fancy meal?
You have 2 hours to return to the Rise of the Resistance Queue after Disneyland calls your Boarding Group.

Once my Boarding Group is called, how long do I have to wait in the queue?
Generally you have to wait only 20-30 minutes. The beauty of this attraction is that it begins while you are still in the queue. All of a sudden, you are on an adventure of a lifetime!!

The App has only Group numbers, not an estimated return time. When should I expect to ride?
Generally, Disneyland has been getting through 8-12 Boarding Groups an hour.
Groups 1-30: Expect to ride before noon
Groups 30-60: Expect to ride by 4 PM
Groups 60-90: Expect to ride by 8 PM
Groups 90 and above: Expect to ride by midnight
These are all subject to change based on ride breakdowns and many more factors.

I can't get there that early in the morning, is there any hope for me to ride Rise of the Resistance if arrive in the afternoon or evening?
As of now, Boarding Groups booked at park open are the only way to ride Rise of the Resistance. However, at Disneyland this is a temporary measure. Eventually they will move to a normal queue, and then add a Fastpass option. The timeline for these changes is not yet known.
Rise of the Resistance Media Day Video
Disneyland rolled out the red carpet Star Wars: Rise of the Resistance, with a Media Event on 1/16/20. NEW merchandise, NEW food and Imagineer Interviews! This is an overview of the day and does not include a full ride video, so spoilers are kept to a minimum.
New Food and Drink available 1/17/20 at Galaxy's Edge in Disneyland:
Galma Garlic Puffed Cheese Chips
Toydaria Swirl – green milk with chili lime seasoning and mango jelly
Black Spire Hot Chocolate – Hot Chocolate with shimmering purple whipped cream
We talk with Imagineers Anisha Deshmane (Assistant Producer, Play Disney Parks) and Kelsey McCullough (Product Management, Play Disney Parks) about the Play Disney Parks app and how guests are reacting and using the Datapad in Galaxy's Edge.
Still want to hear more about Rise of the Resistance at Galaxy's Edge? Check out Fangirls Going Rogue Episode 20.1!
Author Sarah Woloski is host of Fangirls Going Rogue and Skywalking Through Neverland podcasts. Connect with her on Twitter and Instagram @JediTink