Ladies of Star Wars Insider #138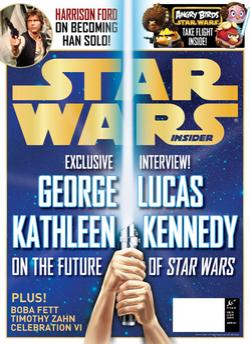 The latest issue of Star Wars Insider magazine, #138, is on sale now. It's inspiring to see so many great ladies of Star Wars, professional and fandom, featured in this issue.
The most notable article, both in terms of page count and the full-page headshot, rightfully belongs to Kathleen Kennedy as she assumes leadership of Lucasfilm. Although we've heard many of her comments already in the online videos at StarWars.com, it's nice to be able to read the roundtable discussion with Kathy, George Lucas, and Lynne Hale in its full-length form.
Congratulations to Amy Ratcliffe for her first two published magazine articles. In one, she profiles James Arnold Taylor's role as stage host at Celebration VI. In the other, she talks to Cat Taber about her top five favorite Star Wars blasters. (Hint: Two are Padmé's.) This issue also features an amazing autobiographical Celebration profile from Samantha Roberts, daughter of The Clone Wars voice actor Tom Kane. She cosplayed as Asajj Ventress while undergoing chemotherapy, and her best friend Katie cosplayed Slave Leia for moral support. What a team!
On the Star Wars fiction front, this issue has my second interview with Timothy Zahn about his upcoming novel Scoundrels, a heist caper featuring Han, Chewie, Lando, and a fun array of new and familiar faces. Also be sure not to miss the Insider-exclusive short story "Heist," which stars Bink and Tavia Kitik, twin sisters who make an important part of the team in Scoundrels. They're also featured in Zahn's recently released ebook novella Winner Lose All, getting caught up in shenanigans with Lando. Finally, Dan Wallace's article on the second arc of the Dawn of the Jedi comics naturally includes comments from Jan Duursema, one of the Expanded Universe's top-tier storytellers.
Finally, the merchandise section, often heavily emphasizing collectibles and kids' toys, includes great pictures of the Her Universe Darth Vader pajamas with Katie Cook's art and several of the Star Wars dresses from Black Milk. Both of these were featured on our Holiday Shopping List earlier this month.