Fandom Fashion Finds: Picks from February
Not only does Black Panther have fantastic fashion in the film, but its continued to present beautiful apparel options for fans over the past month. There are also some treats for Mulan fans as well as those of Princess Leia.
Black Panther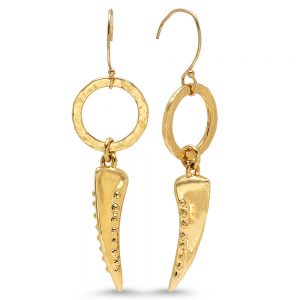 In addition to the fabulous Douriean jewelry line from last month's roundup, there's now another licensed line of necklaces, bracelets, earrings, and rings from RockLove ($14.99 – $89.99). AND Douriean herself is back with a second line – the Killmonger collection features necklaces, a ring, a bracelet, earrings, and a hat ($75.50 – $198) all in gold tones with an additional inspiration from the character. Be sure to check out the look book too.   
Marvel x Josh Bennett has an Okoye Hoodie ($1,295) made of cashmere but they're only making 5.
The limited edition Clarks Originals Trigenic Evo sneaker for both women and men ($240) sold out online, got restocked and might still be available in their NY store.
Nixon made a cool limited edition Black Panther watch that comes in a very cool custom wood box with a reprint of the first Black Panther comic book ($499.99) over at BAIT.
Also check out: BAIT x Marvel x New Era Black Panther Vibranium Snapback Cap ($28) and Cufflinks.com's Black Panther cufflinks ($65).
Jordandene has a More Connects Us Scoopneck Tee ($35) that may remind you of the movie too.
Disney Movies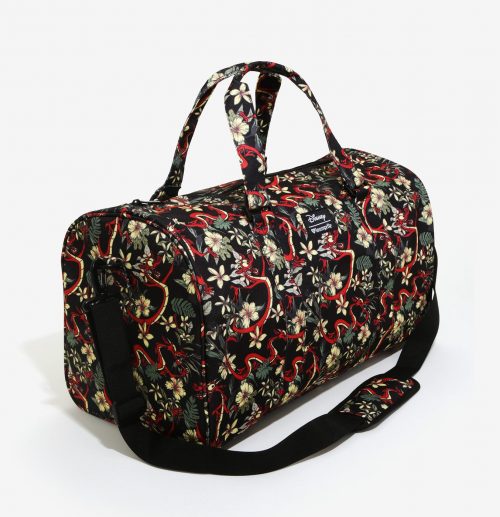 Box Lunch has an exclusive Mulan collection. Stand-outs include: the Mushu Tripanel Tee, the Mulan Floral Duffle, & Mulan Hair Comb.
There's a button-up Moana Pua Allover Print Womens Woven Shirt ($38.90) exclusive at Box Lunch.
Neff has a new Toy Story Backpack ($49.95) at Shop Disney with a great black and white print. And on the colorful side there's a great fun Monsters Inc print dress ($118) also at Shop Disney. 
For Snow White's 80th anniversary SUPRA has a cool collection of 11 sneakers ($85-$145).
Torrid has a new Cinderella collection ($34.90-$78.90) – including this Shimmering Black Tulle Midi Skirt and Gold Filigree Knit Cardigan.
And Unique Vintage's Prom Edition of their Happiest Collection on Earth may be the prettiest blending of fandom and prom dresses yet.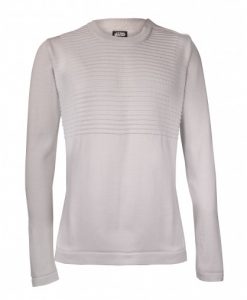 Star Wars
Musterbrand keeps serving up sleek minimalist Star Wars – now with their Alliance Knit sweater ($99.99) being sold at Disney Parks and on Musterbrand's website.
There's also the Alliance Ladies' Sweater ($89.99) and a Leia Organa Ladies' Sweater ($129.99) both available for pre-order.
There are some Chewbacca sweaters too and even more apparel on its way. 
And the General Leia ring ($24.90) previously found only in Box Lunch stores is now also on their website!
And More Fandom!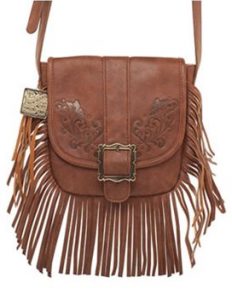 Loungefly Doctor Who TARDIS and Flowers Handbag (affiliate link: support my fashion reporting at no additional cost to you) at ThinkGeek ($74.99)
AbbyShot has a bunch of pre-orders up for various accessories featuring Tartan from Outlander ($24.99 – $129.99)
Westworld pre-orders over at Entertainment Earth: Delores Saddle Bag ($49.99), Embroidered Delos Logo Flex Hat ($19.99), Westworld Logo Bi-Fold Wallet ($16.99), Westworld Printed Patch Adjustable Cap ($16.99), Roll Top Backpack ($79.99)
A Game of Thrones Hand of the King replica pin ($39.90) is at Box Lunch
Kiki's Delivery Service Zip Wallet ($39.90) also via Box Lunch
In Geek Fashion News:
Marvel Studios hosted a special Black Panther event at New York Fashion Week featuring designer pieces inspired by the film. Three capsule collections that were part of the event were even available for purchase on the designers' websites.
Disney Style brings a different way to show off your pin collection with this pin handbag tutorial.
Mood Fabrics offered a free pattern for download called the Castor – inspired by a T'Challa tunic.
W Magazine had 3 directors of celebrated 2017 films direct a fashion photoshoot: Jordan Peele's "Noir Town", Greta Gerwig's "The Domestic Kingdom and Terror and Beauty", and Luca Guadagnino's "Sister my Sister". 
Unique Vintage teamed up with real-life scientists to promote their Geek Chic collection. Learn more about the women here.
Looking for more? Check out my January and December picks.
Support my geek fashion reporting at no additional cost to you by visiting these retailers through these banners.