Fandom Fashion Finds: July Picks
What. A. Month.
D23 and SDCC weren't the only reasons so much new geek fashion appeared on the market this month, but they were definitely big contributors. Picking my favorites for July was not an easy task.
Harry Potter
It's been 20 years since the first Harry Potter book was released and and it took a while for more fashion-forward apparel to become available for the franchise. Now though we have some beautiful designs like this Fawkes Embroidered Womens Peplum Top ($48.90) found at Box Lunch. I could do without the peplum but that's a personal preference. It gets major subtle geek chic points for the style and placement of its golden embroidery and ruffled edges.
And if you thought that was lovely, check out the Harry Potter Herbology Womens Top ($48.90). A mockneck, mesh paneling, and flowy drape are combined with mandrakes and other magical plant life for a refined, romantic look. This soft Astronomy Kimono ($58.90) provides another style that might have been inspired by Professor Trelawney.
As far as more fashion-y t-shirts go, Box Lunch has some Hogwarts house tees ($28.90 each) that have pretty darn cool designs: Hufflepuff, Ravenclaw, Gryffindor, Slytherin.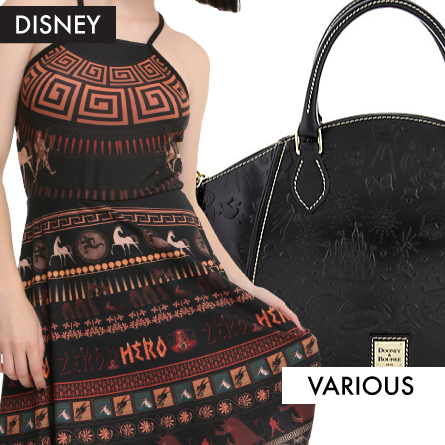 Disney
Hot Topic has two pieces of Beauty and the Beast activewear. They're bold and pretty tough-looking for something covered in roses: Jogger Pants ($29.90) Low-Impact Sports Bra ($16.90)
For having two famous lions on the skirt, this Lion King Simba and Nala Floral Watercolor Dress ($49.90) is almost subtle. They integrate into the overall design pretty well.  I also love the cut and pattern usage on this Hercules Pottery Dress ($49.90). It's like the song "Zero to Hero" come to fashion life.  
Unique Vintage has added a bunch of pieces to their Happiest Collection on Earth. With shirts, pins, skirts, shoes, belts, leggings, dresses, and more it's really really difficult to pick a favorite piece.
For the Hawaiian print lovers, you can outfit the whole family in Mickey and Friends Hawaiian print shirts and dresses from the Disney Store. The shop also has some really cute outfits for kids right now including this Snow White Fashion Collection for Kids ($16.95-39.95).
Over in Disney purse land, the Madame Leota Wristlet by Dooney & Bourke ($98) sports a bold purple and cool tribute to the Haunted Mansion ride. Subtle via monochrome the Disney Parks Icons Satchel by Dooney & Bourke ($348) is a treasure trove of embossed characters and park nods. Danielle Nicole's Snow White Backpack ($68.95) is not only trendy but customizable in that you can choose how many of the three included patches to add to the bag and where to put them. On the more dramatic end, is the Danielle Nicole Plumette Crossbody Bag ($68.95). All of these bags can be found on DisneyStore.com.
Let's do one more bag. Bright, bold colors mark this Loungefly Lilo and Stitch Ohana Tote ($69.90) found at Box Lunch.
Want to carry around a reminder from Moana to remind you to be true to who you are? Hot Topic has a replica Heart of Te Fiti necklace ($9.90).
The lace inlay brings a bit of romanticism to Box Lunch's The Princess and the Frog Never Too Old Tank ($34.90).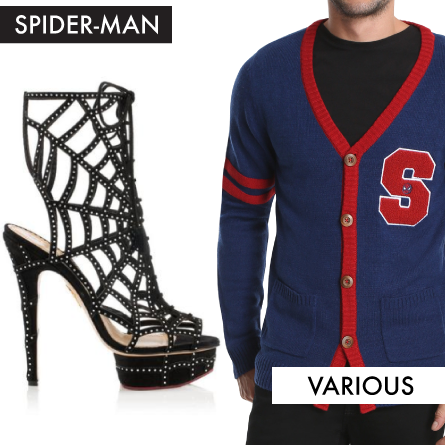 Marvel
Spider-Man: Homecoming has brought a few new stylish options to the market. There's something retro fab about this Spider-Man Homecoming Collection Cardigan ($49.90), an exclusive to Box Lunch.
Charlotte Olympia's Spider-Man capsule collection features bags and shoes. These spiderweb heels are something else ($1,575).
Fifth Sun's shirt collection for the movie doesn't have any women's-specific styles but this Spider-Man Homecoming Logo shirt ($19.95) looks prime for a DIY re-styling.
Matchless London has shared that Tom Holland wore one of their jackets in the movie. Looks like the closest they have available on their site right now is this winter Holland Jacket ($700).
While I haven't seen it on their website yet, there's an exclusive necklace/choker Spider-Man set from RockLove at Box Lunch.
And in other Marvel fashion news, RockLove Jewelry has released another wave of Guardians of the Galaxy necklaces and earrings. You can buy them all on RockLove's site.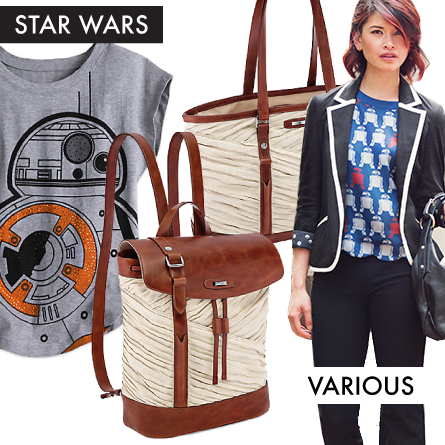 Star Wars
Torrid is offering this Death Star Oversize Ring ($18.90) which is pretty subtle for wearing a Death Star on your finger. Also in the semi-subtle territory is this Rebel Logo Lightweight Infinity Scarf ($19.99), exclusive to ThinkGeek.
Thew new line of S.T. Dupont Rey-themed bags over at the Disney Store made me gasp. They're beautiful and fairly subtle for integrating Rey costume elements. There's the Rey Backpack ($595), the Rey Tote Bag ($525), and the Rey Shoulder Bag ($455). A limited edition Rey wallet ($325) is also available from the same designer.
Looking for a bold tee of Vader pointing? Check the Disney Store's Darth Vader Bling Tee for Women ($36.99). There's a BB-8 one too in that style for the light siders.
A bunch of the shirts I found in Hollywood Studios and posted on Instagram back in April are now showing up on the Disney Store website – like this C-3PO Tank Top for Women by Star Wars Boutique ($36.99). 
The latest in Nixon's Diplomatic limited edition line of Star Wars watches is the Stormtrooper ($2,500).
Were the Preen Darth Vader shirts out of your price range? The Darth Vader Splatter Girls T-Shirt ($22.90 – $26.90) from Hot Topic uses a very similar Darth Vader design on a plain white tee.
Her Universe teamed up once again with ThinkGeek to design an office-wear collection. This time it's for Star Wars and features one dress, three shirts, leggings, and a scarf ($24.99 – $59.99). I know from experience there will be offices with dress codes that won't allow about half of the collection, but it's good to know that workwear is being considered too for geek fashion. Plus, Ashley's photoshoot of the collection is pretty entertaining and has some great styling.
The SDCC offerings of Her Universe are available online now as well which is great if you couldn't make it to the convention. In addition to Star Wars  you'll find Studio Ghibli, Star Trek, Marvel, and Doctor Who pieces.
Wonder Woman
Oh, but wait, the Wonder Woman apparel train has not stopped. Among my favorites this month is this Wonder Woman Art Deco Lightweight Scarf ($19.99) for its subtly while also being art deco. A bold shoe option from ThinkGeek is their Wonder Woman Ladies' Lace-Up Sneakers ($39.99).
If the Wonder Woman jacket offerings have been too colorful for you, take a look at the DC Comics Wonder Woman Studded Leather Moto Jacket ($249.90 – $251.90) over at Hot Topic. It makes use of the very cool Wonder Woman zipper pull that was also featured on the Her Universe version designed by Hannah Lees-Kent. 
Game of Thrones
MEY™ is a jewelry company formed by costume designer Michele Clapton and jewelry brand Yunus & Eliza™. They sell licensed jewelry both featured on Game of Thrones and inspired by it. With the return of the show, their 2017 collection has launched – Breaking Chains. There's this fierce Dragon Storm Single Dragon Ring (£141.67), as worn by Missandei in Season 7. They also scaled down Daenerys' Dragon Pendant necklace (£291.67) for everyday wear.
New York Comic Con
Reed Pop just released a slew of apparel in their online shop themed for NYCC 2017. A highlight among them are these Mood tank tops that'll ship in mid-September: NYCC 2017 MOOD VILLAINOUS TANK ($25) & NYCC 2017 MOOD HEROIC TANK ($25).
In further geek fashion news:
Cakeworthy, a lifestyle fashion brand, announced their new license with Disney at D23. Originator of the term Disneybound Leslie Kay is the company's Director of Marketing.
Her Universe announced new designs coming to Disney Parks and Disney Stores in fall and 2018 at D23. See the designs inspired by Disney Parks and Princess Leia here.
The winners of the Disney Style Challenge's Frozen-themed clothing is for sale at Nineteenth Amendment.
Disney & Pixar made a tribute to fictional designer Edna Mode with real members of the fashion industry. (It's also a promo for Incredibles 2.)
Hero Within not only exhibited at San Diego Comic Con for the first time, but they were also featured in a Forbes article due to their participation in the SDCC's Pop Culture Shark Tank.
Po-Zu shoes were featured in an article in issue 174 of Star Wars Insider (Finn on the cover).
And ICYMI, I shared highlights from the 2017 Her Universe Fashion Show along with my picks from the inspiring designs.
Check out @GeekFashionGalaxy on Instagram for this kind of fashion news and findings as it happens.
Support my ability to share more fashion content like this by clicking on the ad banner below when you're ready to buy your new Star Wars x Po-Zu shoes.