Fandom Fashion Finds: April Recap
While I still have more to come with my post-Celebration fashion reporting, here's a quick look at the most fashionable finds discovered in April in Star Wars and beyond.
DC COMICS
If you haven't already, go check out my round-table review with Tricia and Audrey of some of the new DC by Her Universe activewear that came out at Kohl's in early April. It's got a lot of options so hopefully you can find pieces that suit your preferences for workout wear. Kohl's also has this girls' Wonder Woman Sports Bra ($29.99) that's made my Under Armour.
Alex and Ani have a 6-piece Wonder Woman jewelry collection on their site ($32 – $88). In addition to their trademark style, there's a cuff, wrap ring, earrings, and a necklace that are beautifully powerful-looking.
Macy's currently has 14 t-shirts in their Wonder Woman offerings. I'm not sure yet if the wording goes with the movie, but I like the style of this one ($24). There's something similar going on with this juniors' t-shirt over at Kohl's. We haven't seen any designer fashion collections spring up yet around the movie, but last year Valentino launched their capsule collection around this time. There are some fabulous dresses and jackets included there.
Meanwhile the Batgirl Moto Jacket ($99.99) at ThinkGeek is a piece that looks both rather subtle and fun. Released to celebrate Batgirl's 50th anniversary, the jacket incorporates the bat-logo in a few places and features purple lining.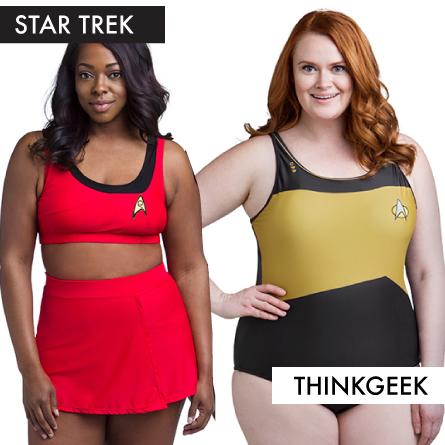 STAR TREK
ThinkGeek has also released not one but two Star Trek swimsuit lines in advance of summer as part of their Trekini line. The Next Generation is represented via one-piece available in blue, gold, or red ($59.99). The Original Series also is offered in the classic colors but with a skirted and retro-inspired two-piece (top $29.99, bottom $29.99). Both styles go up to 4x in sizing.
BEAUTY AND THE BEAST
You thought we were done with Beauty and the Beast clothing, right? Wrong. Uniqlo has several shirts out in their collection (h/t Sarah D.). This 3/4 sleeve long shirt is neat because it's so flowy and dreamy ($29.90). The same print looks so delicate and elegant on the back of this short-sleeve crew neck t-shirt ($14.90).

MARVEL
Letting you bring a piece of the movie home with you, Hot Topic is selling an exclusive version of the shirt Peter Quill wears in Guardians of the Galaxy Vol. 2 ($20.90 – $24.90).
At the same retailer you'll also find two new LA Gear sneakers – one representing Iron Man and the other to show off your love of Spider-Man ($49.90 each).
STAR WARS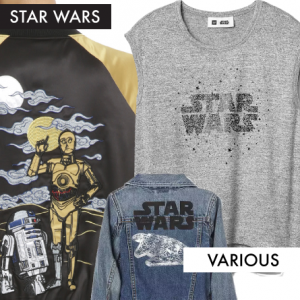 Outside of Star Wars Celebration, there were a few releases. GAP has released a collection that's mostly for kids but has a few items for adults too in prep for the franchise's 40th anniversary. If I was a kid I'd probably be going for this denim jacket featuring the Millennium Falcon ($58). There's a baby version of it too. The kid's shimmer tulle skirt ($39.95) wins points for being sleek and rather subtle. And I'm not sure why we haven't seen more of the idea of making the Star Wars logo out of stars on a shirt ($29.95) before.
And last but not least Hot Topic and Her Universe has released several new Star Wars clothing items on both of their websites. As of posting each site had at least one piece the other did not. Hot Topic has this stylish (although perhaps impractical) Darth Vader Lack of Faith tank ($32.90 – $36.90). The only piece I've had a chance to see up-close and wear is the The Force Awakens Rey Cardigan ($44.90 – $54.90) which is fun. The Leia cosplay dress ($79.90) will have to be tried on to form an opinion. I've currently got my eye on the C-3PO Satin Souvenir Jacket ($79.90) as my #1 pick to try on though. Torrid is also carrying pieces from the 40th anniversary collection including these exclusive Boyfriend Jeans with Star Wars Patches ($98.90).
In further geek fashion news:
Disney opened The Dress Shop at Cherry Tree Lane in Disney Springs featuring retro-style dresses representing both characters and park attractions.
Bioworld has teased this classy-looking Wonder Woman wristlet. They've also previewed a Wonder Woman workout outfit.
I'm on the latest episode of Galactic Fashion talking about geek fashion representation at Celebration Orlando.
DisneyStyle and Miranda May pulled together 3 prom styles inspired by Disney characters. Check out that Jack Skellington-inspired tux.
In the run-up to pre-orders opening May the Fourth, check out my up-close look at the Star Wars x Po-Zu shoe collection.
Check out @GeekFashionGalaxy on Instagram for this kind of fashion news and findings as it happens.