C2E2 2016 Show Overview and Recap
In some ways C2E2 (Chicago Comic & Entertainment Expo) is the Goldilocks zone for comic book and pop-culture conventions. It's a show that's not heavily leaning on any one aspect.
There are photo ops and autographs but there are also plenty of spots to hunt for comics and other pop culture merchandise to add to your collection. Costuming and cosplay are big but you won't feel out of place in jeans and a t-shirt. There are places to hang out and catch up with friends, places to get some quiet time, and areas especially catered to families. There's some big-name vendors and brands, but there's also smaller businesses and the cool, underground vibe of an area called The Block. You'll find a range of panels along with some screenings and special events like the Ask Me Another and the Crown Championships of Cosplay. And let's not forget there's an Artist Alley section big enough to lose members of your party in.
Let's take a look at what 2016's C2E2 had to offer.
Panels
C2E2 is a 3-day show and like most shows that take place over a Friday/Saturday/Sunday, Saturday is the busiest day. With that in mind somehow this year's Saturday felt way more crowded that last year's. It took much longer to get anywhere than it did the other two days. There was actually a winding queue to get on the show floor throughout Saturday and once you got in it was hard to actually see anything or move faster than a shuffle in most areas. Combining that with the fact that C2E2 is one of the shows that doesn't clear panel rooms, Saturday panels I was considering were pretty much a no-go. Luckily thanks to my experiences with the show last year, I wasn't too surprised I didn't get to go to everything I wanted to.  
You may also recall that last year the panels I attended were a little too unstructured for my tastes. This year I was really pleased with the Star Wars Books Panel and Sewing and Costume Design Panel. You can check out my recaps of them at the links. Both were a nice blend of moderator/panel-driven content mixed with audience Q&A. We even got an announcement of a new Rogue One prequel book, Star Wars: Catalyst at the book panel. Announcements at C2E2 panels are not unheard of, but are more typically associated with conventions like San Diego Comic Con and New York Comic Con.
Exhibitors
You'll find booths at C2E2 that are the type seen at many other pop culture conventions – the giant walled t-shirt place, the place stocked with Funko Pops, the racks of comics, the vendors of old toys. On the geek fashion front the Reed Pop store had several shirt options including some well-known Her Universe pieces and the new HU Captain Marvel and Spider-Woman jackets along with a new monochromatic BB-8 shirt. Stalwart geek apparel retailer We Love Fine had a decent-sized booth as did SuperHeroStuff.com. I like that the SuperHeroStuff booth is structured so you can walk through it, making it a bit easier to see the merchandise without feeling like you're in anyone's way.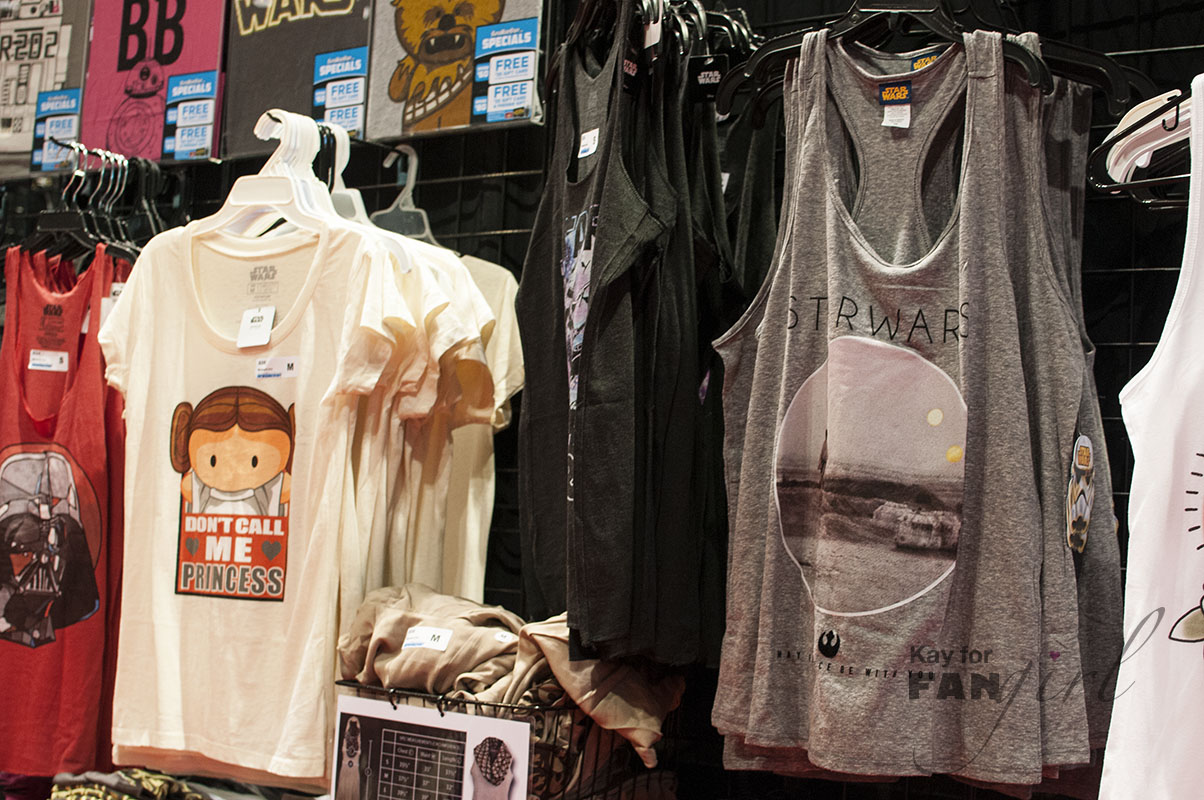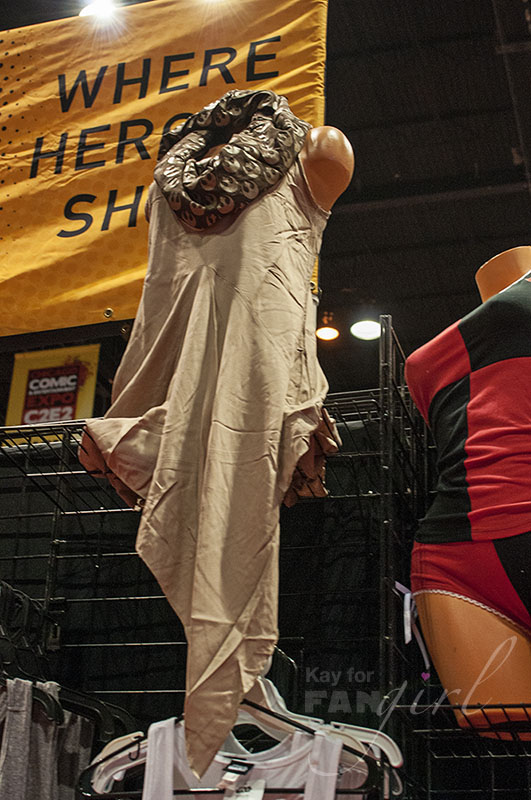 Meanwhile Espionage Makeup was charming the masses with their nail wraps and multi-use make-ups. Jamberry was there with their nail wraps as well. My new friend, BB-SK8 had a blast getting a sparkly make-up look at the Migi Cosmetics booth.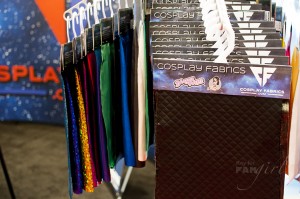 This year seemed to have more exhibitors aimed at those who make cosplay and costumes too. Pattern company Simplicity had a retro diner set up with superhero-themed aprons and several of their patterns suitable for costume-making for sale.
Sewing machine company BERNINA of America had a booth too with several of their machine models on display. Cosplay Fabrics had samples of their newest fabric line, a collaboration with Yaya Han, that is now available through Joann Fabrics.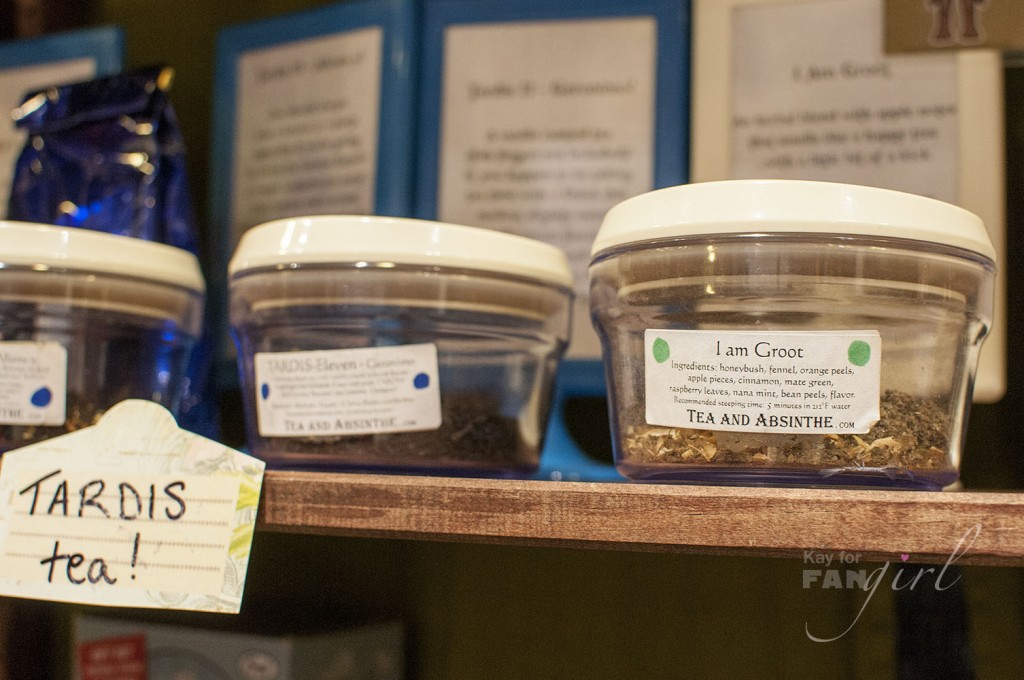 There were even more specific booths to cater to your geek-tastes.
If you needed a fez, there was Fez-O-Rama. If you like your jewelry to commemorate a special date with celestial objects, there's Moonglow Jewelry
Tea & Absinthe was right up my alley with their booth of geeky teas inspired by the likes of Doctor Who, Groot, and Buffy the Vampire Slayer. They offer several other blends, infusers, mugs, and teapots. Check out the Tea & Absinthe website to see which shows they'll be at next.
And new to me was The Lolita Collective. Run by Emma Bottari, this shop represents over 70 fashion designers from around the world–all making apparel and accessories for fans of the Japanese street fashion referred to as Lolita. I'd heard and seen photos of this fashion style before but never had a chance to look at the clothing up-close. There were frilly jumperskirts as well as more minimal ones, all impeccably made. And I was having fun just looking through all the different fabric prints used. There were fandom skirts and embroidered pieces too. Parasols, boleros, jewelry, hats – so many items to take in. The Lolita Collective will be at several anime shows this year as well as Dragon Con.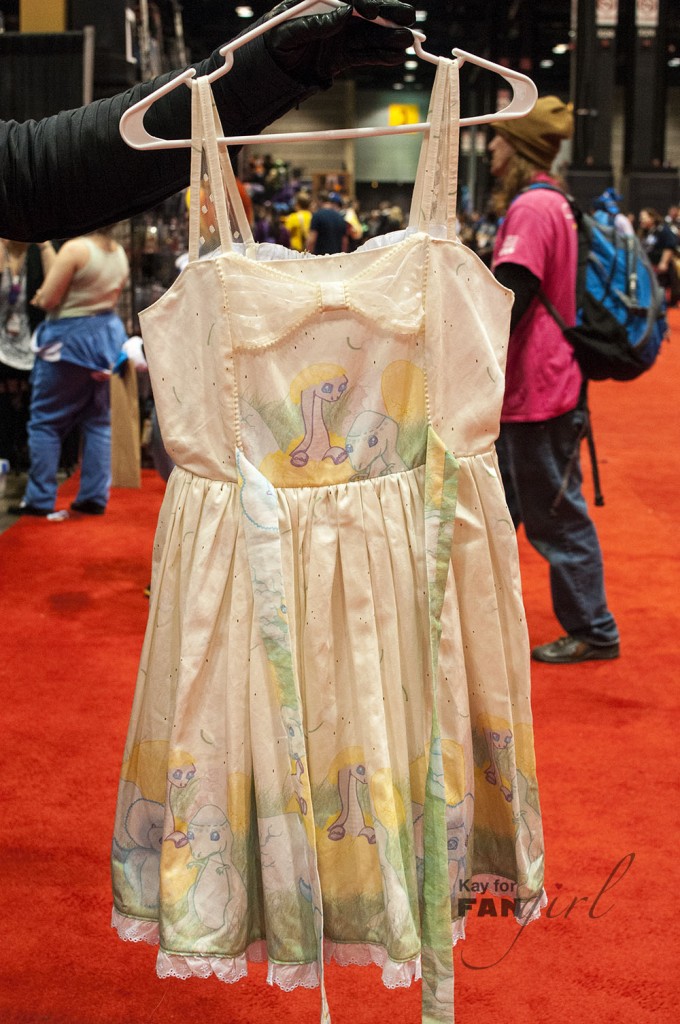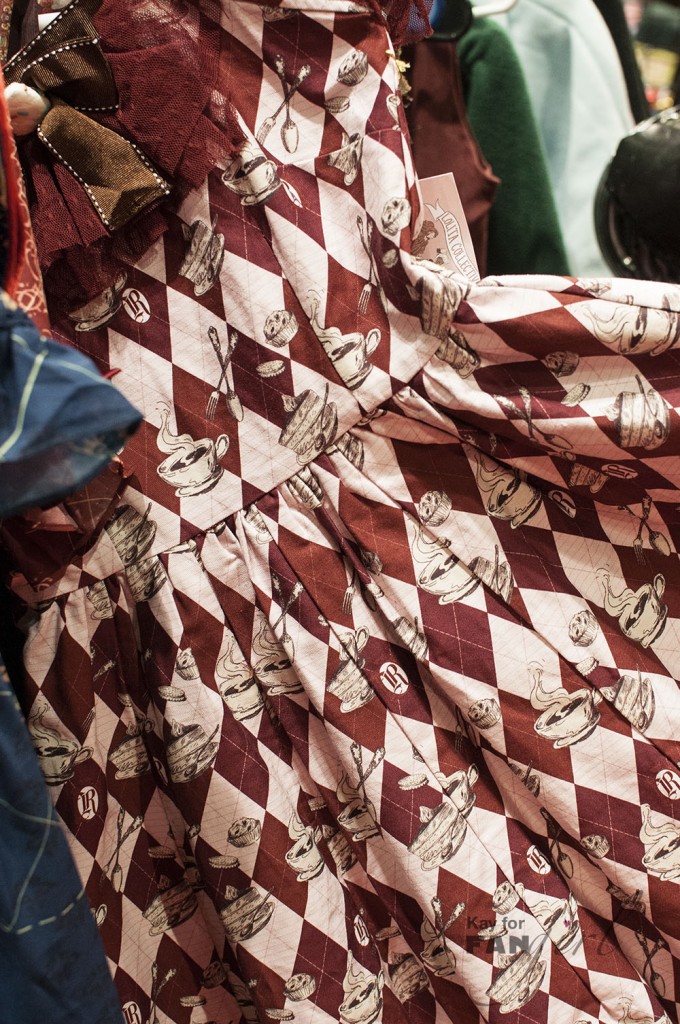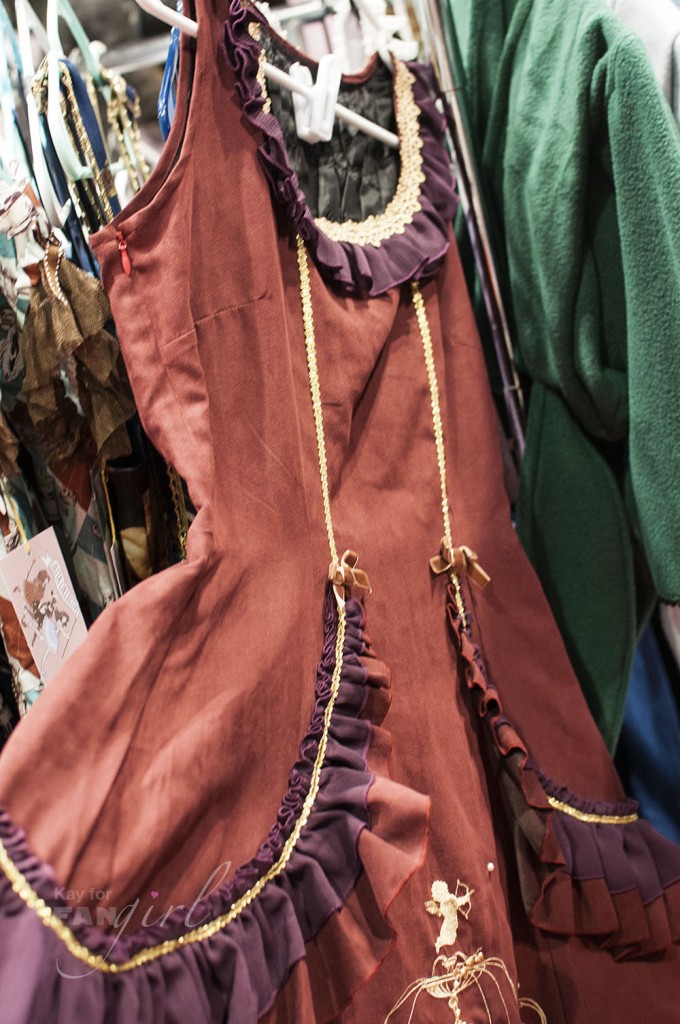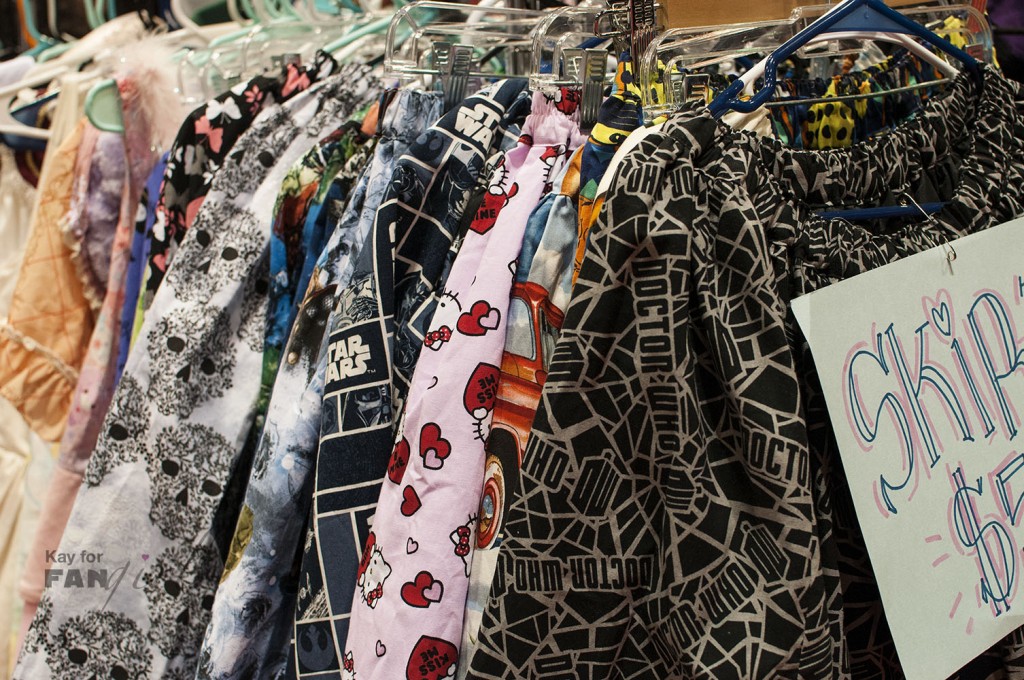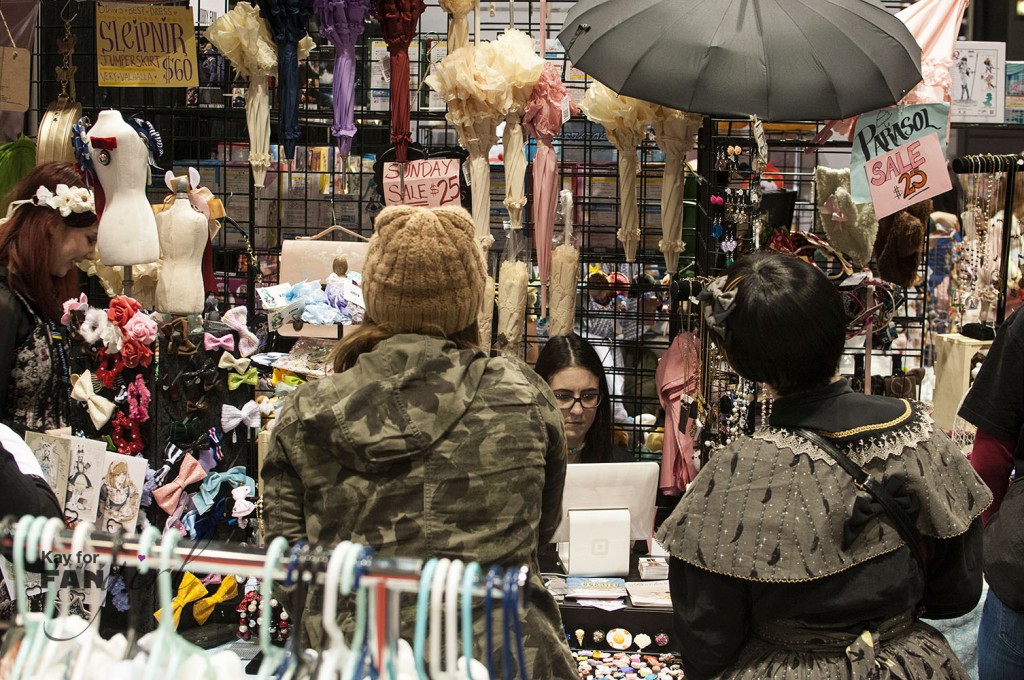 Artists
C2E2 has a good-sized Artist Alley and I never feel like I can spend enough time there. Aisles are named by letters but you may find yourself having to be reminded artists are not organized alphabetically. They do have posters with artist names and table locations but sometimes it's nice to just walk up and down the aisles and find artists who are new-to-you too.
There was a lot of Star Wars art to be seen and a lot of Rey pieces that were tempting to purchase. On a tight budget at the moment, I allowed myself only one though and it was Megan Lara's Art Noveau take on Rey, which you can find here in her Etsy shop. Megan does Art Nouveau-inspired portraits of various fantastic fictional ladies like Ripley, Hermione, and Katniss too as well a Doctor Who pieces. Karen Hallion's table was packed as usual. Karen also has a Rey art piece that's on my to-get list and she's working on another one.
Also of note was Phil Noto's attendance. He was the official show poster artist and while there wasn't much to his table, he had a line of people waiting to get the print he had with him. I'm actually kind of relieved it wasn't a print that included Rey because then I would have had an even harder time choosing than I already did.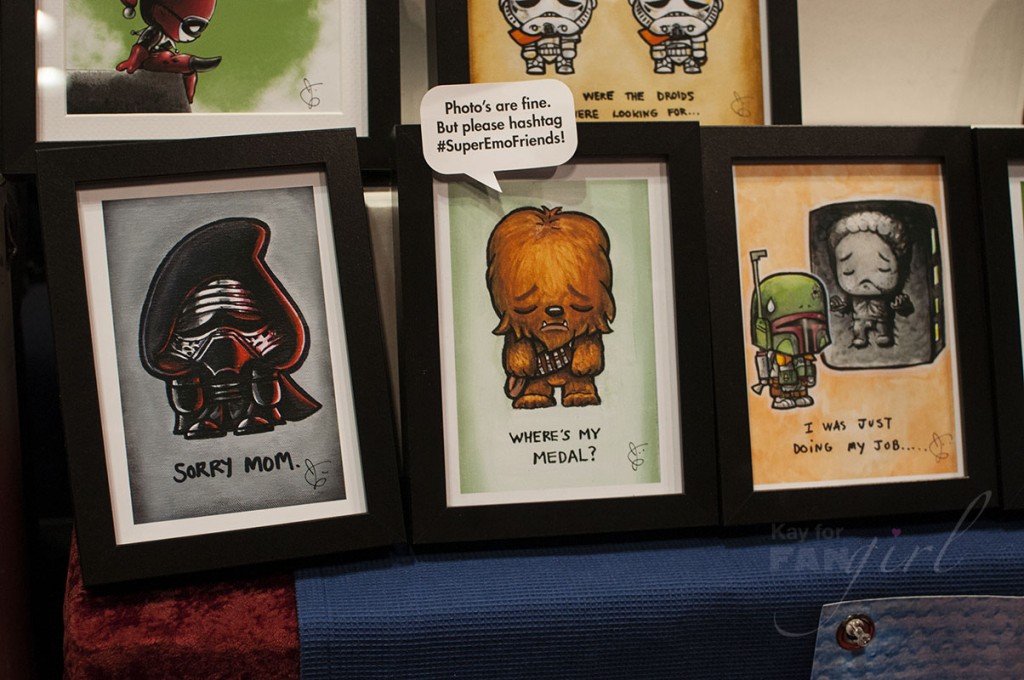 There were also a few art booths outside of the Alley, including Super Emo Friends by JSalvador. It was hard to walk by all those cute little faces without stopping. Once you read them though it was hard not feel for those little guys.
C2E2 describes The Block as the area that "brings together art, design, collectible toys and fashion of the underground pop culture scene along with the tastemakers, trend setters, artists, thinkers and the brands they create." It also featured a stage where artists would create new pieces live in front of an audience.
The Block was also home to a booth called Nerd City where art and old toys combine and you discover more the longer you look. Battle Babies had their collection of "Popular Girls" there which cross Barbie figures that I vaguely remember being part of a fast food meal toy option way back when and Star Wars action figure's heads. Yoda has never looked so grandiose. Junk Fed was back at this year's show once again offering the funny and clever Space Madness coloring book and toy mash-ups.
Cosplay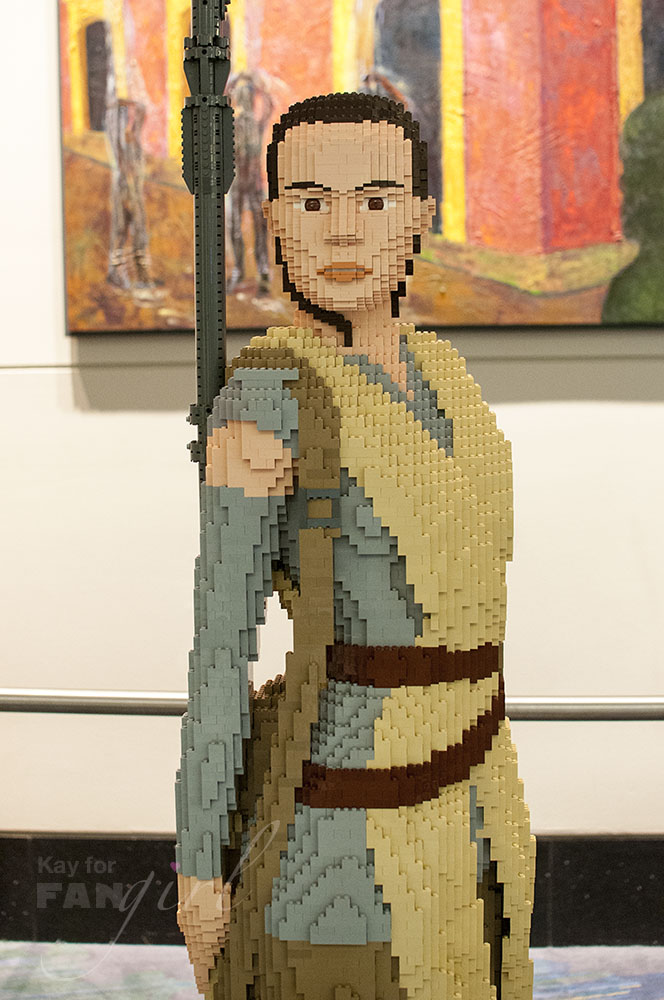 After a year of being the only Rey or one of two or three at most shows, C2E2 was dubbed by several as ReyCon 2016. It seemed like every time I turned my head I saw another Rey somewhere off in the distance. There were women of all ages, a few men, and many kids too. Ah, the power of Star Wars.
I also spotted a lot of Kylo Ren too, several Finn, two General Leia, two TFA Han, a couple of Poe, some Resistance X-wing pilots, three Phasma, a bunch of First Order Stormtroopers, one Captain Sidon Ithano, and at least four General Hux. It wasn't until the last day that I briefly saw a male General Hux, up until then I only saw women dressed as Hux and they all had fabulous coats.
And of course we can't forget the BB-8s, including my personal favorite, the kiddo who stole the show – BB-SK8. I even had the honor of straightening out BB-SK8's antenna when I first met her as it was actually bent. Conventions are great places for meta moments. Speaking of which, Matt the Radar Technician was pretty easy to find around the show too.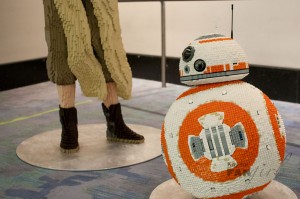 A lot of Star Wars characters outside of The Force Awakens were represented as well. Harley Quinn and Deadpool continue to be a cosplay favorite. Furiosa is still holding relatively strong as are Disney Princesses. A few massive costumes can be seen from time to time as well either in front of the giant C2E2 letters in the lobby or patrolling on the show floor.  And it's always interesting to see the mash-ups and original takes cosplayers and costumers come up with. Sunday is the show's family day so the costume adorable quotient goes way up. Look for a gallery of some of my favorite cosplay and costume finds in an upcoming post.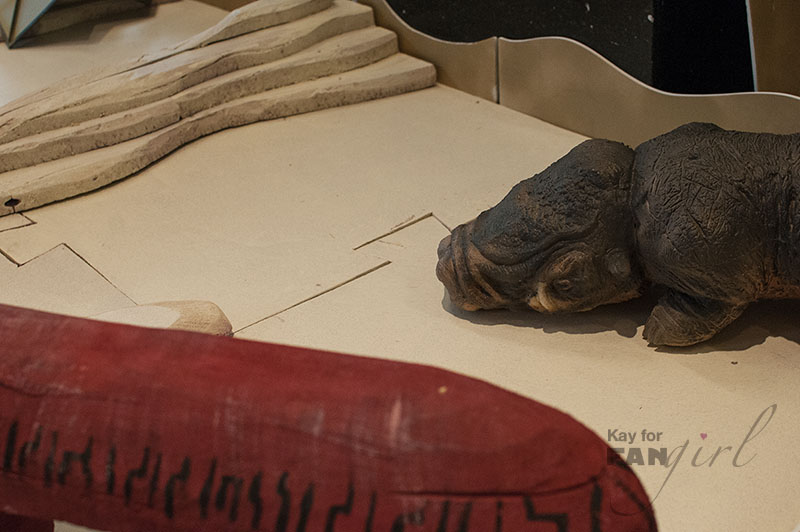 It's still a pity more conventions don't have a Cospitality Lounge like C2E2 does. Run by We Are Cosplay, it's a great resource for changing in or out of your costume and making any emergency repairs – hot glue, needle and thread, pins, tapes of all kinds. This year also had wig assistance provided by Arda Wigs. The whole area they were in was bigger and more easily accessible than last year. It's part of the Fan Village and Family HQ. People use the space for themed meet-ups, panels, taking a break relaxing in gigantic bean bags, sitting down to eat a snack, and getting in some relative quiet time. Kids had their own costume parade area and Lego had a big presence around the space with activities as well as almost life-size Rey, BB-8 and Kylo Ren Lego statues. Right next to all that the Rebel Legion and 501st had tables and a few activities of their own.
So there we have it – a brief look at 2016's C2E2 convention as it continues to be a great show for pop culture lovers of all ages.