Fandom Fashion Friday: Update and Black Friday Sale Edition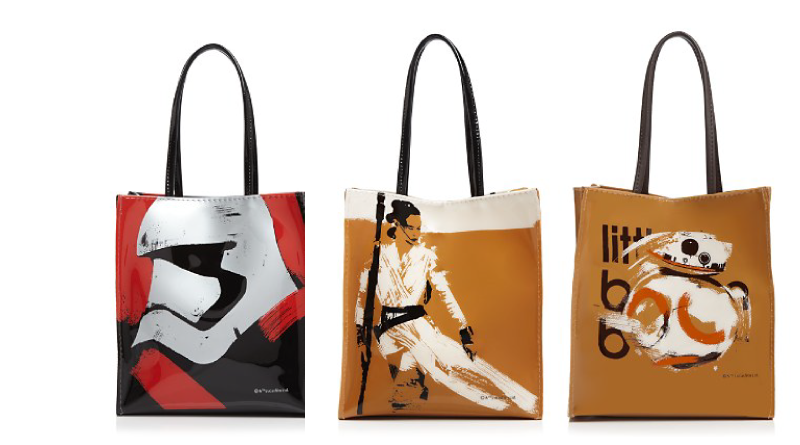 individual bag images: bloomingdales.com
This week we have some updates to our previous fashion articles as well as some info about Black Friday/Cyber Monday sales at some retailers with deals on geek apparel and accessories.
Update on our #Force4Fashion article:
The Bloomingdale's totes with designs by Michael Kaplan are now available online. The three designs are Rey, BB-8, and Captain Phasma. They retail for $28 each and are on the smaller side as far as tote bags go; a notebook would peak out. Still very cool-looking. We briefly talked about these on this month's episode of Hyperspace Theories. Bloomingdale's is offering free shipping through December 22nd.
Bloomingdale's has also put up their The Force Awakens window displays in NYC. Johnamarie of The Wookiee Gunner has photos and video of the windows as well as the pop-up shop inside for those of us who can't make it out there before the windows get switched over to the Force 4 Fashion looks on December 3rd.
Note if you're making a Rey costume, the gloves on that mannequin appear to be different from the gloves she's been pictured wearing as well as those that have made other appearances with the costume.
The Bloomingdale's Intergalactic Pop-up Shop is also represented online, although its contents seem to be mostly tops for males. Let's take a moment to make shifty eyes about this.
Update on last week's Fandom Fashion Friday:
The Star Wars by Her Universe collection at Hot Topic's Princess Leia dress ($69.50) is also now available online.
This is earlier than the original December announcement so now there's a better chance you can wear it to holiday parties as Ashley had previously mentioned.
I haven't seen it in person yet but from the close-up photos it looks very nicely made. Looking forward to trying it on. Keep an eye out on Hot Topic for sales.
The Leia dress is not available on HerUniverse.com at this time, but other pieces from the collection are. Orders from the website on The Force Awakens' US opening day (December 18th) will get an exclusive BB-8 patch. Check out below for the Her Universe Black Friday offers.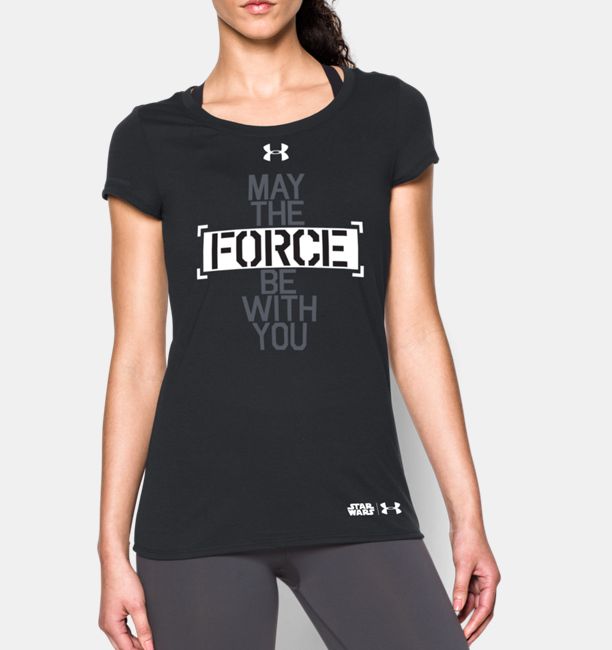 Update on the first Fitness Edition of Fandom Fashion Friday:
Under Armour has added some women's and girl's tops to their Star Wars Alter Ego collection. They are not quite as fun or varied as some of the men's and boy's designs, but at least they added them fairly soon.
The women's shirts retail for $34.99 and girls' for $24.99. Take note that those designs are not set to ship until January 1st. Perhaps they were going to put them out even later and all those of us who expressed our initial disappointment to UA made a difference.
I can't speak for everyone with lady parts, but I certainly wouldn't mind a Vader or stormtrooper compression shirt like the men's currently offered. But you know what could be even better – having a shirt like that for Captain Phasma. Talk about feeling badass while you work out. Hopefully that's on the Under Armour agenda.
Black Friday/Cyber Monday Deals
With all of these please check out their website for more info including exclusions, rules, and sale end dates.
ThinkGeek: 40% off 75 items. The apparel that's part of this group is mostly Star Trek with some Doctor Who in there too, but there are several non-apparel Star Wars items in the mix. Sale goes on until 11:59PM P.T. 11/28.
Her Universe: up to 60% off select items and free US Smart Post shipping on order of $25 or more. Also as mentioned above, order of $25 or more will get a free BB-8 pin while supplies last. Sale goes through November 29th. On Monday five customers placings orders that day will be randomly selected to receive a $100 Her Universe gift card.
Hot Topic: All t-shirts are $10 online and in-stores. 25% off most items online including clearance. In-store is offering BOGO 50%. The t-shirt deal cannot be combined with the other deals. See the website for sale end dates.
Kohls: 20-35% Star Wars lightsabers, masks, and costumes (select styles). Most of the Star Wars clothing is on sale as well.
Old Navy: Everything 40-60% off online, 50% everything in stores. As we found last week, there are several new Star Wars shirts here. You'll also find clothing for Marvel and DC (not necessarily all for women).
Activate Apparel: Various deals all week long including $5 off tanks, $6 off totes, and $7 off long-sleeve shirts.
Kay Jewelers: Their Darth Vader charm is on sale for $79.99.
SuperHeroStuff: Sale all weekend with 1,000+ items up to 30% off. Order over $75 get a free t-shirt (with 150 to choose from) with code TEE4FREE.
Disney Store: Up to 60% off when you use code THANKS for an additional 20% off. 15% off the Alex and Ani Princess Leia charm bracelet (& other charm bracelets). See site for details.
Look Human: $5 off tees, tanks, and racerbacks. $7 off baseball tees, pullovers, and hoodies. $10 giftcard with order.
Jordandené: 40% off everything with code CYBERWKND2015.
Reed Pop Supply Co: 25% off store-wide.
WeLoveFine: 20% off site-wide with code GEEKFRI20. Some exclusions apply.
AbbyShot: Once Upon a Time pins on sale for $29.99 and 10th Doctor coats (men's, women's, and kids') $100 off.
Any other sales of geeky fashion we should know about? Add them in the comments below.