Fangirls Around The Web: Her Universe 5th Anniversary Bash Special Edition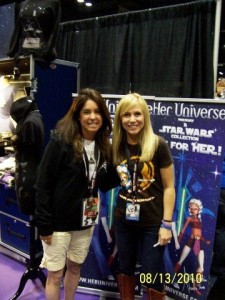 Fangirls Around the Web is a post series that spotlights amazing fangirls and their heroines around the web.
June 22nd marks FIVE years for our favorite fangirl fashion company, Her Universe. It's been a privilege to work with Ashley Eckstein through the Year of the Fangirl initiative, which is still running over two years since it started. Even Lucasfilm president Kathleen Kennedy is wearing Her Universe, sporting the Lightsaber Star Wars Logo t-shirt during The Force Awakens panel at Celebration Anaheim. To celebrate their milestone, Her Universe is celebrating all day Monday, June 22. From the company's blog:
1) Every order placed on June 22nd at Heruniverse.com will receive a FREE gift (randomly inserted in a purple envelope with their order and personally autographed by Ashley) of $5 up to $500! Will YOU be the lucky one to win $500?
2) We're re-releasing three of our original and most popular Star Wars pieces launched years ago for all of you who might have missed out on these Force-ful fashions! You will be able to find them here on the 22nd.
3) We're throwing a 5th anniversary party on June 22nd at the Her Universe offices with live stream segments all day via the social media app Meerkat. We'll post the link on our Her Universe Twitter and you can watch the live stream segments throughout the day. Here is the tentative schedule for the 22nd:
10:00-11:00 AM PST – Introduction of the Her Universe team and tour of our offices
12:30-1:00 PM PST – Dessert Party! We're bringing our favorite baked goods or desserts to celebrate and we want YOU to do the same at home!
2:30-3:00 PM PST – Q & A with Ashley
4:50-5:00 PM PST – "Live" Check-in at the Her Universe offices
The re-released items include the Star Wars Burnout t-shirt, the ESB Poster t-shirt, and the Star Wars Manga hoodie. The Manga hoodie is one of my all-time favorite pieces. I have worn it all over the world, including on trips to Africa and the Galapagos.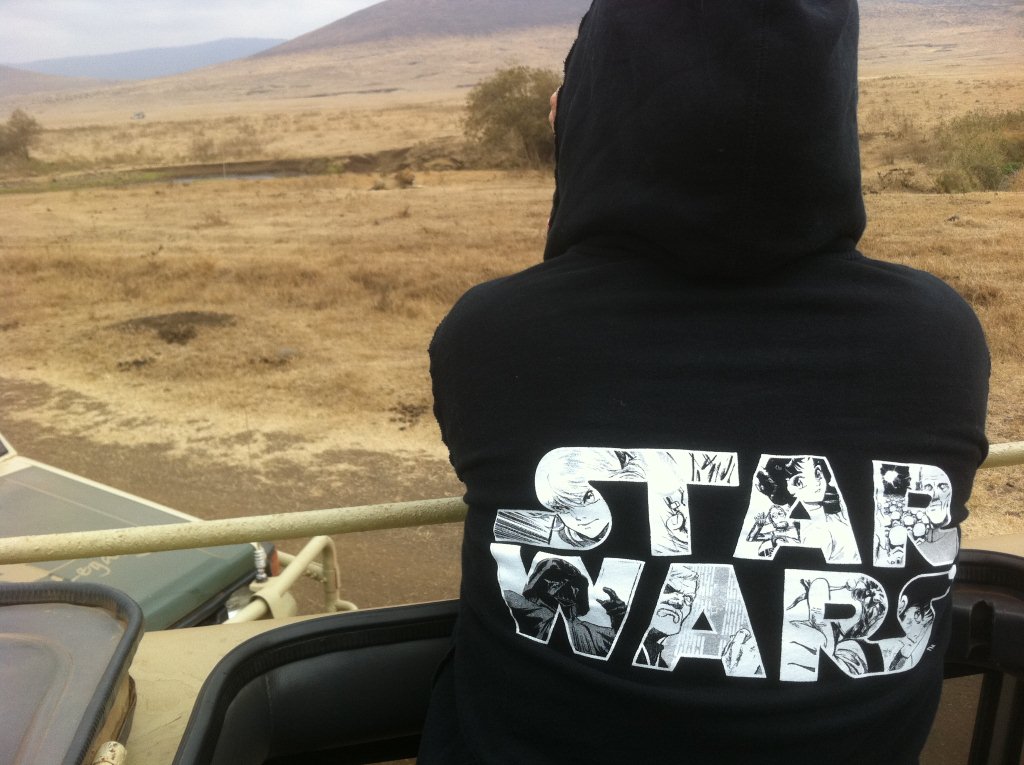 A few other of my favorite pieces include the May the Force Be With You sweatshirt, the Darth Vader Japanese Dress, and the I Love You, I Know v-neck. I asked some fellow fangirls for their recommendations and received a lot of responses. View all the feedback here. Amy Ratcliffe is going for a second Manga hoodie because hers is "comfy and cozy after five years" and Shannon Hammerstrom is aiming to get her first one. Bethany Blanton suggests the rerelease Burnout. Sarah Dempster and our own Geek Kay love the May the Force Be With You sweatshirt.
[tweet_embed id=611969466205908992]
Sarah joins Johnamarie Macias and Patty Hammond in pointing to the cardigans as great work worthy alternatives. My Fangirls Going Rogue co-host Sarah Woloski loves the Han Solo dress with R2-D2 jewelry. She, Cheryl Anne Corneille, TiffanyIsAGeek, and Nanci Schwartz vote for the purple Hope hoodie. Fanboy Jeromy French chimed in, too, on behalf of his wife who loves her lightsaber skirt.
One of the reasons I started Fangirls Around the Web was to become part of the grassroots movement to elevate things fangirls love. Anyone who has bought Her Universe and spoken about it on social media has helped in the company's success. In addition, Her Universe's success has helped convince franchises like Star Wars that women are powerful consumer group.
---
Tricia Barr took her understanding of brand management and marketing, mixed it with a love of genre storytelling, and added a dash of social media flare to create FANgirl Blog, where she discusses Star Wars, fandom, and strong female characters. She is one of four authors of Ultimate Star Wars from DK Publishing, has written several feature articles for Star Wars Insider magazine and is a contributor for Her Universe's Year of the Fangirl. Her FANgirl opinions can be heard on the podcasts Hyperspace Theories and RebelForce Radio Presents Fangirls Going Rogue.
Tricia Barr's novel, Wynde, won the 2014 Independent Publisher Book Award Gold Medal for Best Science Fiction/Fantasy/Horror Ebook. She was also part of Silence in the Library's successful all-female creator science fiction and fantasy anthology Athena's Daughters, which is available now. For excerpts and tales of her adventures in creating a fictional universe, hop over to TriciaBarr.com.
For updates on all things FANgirl follow @FANgirlcantina on Twitter or like FANgirl Zone on Facebook. At times she tries the Tumblr.