FANgirl's SAGA Read-Along: Beginnings
It's time to kick off FANgirl's first Put More Of This In My Star Wars Read-Along, featuring the graphic novel Saga by Brian K. Vaughan and Fiona Staples. I explained the premise of this new adventure for our blog in a post earlier this month:
Each of the stories picked will have some connection to Star Wars and will promote our goals as readers and fans. We're going to show you what we like to see in our stories, and we invite you to join us on the adventure.
Our winner of the Read Along giveaway copy was Amanda Bond. Thanks for participating!
Linda kicked off the conversation on Twitter after opening the book and being sucked in.
[tweet_embed id=554844630605254656]
Kay also offered feedback that the story grabbed her.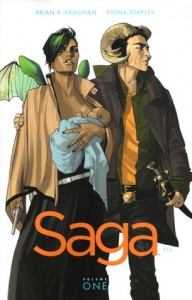 Mary's reaction has been more mixed, although one character inspired her enough to contribute an amazing character dissection that will help spur the discussion next week.
To start, let's talk about the opening chapter:
1) One of the great elements of the Star Wars movies is the use of in media res. The characters and situation are fleshed out but the audience has to dive in. That's also true in the first chapter of Saga. What did you think?
2) The opening jumps into the birth of the narrator, Hazel. Would you define this as graphic, or just a representation of life?
3) Following up on the previous question, we see boobs, blood, and obscenities. Do you think the story is challenging a double-standard about the female body and sexuality versus violence and gore in storytelling?
Feel free to leave your comments here and then share them on social media. Let's keep the conversation going!
---
For updates on all things FANgirl follow @FANgirlcantina on Twitter or like FANgirl Zone on Facebook. At times she tries the Tumblr.