Kay Reviews Honor Among Thieves by James S.A. Corey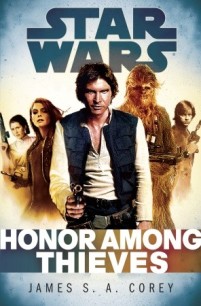 In September, I reviewed Razor's Edge by Martha Wells, a novel set between A New Hope and The Empire Strikes Back featuring Leia as the primary character. Today is release day for the Han-centric companion novel, Honor Among Thieves by James S.A. Corey. You can take the first 50 pages for a test drive courtesy of Suvudu.
From my review:
When it came to the new characters, they were much easier to distinguish than the ones in Razor's Edge, although there were also fewer of them. The scene when Baasen Ray, a smuggling acquaintance of Han's, first appears is reminiscent of an episode of Joss Whedon's Firefly. The Western feel, the dialogue, the unaccounted-for third party messing with the plan – it was a neat element I didn't see coming. Baasen was also distinct and fairly well-developed for his limited page time. The same could be said for the thief Hunter Mass, who was incredibly reminiscent of The Clone Wars' Hondo Ohnaka – complete with a pet on his shoulder and delusions of grandeur.
We also get Scarlet Hark, a Rebel spy Han's been dispatched to retrieve from behind Imperial lines. I liked her, but I think a large part of that had to do with the fact that I like Leia. Scarlet comes off as Leia with a wider skill set, a smaller scope of responsibilities, and some more height. She can take care of herself. She's quick with a comeback.
You can read my full review here.
---
Kay grew up wanting to be an astronaut. After seeing Star Wars, she wanted to be Princess Leia, Han Solo, and an astronaut. Life's taken her on a bit of a different path for now, but she's still a Star Wars fangirl at heart who enjoys surprising people with how geeky she really is. Currently a photographer who also specializes in communications and marketing, Kay spends her free time reading, cooking, writing, learning and, of course, making pew pew noises. You can follow her on Twitter.