Fangirls Around the Web 2013 San Diego Comic-Con Edition: Part Three
In Part One of Fangirls Around the Web San Diego Comic-Con 2013 Edition, we pointed to the recent L.A. Times article suggesting that female-led sci-fi is the next hot thing. The limited news revealed on the Star Wars front indicates that the franchise continues to see opportunity there. In Part Two, the diverging approaches taken by Marvel and DC show the former reaching for the ring when it comes to capturing the female audience, while DC is playing it safe and sticking with their core fandom. Today we'll look outside the mega-franchises to see what other genre offerings are featuring strong female characters.
The success of The Hunger Games has been one of the key factors driving the push for female-led sci-fi tentpoles. Interestingly enough, our Jaina Solo fan community, which had been in existence for ten years, was pointed to the Suzanne Collins novels well before the movie craze. Simple word of mouth within our community – one fan read and recommended it, then two did, then they all discussed it and three more read it, and so on – ended with most of our members reading the series. Scholastic and Lionsgate have continued to use their core fans to give Catching Fire momentum.  Jennifer Lawrence's enthusiasm makes her accessible to an even broader audience.  There are plenty of heroines and heroes to root for in these books and movies, which is one of the reasons they are so much fun for the fans I know. The trailer is embedded above. And for my pals who have read the novels: Katniss' face as she rises into the Quarter Quell arena says it all.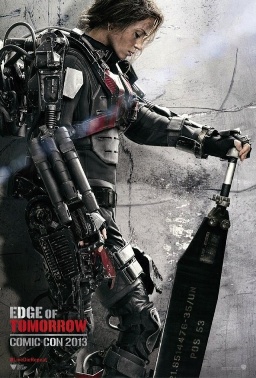 Beyond Hunger Games, several more movies with female leads and key characters were previewed, such as dystopian Divergent, Avengelyne with action star Gina Carano, superhero movie Kick-Ass 2, and Mortal Instruments by former Harry Potter and Lord of the Rings fan fiction writer Cassandra Clare. The fan-backed Veronica Mars movie was previewed and will also be getting new books. While Tom Cruise plays the cowardly protagonist in Edge of Tomorrow, Emily Blunt gets to be a colonial marine with some cool kit. Probably the most promising movie previewed was Gravity, starring Sandra Bullock and George Clooney as astronauts on a doomed mission. If you haven't seen this clip, then strap on and be prepared to have the wits scared right out of you.
An article in Women and Hollywood explains why Alfonso Cuaron was required to defend his choice to use a female lead in the movie. Bullock said of her director, "The elephant in the room is that roles or women haven't been as vast and many as the men have. But I do feel that there is a definite shift that has happened. In the end it's about making money, and if studios see that a female can bring in audiences, they're going to make movies with that person, and hopefully that will become the norm."
Anthony Mackie, who plays Falcon in Captain America: The Winter Soldier, spoke about the pressure he feels playing Marvel's first black superhero on the big screen and his hopes for Wonder Woman:
"It wasn't so much a burden as it was a blessing," Mackie says of getting the role. "I feel like there's a huge segment of our population that's being neglected as far as having people to look up to and having role models to look up to, and I'm really looking forward to next Halloween seeing bunch of little kids running around with wings on."

He adds, "That's why I feel like I hope they make Wonder Woman one day. I hope they bring back these cartoons that little girls and other little kids can look up to and see themselves in that person. It's very important. So being able to play Falcon was a huge coup de gras for me."
With shorter production schedules, television can adapt more quickly than movies. Last time we covered Agents of S.H.I.E.L.D., which ties into the Marvel movie-verse. By contrast, Arrow isn't getting the same cross-promotional benefit, and may actually be losing a "holy grail" character to the big screen debut of Superman and Batman. Good news, though, for Arrow fans: Summer Glau (Firefly) is going to kick some butt and take names. Another science fiction show, Person of Interest is adding Amy Acker (Angel) as a show regular, balancing out their cast. It's worth pointing out that both of these women made their mark in Joss Whedon television shows.
If fairy tales are your thing, the Little Mermaid is coming to ABC's Once Upon a Time and Alice is getting her own show. Annalee Newitz at io9 calls Once Upon a Time: Wonderland "gorgeous, fun, and scary" and says, "This ass-kicking Alice is more like Sarah Connor than a little girl." While SyFy is bidding one of its best shows, Warehouse 13, farewell, Being Human and Defiance will be returning. All three shows feature complicated, strong, and diverse female characters.
Finally, the team working on animated show The Legend of Korra have admitted that Star Wars and the Hero's Journey have heavily influenced their work. Korra will deal with her greatest challenge in the second season: her family. If you aren't watching this show, we'll leave you with a good reason why you should.
And while this post was supposed to be the final Fangirls Around the Web focusing on San Diego Comic-Con, so many individual geek girls made their mark this year – most of the articles linked here in this post were written by women – that they are getting their own post.
Via Zap2It, Digital Spy, Blastr, TVLine, Hero Complex, io9, THR, IGN, L.A. Times
---
Tricia Barr took her understanding of brand management and marketing, mixed it with a love of genre storytelling, and added a dash of social media flare to create FANgirl Blog, where she discusses Star Wars, fandom, and strong female characters. She also writes about Star Wars for Random House's science fiction and fantasy blog Suvudu.com and Star Wars Insider magazine and is a contributor for Her Universe's Year of the Fangirl.
Tricia is putting the finishing touches on her first novel, Wynde – a military science fiction with a fantastical twist that features heroines Vespa Wynde and Gemini Reed. For excerpts and tales of her adventures in creating a fictional universe, hop over to TriciaBarr.com.
For updates on all things FANgirl follow @FANgirlcantina on Twitter or like FANgirl Zone on Facebook.