Fangirl Chat: Episode 4: The REBELS Are Coming!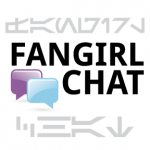 On our third installment of Fangirl Chat, Teresa and I talked about the Celebration Anaheim news. If things go as planned, we will be chatting with listeners from the convention.
In Episode 4, we chatted about the news from the Rebels panel with Dave Filoni. Megan Crouse wrapped up the Rebels news at FANgirl. So check it out as you follow along on the conversation.
Thanks to contributor Kay for our cool logo! Make sure you follow her on Twitter @Geek_Kay.
Up next, we discuss the celebrity panels from Celebration Europe.
---
Fangirl Chat features short discussions on current Star Wars topics, including the upcoming Sequel Trilogy and Rebels television show news. Teresa Delgado (Fangirl Next Door, Star Wars Bookworms) and Tricia Barr (FANgirl Blog, Suvudu, Star Wars Insider) stay on target to deliver focused segments with the busy but interested fan in mind. For our latest happenings, follow Teresa on Twitter at @icecoldpenguin and Tricia at @fangirlcantina.