Star Wars Celebration Anaheim: Rebel Women Who Fought The Clone Wars
Friday evening at Star Wars Celebration Anaheim the Behind the Scenes Stage featured an inspiring panel titled "Rebel Women Who Fought The Clone Wars." The four panelists were producers Liz Marshall and Athena Portillo, Story Group member Rayne Roberts, and concept artist Amy Beth Christenson. Stage hosts Jimmy Mac and Jason Swank began the hour like usual, only to be suddenly interrupted by Dave Filoni, who told them, "I love you guys, but these are my friends." Filoni then noted the ongoing talk in fandom about strong female characters, and expressed his belief that the strongest women are behind the scenes. He personally proposed the topic of the panel to celebrate the women who have played crucial roles in The Clone Wars and Rebels, emphasizing that none of it would be possible without them.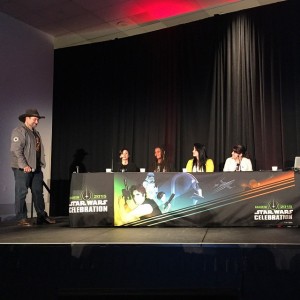 Filoni started off the panel by commenting that despite the perception of some, women are not recent additions to the Star Wars fandom. He asked each panelist when they first became Star Wars fans. Portillo waited 2.5 hours in line with her father to see Star Wars in the theater in 1977, and it was the first film Christenson ever saw in a movie theater. Marshall watched the Star Wars and Indiana Jones films as "sick day movies" with her father, while Roberts experienced them as movies playing in daycare. Perhaps Roberts put it best when she said that Star Wars had always been part of the background of her life and childhood.
Filoni then asked each panelist to share the path that led her to working at Lucasfilm, and ultimately on Rebels, and their answers showcased the hard work, flexibility, and a little luck that combined to bring it all about. Portillo originally wanted to be an entertainment journalist, but moved her way through law school, internships, special effects shop Tippett Studios, and working on Strange Magic before Filoni eventually "Palpatined" her to switch over from fairies to The Clone Wars. She was an unpaid production assistant on the Special Editions, on the 12 a.m. to 4 a.m. shift, but another opportunity at Lucasfilm didn't emerge until she was hired on the Strange Magic team in 2006. Roberts's career weaved from studying photography and shooting magazine covers to a career switch into UCLA's producing program and internships that followed, before she was hired by Kiri Hart and Kathleen Kennedy to read screenplays for Kennedy-Marshall. When Kennedy took over Lucasfilm and created the development group to oversee The Force Awakens, Rebels, and other Star Wars storytelling, Roberts was invited to join alongside Kiri Hart and Carrie Beck. Marshall also took a circuitous career path, earning a degree in art management and writing a film studies term paper on Princess Mononoke before taking another degree in animation, where she realized she had a talent for leading group projects suited her to a career in production. When an internship on The Clone Wars was posted at Lucasfilm, she flew to San Francisco at her own expense to ensure a face-to-face interview that won her the position. Marshall praised the mentoring and teaching she received from many people at Lucasfilm, specifically mentioning Killian Plunkett, and she particularly noted the support for women from women within the company. Christenson's interest in art was sparked by wanting to draw Luke Skywalker as well as her Aunt Dana, leading to an art degree. With a background in playing numerous Star Wars videogames with her brother, she landed a job at LucasArts – she laughed when saying she has spent half of her career at Lucasfilm "drawing Sam Witwer's face" as lead concept artist on both The Force Unleashed videogames – before joining the fifth and sixth seasons of The Clone Wars and a lead artists on Rebels now.
The panelists also shared some of their favorite parts of Star Wars. Portillo enjoyed taking a photo with an amazing Robot Legs Darth Maul cosplayer at the convention, and is a big fan of the Nightbrothers. Roberts loves the story arc to Anakin and Darth Vader. Marshall fancies the critters of Star Wars; much to Filoni's befuddlement, her latest favorite is the puffer pig from the "Idiot's Array" episode of Rebels. Christenson's two-year-old daughter is a big Rebels fan, and ran around the house screaming in joy when she received a Hera action figure.
The question and answer segment with the audience also proved enlightening. When a fan asked how best to convey the message to the merchandise division that people want to buy more female characters, Roberts replied to "go online and make noise," because the more noise, the more the message will be heard. Filoni added that he sees change occurring over time, and noted that the fans have power, and over time they will win. Another fan asked the panelists about their favorite attire for female Star Wars characters. Portillo likes Jedi robes, particularly Shaak Ti's. Marshall loves Padmé's dresses, and noted that you can't really see the depth of detail except in person. Christenson wants Mandalorian armor and blasters. Earning a side-eye from Filoni, Roberts remarked that she likes Rey's outfits in The Force Awakens.
After seeing Filoni, Simon Kinberg, and Greg Weisman as the primary public face of Rebels during its initial rollout, the panel was a wonderful opportunity to showcase some of the women who have helped create the amazing animated series. FANgirl was created specifically to help showcase female fans and dispel the notion that Star Wars is a boys' franchise. Part of that effort has been to write articles about the female talent working on Star Wars and advocate for more of these women to be brought into the spotlight. The Star Wars Rebels Rebels Recon videos at StarWars.com have done a great job over the past year of highlighting many of these women, although the website as a whole is skewed heavily male on its contributor side.
Celebration Anaheim did an amazing job of balancing their programming with diversity. Hopefully future Celebrations will offer fans similar access to the women working behind the scenes at Lucasfilm.
If you missed the "Rebel Women Who Fought The Clone Wars" panel, check out this interview (starting at 3hrs, 12min into the live stream) with Kiri Hart, head of the Story Group, and Carrie Beck from the Celebration Cantina.
Yesterday, Lucasfilm shared the following press release about upcoming Star Wars Rebels airings:
The highly anticipated Star Wars Rebels season two is set to premiere on Saturday, June 20 at 9:00 p.m. ET/PT on Disney XD. The season will kick-off with a special one-hour movie event "Star Wars Rebels: The Siege of Lothal." Following the one-hour movie event, the season will continue to rollout new episodes in the fall. Recently revealed at Star Wars Celebration, the exciting new season is filled with more thrilling adventures with the Rebels that will include appearances by fan-favorite characters Darth Vader, Ahsoka Tano, Captain Rex, Wolffe, and Gregor.
Additionally, Disney XD will be celebrating "May the 4th Be With You," the fan-proclaimed Star Wars holiday, beginning Friday, May 1 through Monday, May 4. The force-filled programming weekend will include the following:
"Star Wars Rebels: The Ultimate Guide," a half-hour special recapping the entire first season of Star Wars Rebels will debut Monday, May 4 at 8:00 p.m. ET/PT.
Marathons of Star Wars Rebels season one and LEGO Star Wars: The New Yoda Chronicles.
Sneak peek at LEGO Star Wars: Droid Tales, an all-new series of event specials that will premiere on Disney XD this summer.
Star Wars-inspired episodes of Phineas & Ferb, Kickin' It, and Lab Rats.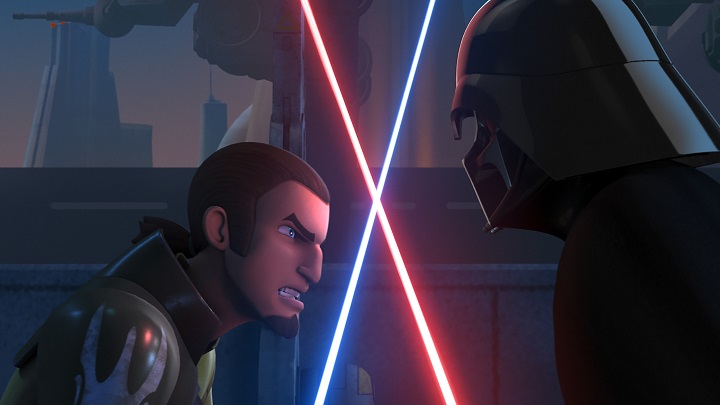 ---
B.J. Priester is editor of FANgirl Blog and contributes reviews and posts on a range of topics. A longtime Star Wars fandom collaborator with Tricia, he edited her novel Wynde and is collaborating with her on several future projects set in that original universe. He is a law professor in Florida and a proud geek dad.