Fans Talking Star Wars, Madness, and Fan Fiction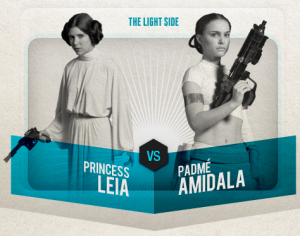 Catching up on the world wide web of Star Wars…
I've already shared my perspective on the need to dispel the perception that "Star Wars is for boys." This week the two remaining female characters, both examples of fierce and well-crafted heroines, fell in the Star Wars "This is Madness" Challenge. There were many influences in play, most notably that the characters who are prevailing are drawing from multiple fanbases. This dynamic helped Obi-Wan, who starred in both movie trilogies and The Clone Wars, defeat Han Solo. Like her Big Three counterpart, Leia is an Original Trilogy character; Ahsoka only had the television series' base to draw votes from. Dunc at Club Jade expressed her viewpoint yesterday on the lack of female characters in the round of eight in her piece "Star Wars still kind of a boys club, shockingly."
But it's still a damn shame, and a key reminder: No matter how many t-shirts we buy, we're not done yet, ladies.
~ Dunc
Elsewhere, discussion has turned to the future of the Star Wars Expanded Universe – or Universes. Dunc previously had made two thoughtful posts on the subject. Last week, Brian at Tosche Station addressed the "belief among the most ardent of Star Wars fans that the Expanded Universe and the Sequel Trilogy cannot exist simultaneously" (although without linked attributions it's difficult to tell which remarks from whom he's actually referring to) by pointing to the Marvel multiverse as a possible model for the future of Star Wars stories. At least a few ardent fans have weighed in since then. Aaron Goins at Star Wars Report countered with his preference for a tighter continuity mindset. Yesterday, the staff at Roqoo Depot roundtabled the Sequel Trilogy as it relates to the Expanded Universe. After talking the X-Wing novels with the guys at Star Wars Book Report, Michael Stackpole had some thoughts on the Expanded Universe as it relates to the upcoming movies.
The important takeaway from the bracket challenge and past turns in the Expanded Universe is this: Make your opinion known, because in the absence of feedback, things happen that fans don't necessarily like.
I think Mara is the single character out of the EU that should definitely need to exist in the Sequel Trilogy… As for Jaina and Jacen, I'd absolutely love them to appear as the leads, or at least in, the Sequel Trilogy.
~ Ryan of Roqoo Depot
Earlier this month I kicked off answering a series of questions on fan fiction for Megan Crouse's blog. The roundtable features fanficcers from different backgrounds and eras, ranging from roleplaying games and original character preferences to canon aficionados. As is typical of fan fiction writers, we proved wordy. Megan split the roundtable into Part One, where we talked about our introduction to the fan fiction community and our reasons for enjoying it, and Part Two, where we went to the dark side and ended with nods to some of our favorite writers and stories. I actually have a longer post discussing fan fiction in the works for FANgirl Blog, inspired by this fantastic discussion. Look for that to be posted soon.
Finally, the likes of Fifty Shades and Mortal Instruments in books and movies are proving that there are sound financial reasons for the entertainment business to understand the fan fiction subculture. In fact, television shows like Castle, The Big Bang Theory, and The Good Wife (all verifiable hits) are gradually mainstreaming the term. I'm only guessing, but I suspect it's more than likely that the paid writers of those episodes once learned their craft spinning yarns in fan fiction. To date, six Star Wars Expanded Universe authors have admitted publicly to writing fan fiction and Aaron Allston challenged the mindset that fan fiction writers aren't published writers' peers.
[Update: Added Star Wars Book Report discussion link to post.]
---
Tricia declares it Megan's fault for tempting her from putting the finishing touches on her first novel, Wynde. Admittedly, creating a fannish possibility for Ahsoka's fate in honor of April Fool's Day helped her deal with the end of The Clone Wars in a positive way.
For updates on all things FANgirl follow @FANgirlcantina on Twitter or like FANgirl Zone on Facebook.