Star Wars & High Fashion Meet Again in the Lead-up to The Last Jedi
This morning came the news via Vogue that American fashion label Rag & Bone was previewing its upcoming Star Wars collection. The 15-year-old brand is known for its attention to quality and construction with its urban, slightly edgy clothing for women and men. While the collection is set to coincide with the release of The Last Jedi, the items included appear to take their influence from Star Wars overall rather than just the newest film.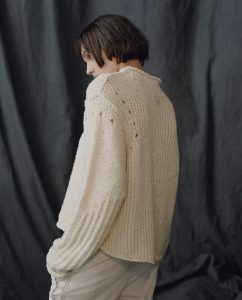 The resulting limited-edition apparel, footwear, and accessories take in Star Wars' military and utilitarian aspects and pay tribute to detailing all while staying within the established Rag & Bone aesthetic. Pricing is set at $95 – $1,295. Rag & Bone tees tend to run $85-95 so it looks like the new items will be in line with the brand's typical price points.
I'll admit upon first glance I wasn't especially impressed, but after watching the brand's video (see below) with CEO/Founder/Creative Director Marcus Wainwright I definitely have more respect for how much thought went into the pieces. That black and red Ellis Force Boot yells First Order in the most subtle way possible. And it's cool that the Leia-inspired Echo Jacket in Hoth has removable sleeves, upping its functionality and versatility.
If the combo of Rag & Bone with Star Wars sounds familiar, it's probably because in the lead up to The Force Awakens, the brand was one of the designers involved in Force 4 Fashion, which brought to life one-off apparel pieces inspired by TFA characters to auction them off for charity. Rag & Bone actually had my favorite looks in their designs reflecting Rey and Kylo.
According to Vogue, Wainwright was approached to do a capsule for Rogue One. Mark Hamill landed a Rag & Bone campaign around this time last fall as part of their "Men's Project" series. It's not entirely clear if that was instead of the Rogue One collection or if this new set is what the initial approach turned into.
The first items of the limited Rag & Bone x Star Wars collection – t-shirts – will launch on Rag & Bone's website as well as Shop Disney on December 1st.
——————————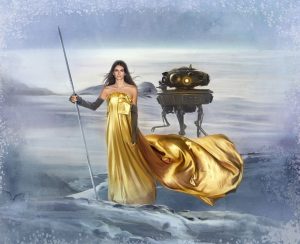 Today also saw the release of STAR WARS: THE FORCES OF FASHION on the website of Harper's BAZAAR. The article itself is an interview with Star Wars illustrator Brian Rood. You've probably seen Rood's work several times before – from the cover of the Jyn-centric Rebel Rising and several The Force Awakens storybooks to The Essential Reader's Companion and Celebration-exclusive prints.
His work for the Harper's BAZAAR article is to illustrate big-name models in not-necessarily-Star-Wars-connected outfits on iconic Star Wars backgrounds. There's no commentary on or comments from the models nor their outfits other than mentioning the designers.
There is a bit of a disconnect on this one, but the interview is interesting enough for its look at Rood's process.
——————————
Any of the Rag & Bone apparel appeal to you? Can you get past the idea of wearing a strapless gown on Hoth?
Let us know in the comments and remember to check back each month for my latest Fandom Fashion Finds – featuring stylish geek fashion from all price points.