Star Wars: Galactic Starcruiser – Immersive Adventure Achieved
In the years leading up to the opening of Star Wars: Galaxy's Edge at Disneyland in California and Hollywood Studios at Walt Disney World in Florida, the project team leaders at Imagineering and Lucasfilm emphasized several talking points. One was that Galaxy's Edge would bring a new, heightened level of immersion to the theme park experience, so that guests would feel like they were actually visiting the Star Wars galaxy, not simply a theme park land inspired by Star Wars. Another was that guests would live their own Star Wars adventure, not passively visiting Black Spire Outpost but actively participating in a story by interacting with cast members and making choices that would influence how the story, and those character interactions, unfolded for each guest or party.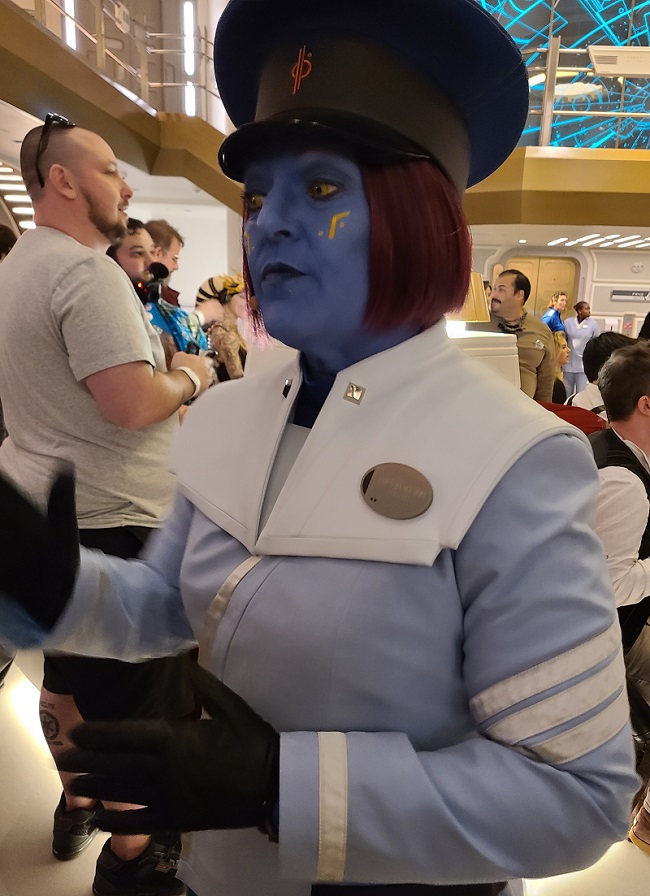 The Galaxy's Edge experience today does not fulfill those lofty aspirations. Certainly Black Spire Outpost offers a level of immersion that differs from, for example, Fantasyland or Adventureland, or Epcot's World Showcase or Animal Kingdom's geographic sectors. There is no ambient real-world music, but rather in-universe sounds and radio broadcasts. Cast members will ask for payment in credits, not dollars. The appearances by Star Wars characters like Rey, Chewbacca, Kylo Ren, or Vi Moradi are in-universe and in-story, not posed photo ops with a line for guests to wait in. But the adventure aspect is largely passive. Most guests visiting Black Spire Outpost do not engage with it at all. Some might watch Vi hide from stormtroopers or Rey fixing a speeder, but without interacting directly with them. Even those guests who activate the Star Wars Datapad in the Play Disney Parks app will find jobs to undertake and tasks to complete, but there are no external consequences for your Black Spire Outpost experience in doing so. You can earn a high faction rating for the Resistance, for example, but neither the Resistance nor First Order cast members have any means to be aware of it, much less to interact with you differently because of it. The Datapad activities often function like an app-based scavenger hunt to take you around the outpost and play mini-game activities to unlock a reward or earn a badge. But these Datapad activities, as fun as they are, ultimately have no effect on your experience of Rise of the Resistance, Millennium Falcon: Smuggler's Run, Oga's Cantina, or elsewhere in Black Spire Outpost.
The Star Wars: Galactic Starcruiser experience achieves those original aspirations – and exceeds them. The immersion aboard the Halcyon is even more complete. In Black Spire Outpost, you'll still see helicopters and airplanes overhead, squirrels and birds on the ground, and other artifacts of the real world. On the Starcruiser, the viewports show outer space: stars, nebulae, asteroids, and other starships. Some of the other passengers might be wearing attire with Earth words or logos, and you might hear a familiar notification alert sound from a smartphone, but the metaphorical distance from the real world is far greater on the Halcyon than on Batuu.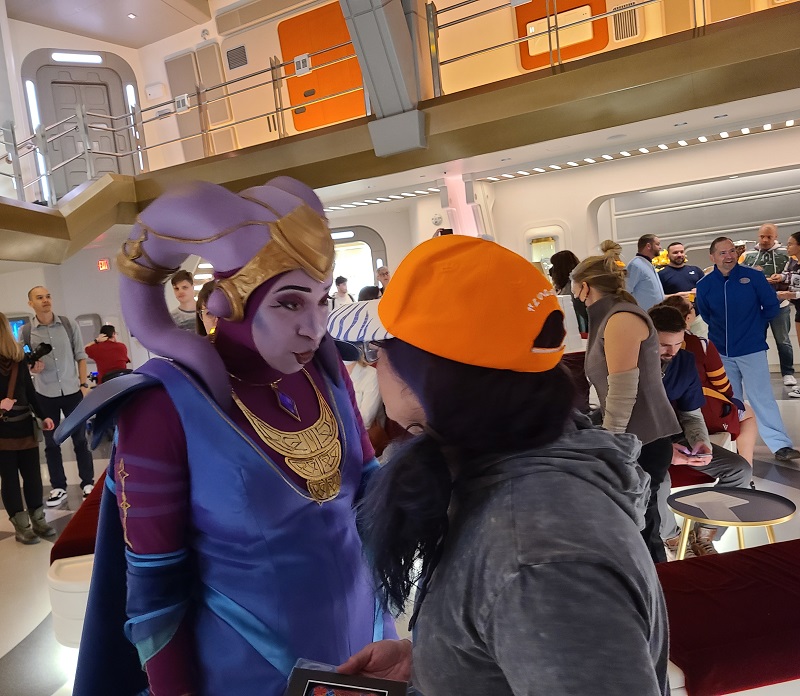 The level of interaction with the Halcyon cast members also is far more extensive, both quantitatively and qualitatively, than Black Spire Outpost. Your day is filled almost constantly with interactions: the cruise director and passenger services, the captain and crew, dining servers and bartenders, musicians and scoundrels, Resistance agents and First Order troopers, and more. All of them are in-character in-universe the whole time. These interactions may be brief, but they can also be lengthy, such as Fangirls Going Rogue co-host Teresa Delgado's hour-long conversation with one of the bartenders in the Sublight Lounge. The interactions also may be highly personalized. When FANgirl Blog editor Tricia Barr expressed nervousness prior to the lightsaber training, the instructor not only responded to the initial concern but also repeatedly referenced back to it throughout the training session. Characters you meet and talk to on the first day remember the encounter on day two, further developing the customized interaction. In many respects, the Halcyon cast members are as skilled at improvisational theater as they are with their Star Wars.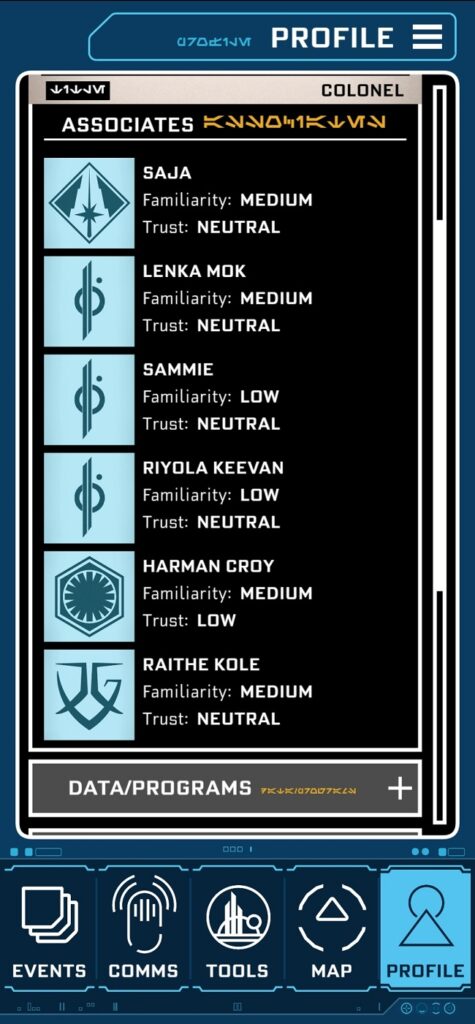 Finally, the adventure you undertake on the Galactic Starcruiser experience is very much shaped, from lunchtime on the first day until late at night on the second day, by your individual choices aboard the Halcyon. Here the Datapad truly does personalize your adventure. If you take a mission from one potentially shady character, it can lead down several possible paths to further exploits. If you align with the First Order, your assignments will be entirely different. One choice on day one will bring you to Oga's Cantina on day two; others send you to the Resistance encampment or the First Order base instead. A character who first contacts you on the Datapad may later schedule a meetup in person to complete another mission and thank you for your support and loyalty to the cause. Some aspects of the story, of course, are scripted and will take place regardless of any passenger's actions – such as the captain's muster or diva's performance on day one, or the sabacc tournament and grand finale event on day two – but the great majority of the time each passenger spends undertaking the Galactic Starcruiser experience will be determined by their own actions and choices.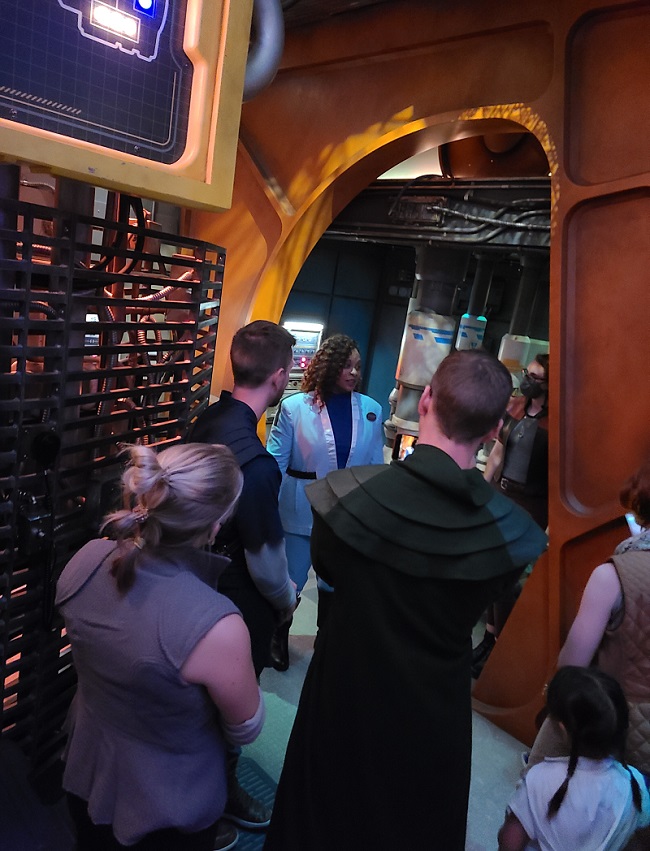 Moreover, the Galactic Starcruiser experience has been crafted so that it has hundreds of possible permutations. Each Comms conversation on the Datapad has multiple points for choose-your-own-adventure selections that will lead to different paths and outcomes. Many other interactions with characters are simply spontaneous. If you're in the right place at the right time, you might help Chewbacca hide from the First Order or help spring a Resistance agent from the brig. If you're in the atrium at the right time, you'll see a musician at work writing lyrics or the First Order lieutenant rewarding the loyalty of a small child who chose that allegiance. If you're in the engineering room or the climate simulator room at the same time instead, you wouldn't have those experiences – but you'd have different ones, with other characters leading you off into another story opportunity. Anyone fortunate enough to take the Halcyon voyage a second time could, through decisions and fortuity, experience a very different version of the adventure. In that way, the Galactic Starcruiser truly outshines Black Spire Outpost in providing each visitor with a personalized and unique immersive and interactive Star Wars adventure.
Previous Coverage: Galaxy's Edge
Related Links: Galactic Starcruiser